10.10.2016
LAMM design proposals for the New Vision of Work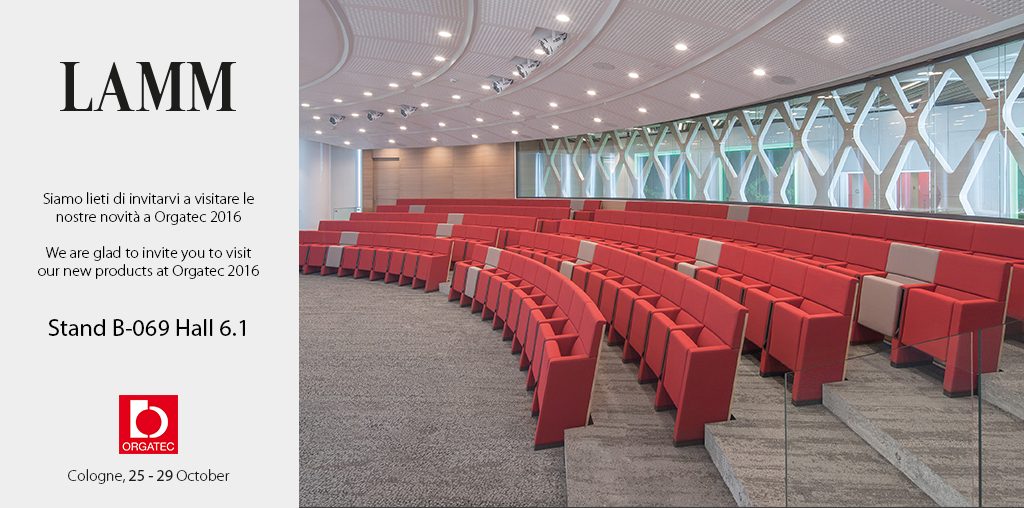 From 25 to 29 October 2016, Cologne renews the biennial appointment with Orgatec, the most important international fair entirely dedicated to office design and furniture and work environments.
This year's edition, through the motto New Vision of Work, underlines the leading role of Orgatec not only as a commercial showcase, but also as a trade platform for the sector, as to the innovative trends, the work organisation and conception, the environment arrangement, within which design is an all-round key element.
In this context, the approach and participation strategy of LAMM, exhibiting at Orgatec, Hall 6.1 Stand B-069 with a new setup signed by Dante Bonuccelli, acquire a considerable significance. With almost sixty years of experience in the manufacture of standard and customised armchairs and seating systems for auditoriums, universities, conference halls, theatres and multipurpose rooms, Lamm looks ahead with confidence and great determination under the banner of the best Made in Italy, characterised by manufacturing cycles entirely developed and realised in-house.
The new company logo and website to be presented internationally on the occasion of Orgatec, expresses clearly Lamm's deep process based on the innovation of production lines and quality policy, the development of products capable of combining an exclusive design with an high technical content, the introduction of new finishes concerning the woods, the fabrics, the coverings and the coating cycles. Finally, the armchair fold-away dynamic systems for a multipurpose, self-adaptive organisation of conference halls.
Among the new products displayed at Orgatec, the evolution of Blade study bench system, now presented with a slowed-down, cushioned, groundbreaking tip-up working plan, completely incorporated into the system, with no visible supports (patent pending), certainly occupies a top position. Together with Blade, Genya armchair in the innovative curved row installation, Runner bench in the single backrest version and C900 restyled armchair, made more functional due to a variable centre to centre distance and a bigger tablet will be also displayed.