10.05.2018
LAMM for the Ilustre Colegio Oficial de Médicos – Valencia, Spain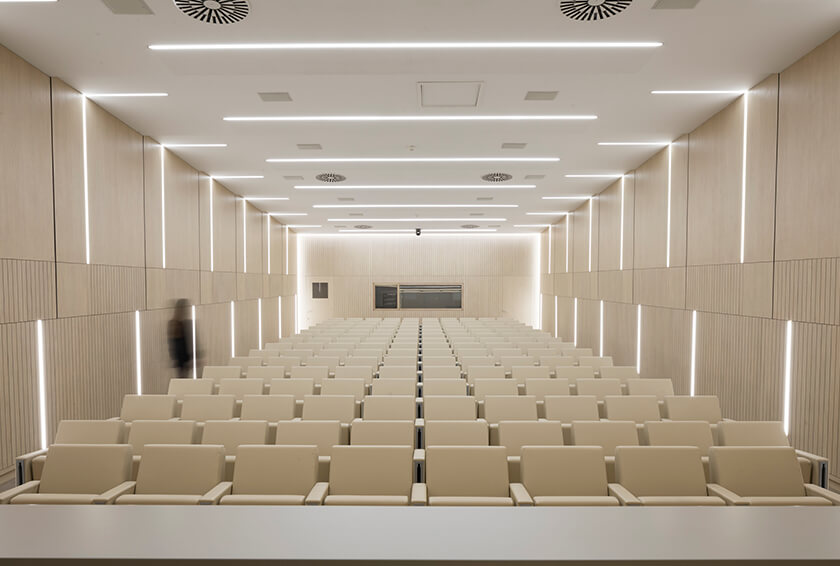 Chuliá Campos hall, at the headquarters of one of the most ancient Western medical foundation, has been recently upgraded and furnished with customised C100 armchairs by LAMM 
The headquarters of Ilustre Colegio Oficial de Médicos de Valencia, embody the thousand-year-old history of the Corporation's origin and development: the first legal regulation of the medical profession dates back to 1329, when the text Els Furs – the charter of customs and laws of the Valencians – of Alfonso IV the Benign was established in the Kingdom of Valencia.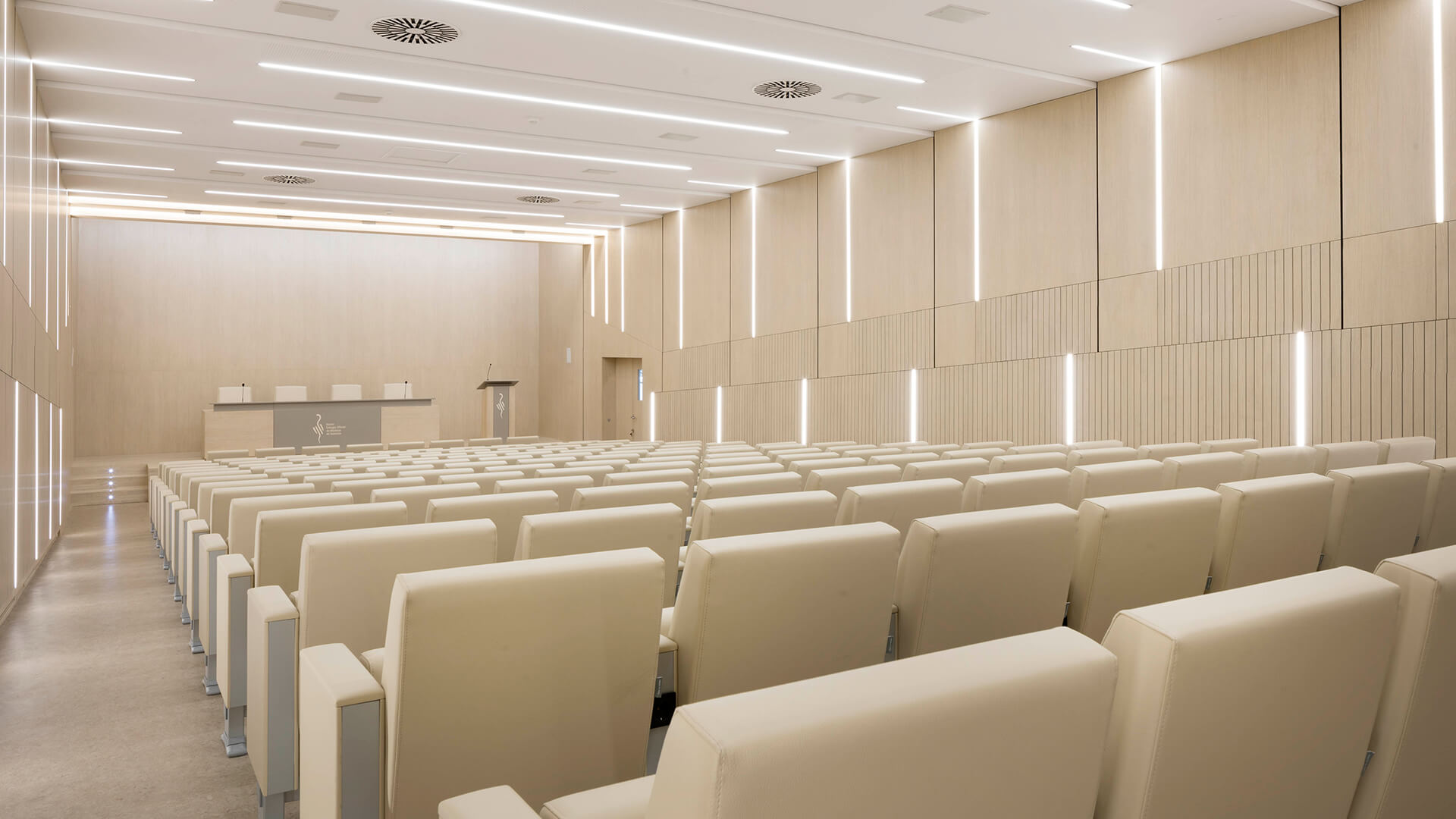 Chuliá Campos hall, located in the building lobby, is one of the biggest rooms in the school. Widely used for its strategic position, this space has undergone a recent functional renovation carried out by Mas Millet Arquitectos and has been accurately updated and improved in terms of image and technical performance aspects. Acoustics, comfort, the perfect view of all participants – speakers included -, the possibility of simultaneous translation, as well as the expansion of the number of seats and their adaptation to people with reduced mobility are the key points of the installation. The hall is fully equipped with the latest multimedia, lighting and IT network technologies; tools that makes this space perfect for meetings, courses and conferences.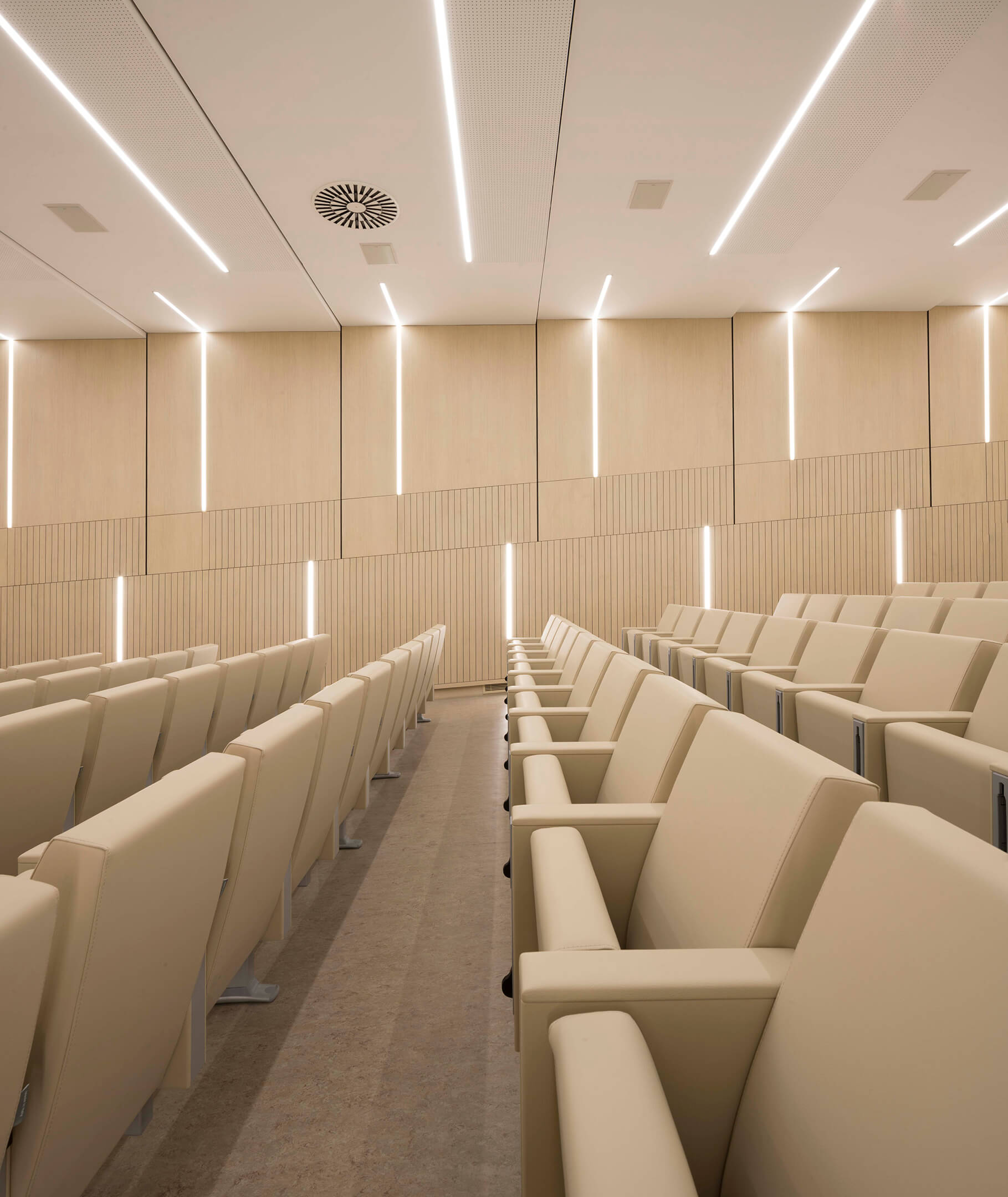 The configuration of Chuliá Campos hall has been completed with LAMM C100 armchairs, design by Baldanzi & Novelli. Characterised by a straightforward design and providing high levels of ergonomic comfort, this seating system has been installed in the beam-mounted version with low backrest and short sides (resting on the beam), in straight rows on sloped floor; armchairs are fitted with right and left writing tablet and electric power supply. Sides and armrests are upholstered, while the bearing structure and other visible metal parts are painted silver. The covering is in beige eco-leather.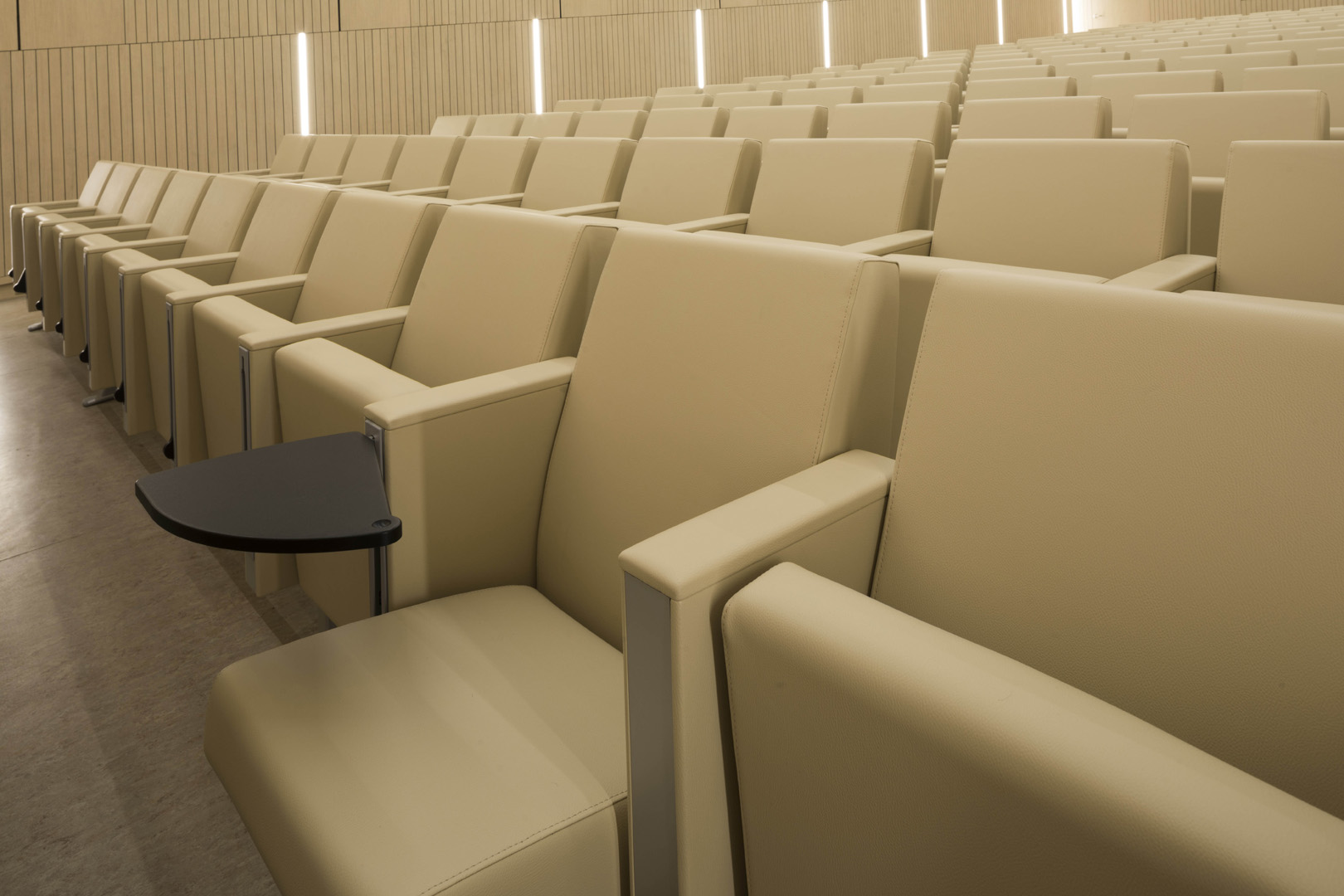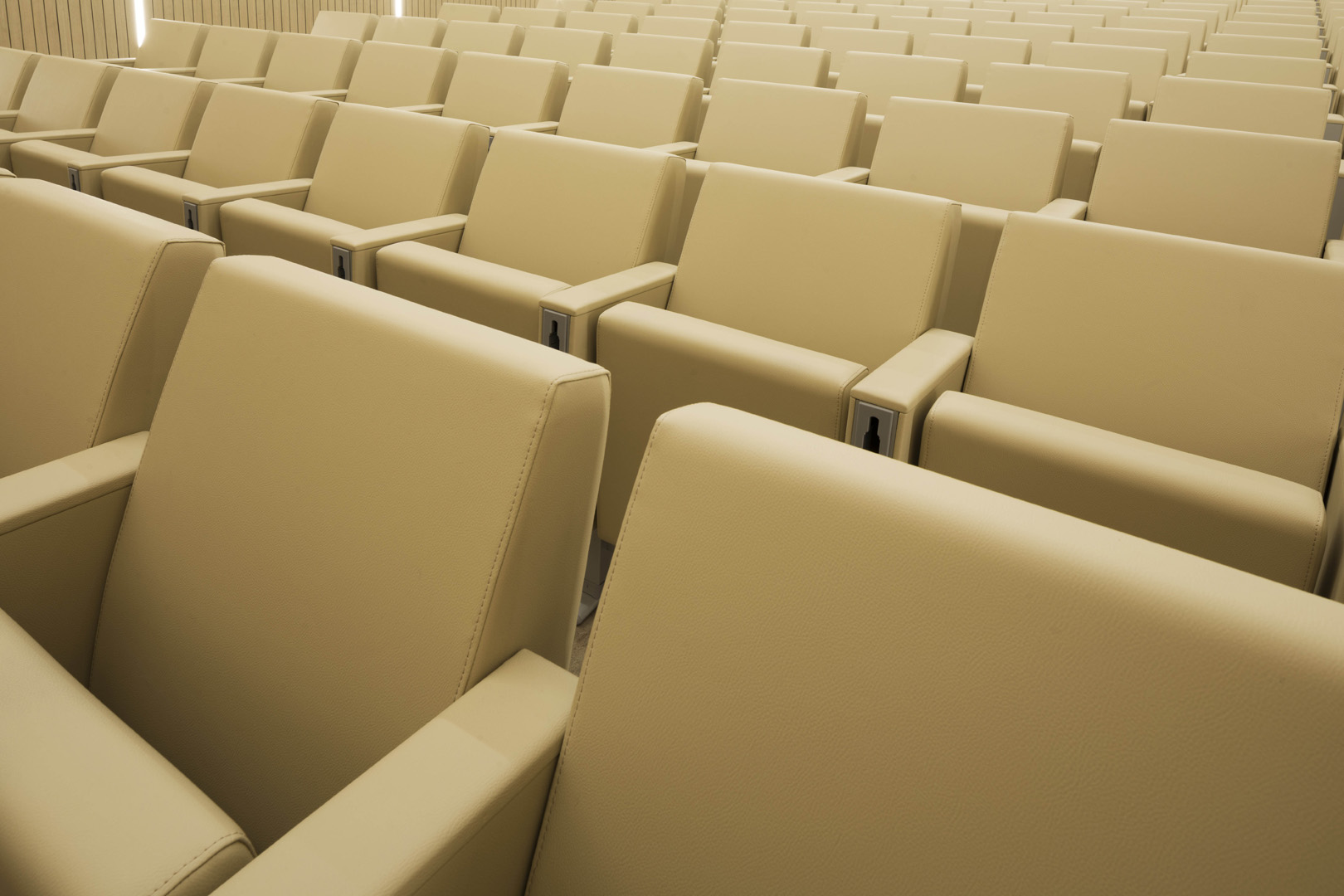 This installation follows another important project won by LAMM in Spain: the auditorium of Atletico Madrid, located within "Wanda Metropolitano" stadium, inaugurated last September. This is a further confirmation of the Spanish market growing interest in LAMM company.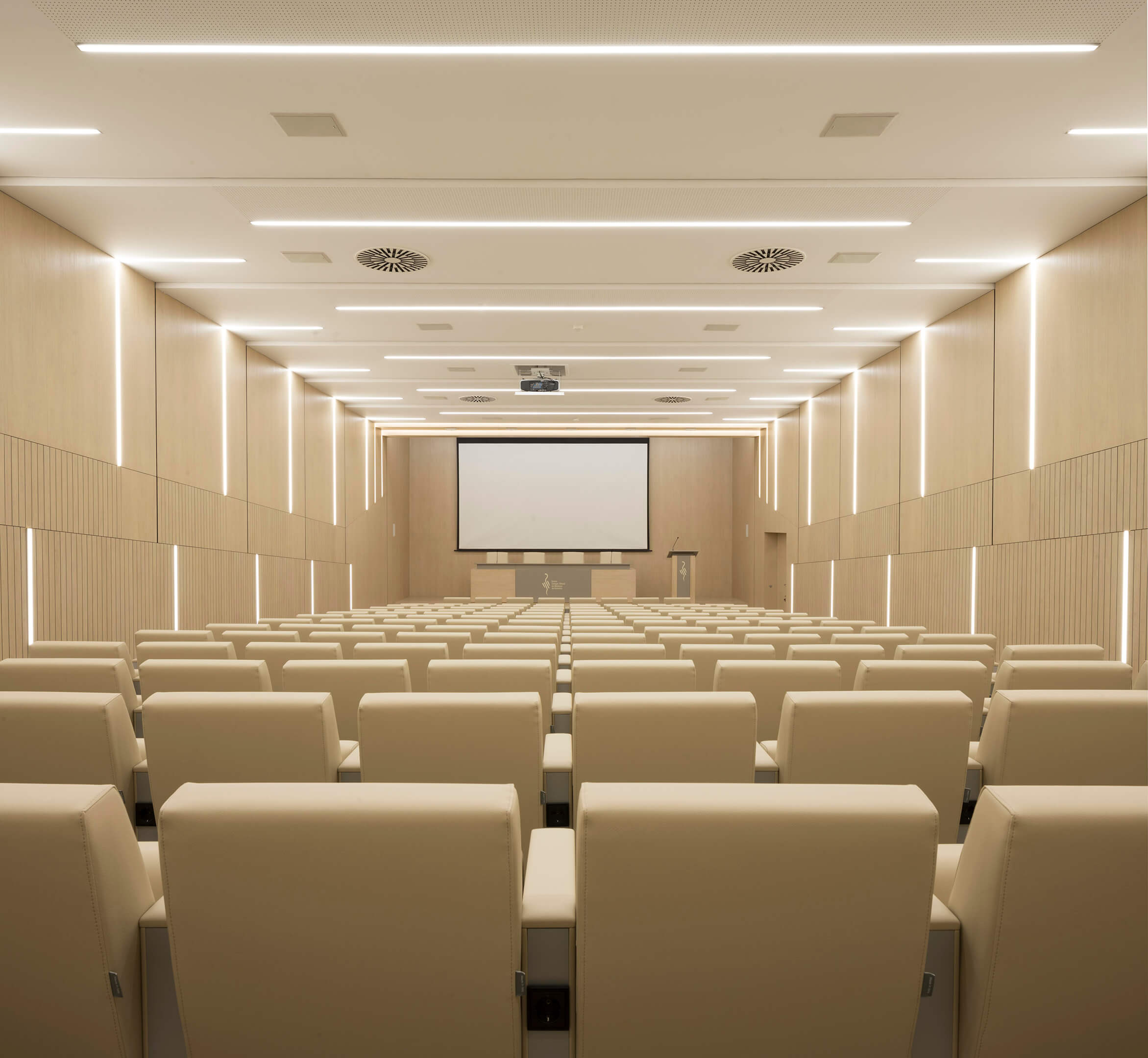 Project Chuliá Campos hall – Ilustre Colegio Oficial de Médicos de Valencia
Location Valencia, Spain
Year 2018
Client Ilustre Colegio Oficial de Médicos de Valencia
Requalification project Mas Millet Arquitectos
LAMM systems C100 armchairs design Baldanzi & Novelli