05.05.2022
Los Angeles, HIT chairs by LAMM chosen for the Audrey Irmas Pavilion, the OMA pavilion celebrating the community spirit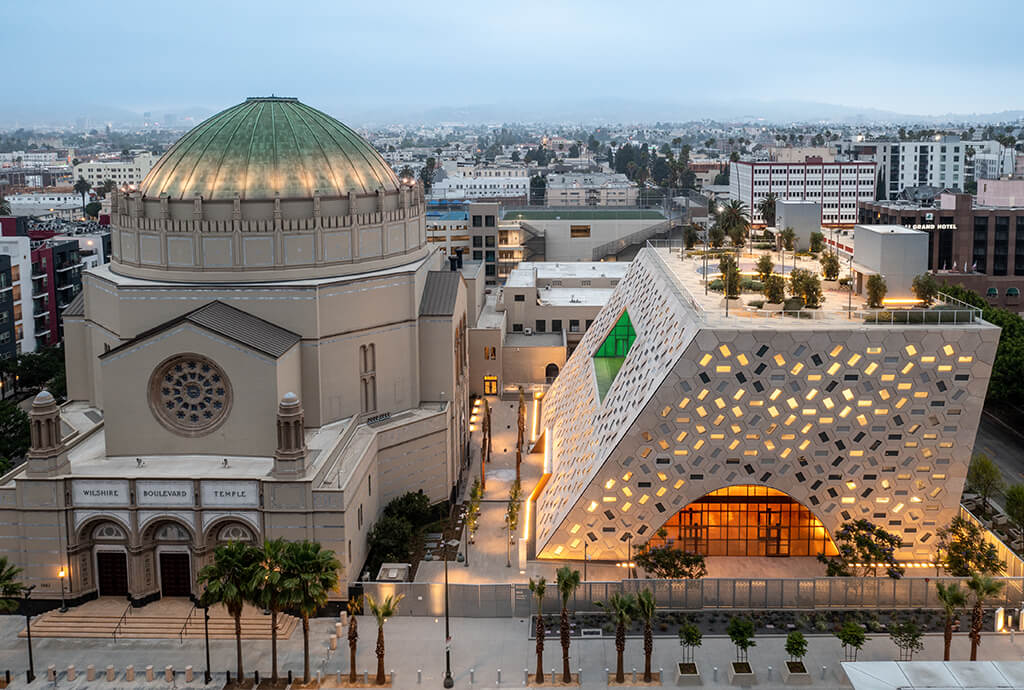 The iconic building, erected for the most ancient Jewish congregation in Los Angeles, features harmonious gathering spaces for the religious community and the citizens. HIT chairs perfectly match the multifunctional character of the lively environments
Three gathering spaces of a different scale, each with its unique character, open up within a building whose shape stems from the simple idea of a box, then complicated and sculpted according to the context, influenced by the presence of the historic city synagogue – the Wilshire Boulevard Temple. The Audrey Irmas Pavilion opens in Los Angeles, an innovative gathering space designed by the famous study OMA and, more precisely, by the New York office and Shohei Shigematsu, partner of the atelier founded by Rem Koolhaas.
The project, which originated from an architecture competition, was commissioned by the Wilshire Boulevard Temple, the oldest Jewish congregation in Los Angeles. The Pavilion was made possible by the donations of private individuals and foundations, especially the significant contribution (of $30 million) of art collector Audrey Irmas. Designed to host religious celebrations, cultural events, conventions and shows, it is a place where the community and citizens can gather, conceived to stimulate the community spirit. The building forms part of the synagogue campus, where religious functions meet training and community welfare activities.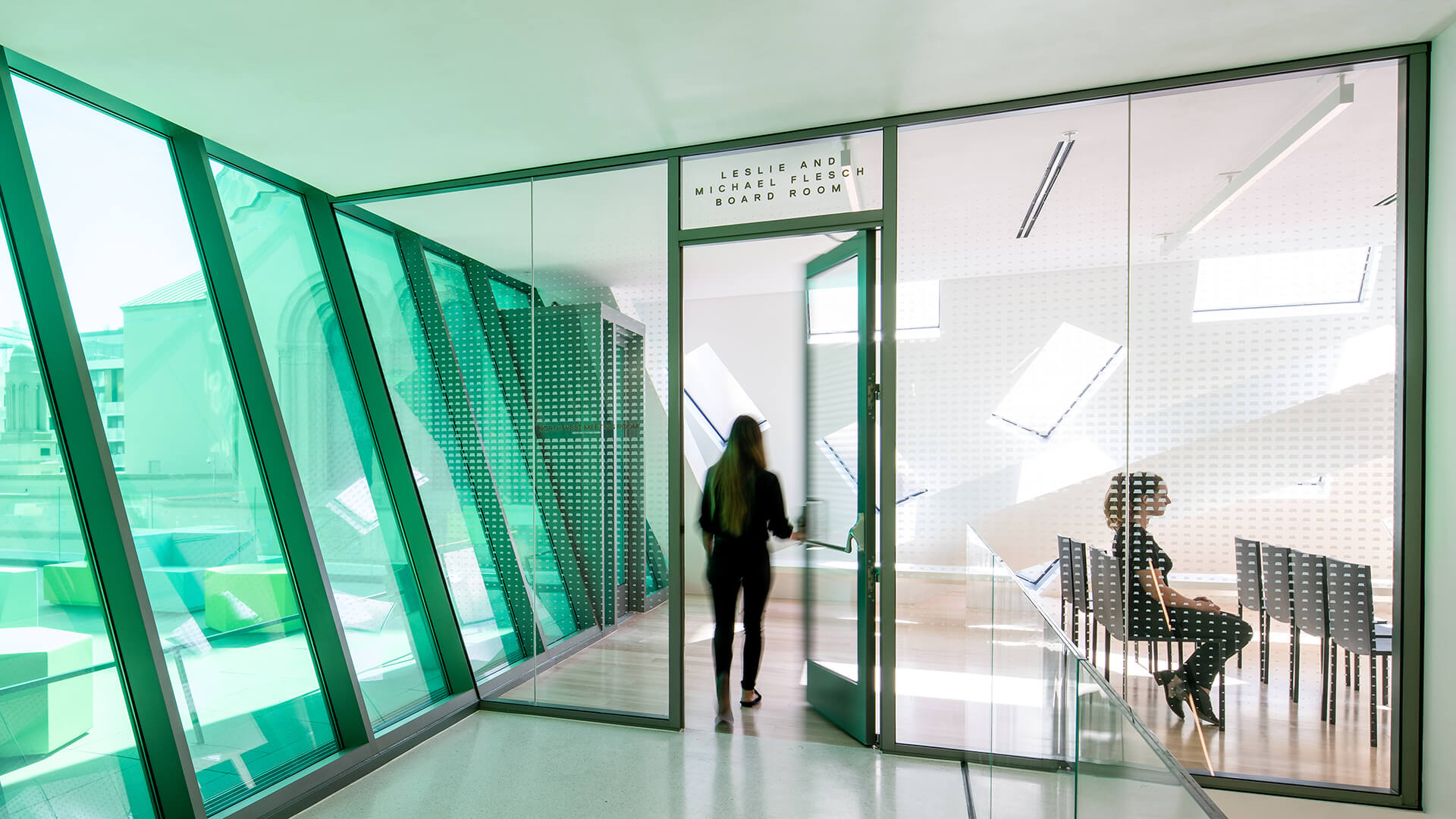 The multifunctionality of the environments is well represented by the HIT chairs (designed by Dante Bonuccelli). The elegant lines, rigorous geometry and contained thickness make the chairs suitable to the most varied contexts. The high-density integral polyurethane frame with a flexible backrest hides a structural steel insert – both boxed and microcast – featuring flexible spring steel elements that convey excellent comfort and support. The utmost care for detail is also visible in the structure, which has no visible screws. The version chosen for the "Pavilion" features a double black varnish. HIT chairs, which are equipped with lining hooks in this case, can be stacked up to 25 on a cart and up to 15 on the ground. A further point in favour of the multifunctionality and multiple arrangement options of the environments.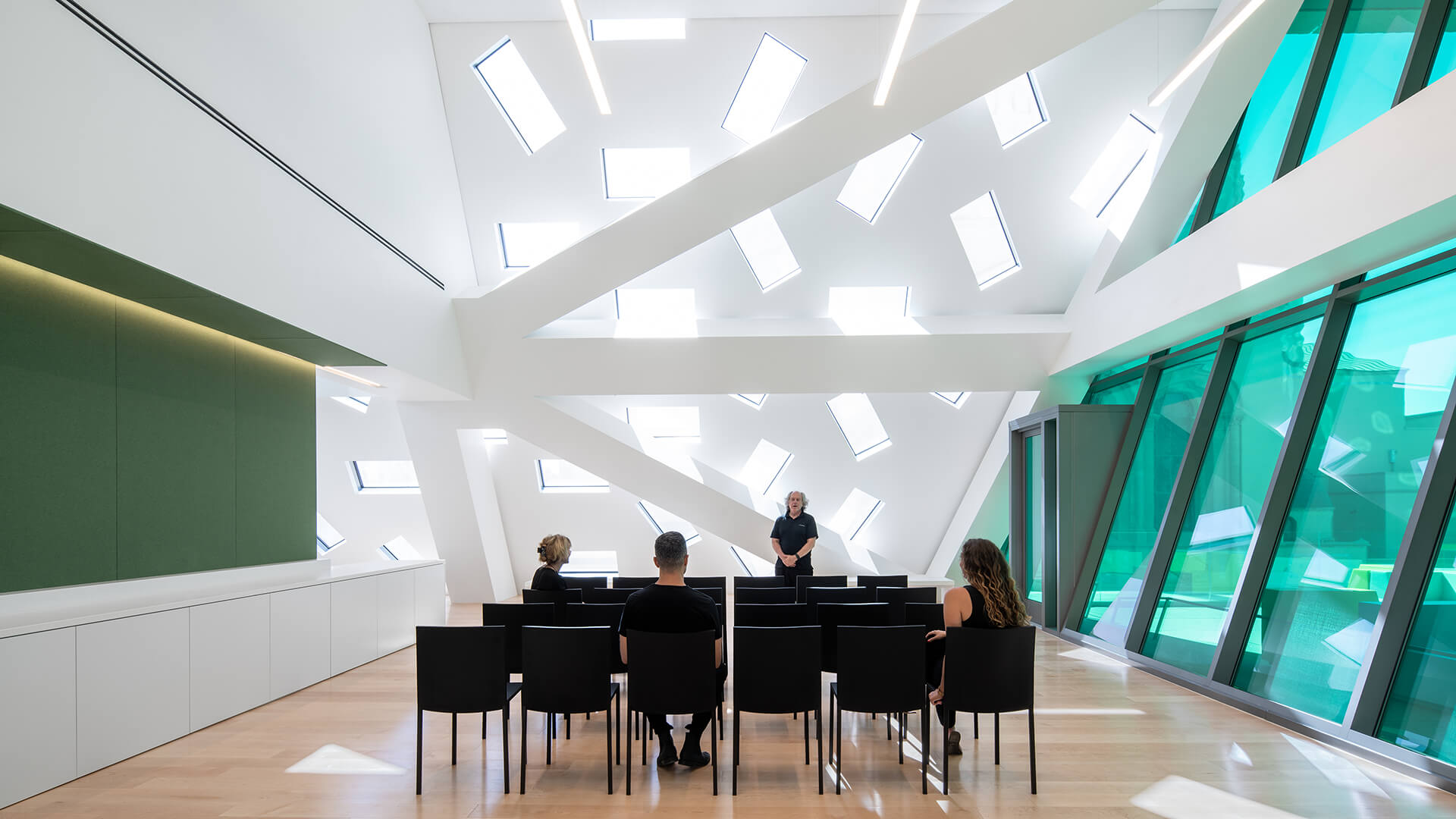 In the Pavilion, functional flexibility is achieved thanks to the high degree of differentiation of spaces having different sizes, shapes and characters. The three main environments are like interconnected volumes that pierce the building. On the ground floor, a lowered arch extruded for the entire depth of the new volume creates a wooden-clad room whose profile echoes the dome of the synagogue. Higher up, the volume is "pierced" by a terrace overlooked by an intimate chapel. Lastly, a garden encased within a cylindrical space connects the meeting rooms with the event terrace on the roof.
Project: Audrey Irmas Pavilion
Location: Los Angeles, California
Architecture firm: OMA – Office of Metropolitan Architecture
OMA partners: Shohei Shigematsu
Associate: Jake Forster
Local dealer: Info-Com Business Products
Year: 2021
LAMM supply: 600 HIT chairs – Dante Bonuccelli
Photos: Images courtesy of OMA New York, Photography by Jason O'Rear