05.04.2022
Nanterre (France), L213 armchairs for a building complex home to 15 of the world's top 50 companies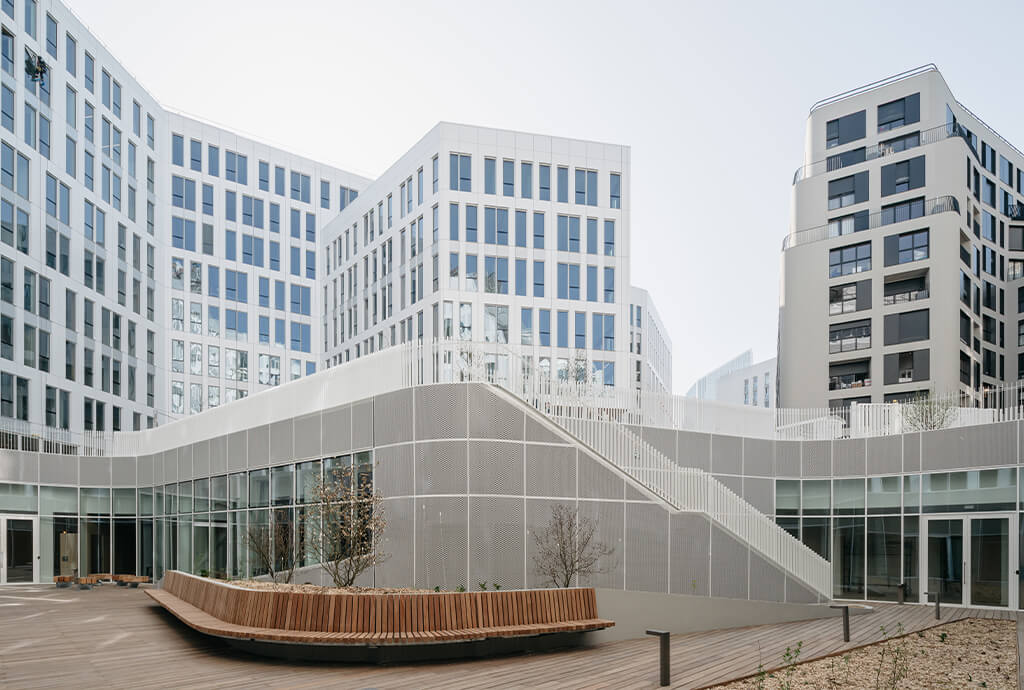 LAMM's elegant, comfortable armchairs take pride of place in the "Origine" complex on the outskirts of Paris, located in the La Défense business district next to a stadium designed by Pritzker-winner Christian de Portzamparc
Innovative, bioclimatic architecture and load-bearing wood structure, except for the reinforced concrete core. A focus on well-being in working areas and meticulous attention paid to the quality of urban spaces. These—in a nutshell—are the aspects that set the new office complex, built in the "Arche Ouest" area of the well-known La Défense business district, apart. The business district, located on the outskirts of Paris, has expanded thanks to the city of Nanterre's new block comprising two buildings: two monoliths whose shape evokes that of white cliffs. "Origine" is the name of the project developed by Maud Caubet Architects and Quadri Fiore Architecture, built next to the Paris La Défense Arena stadium designed by Christian de Portzamparc.
Approximately 70 thousand square metres' worth of office space houses over 500 companies, 15 of which are ranked in the top 50 largest companies on Earth. Nature is part of the Origine project and contributes to the well-being of its users: the two blocks of the service complex surround a permeable garden in the centre. Altogether, there is 6500 square metres' worth of highly diverse outdoor space, which includes loggias, terraces and patios. The generosity of the communal areas is best demonstrated by the lofty entrance hall spanning, vertically, all eight floors of the building. A little bit like the Guggenheim Museum in New York, the empty space features curved wooden terraces magnified by the overhead light shining down from the large skylight on the roof.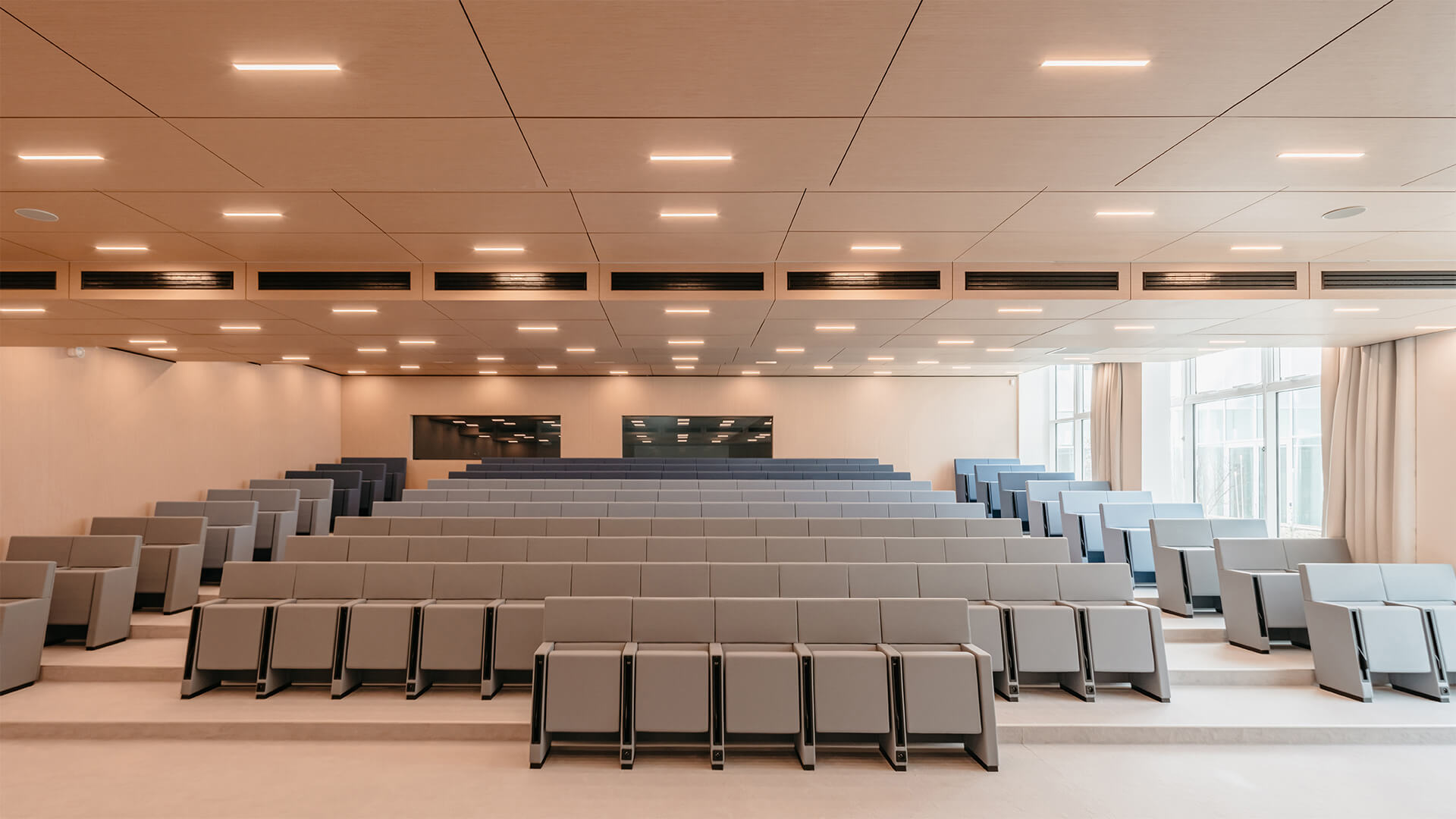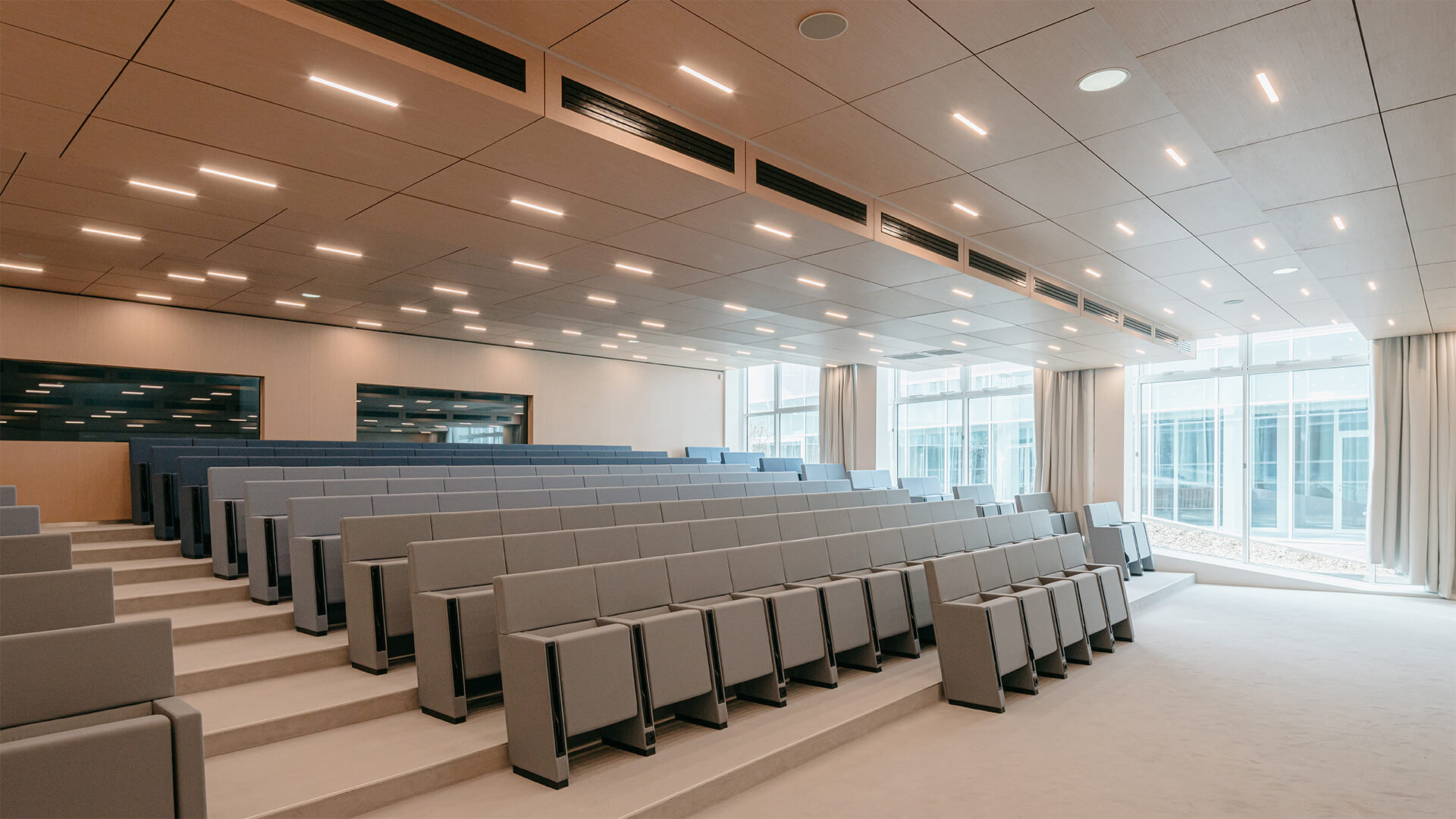 The services also contribute to the overall enjoyment. The complex is also home to restaurants, a gym and, last but not least, an auditorium. This is where LAMM comes in, with its L213 armchairs. With the L213, functional, elegant design and meticulous attention to detail combine perfectly with outstanding comfort, ergonomics and versatility. The chairs—whose version with inclined sides was selected—are arranged in straight, tiered rows. Grey, light blue and blue were the three colours chosen. The coordinated inclination of the seat and backrest, both of which are padded like the side parts, is designed to maximise comfort, even when sitting for prolonged periods.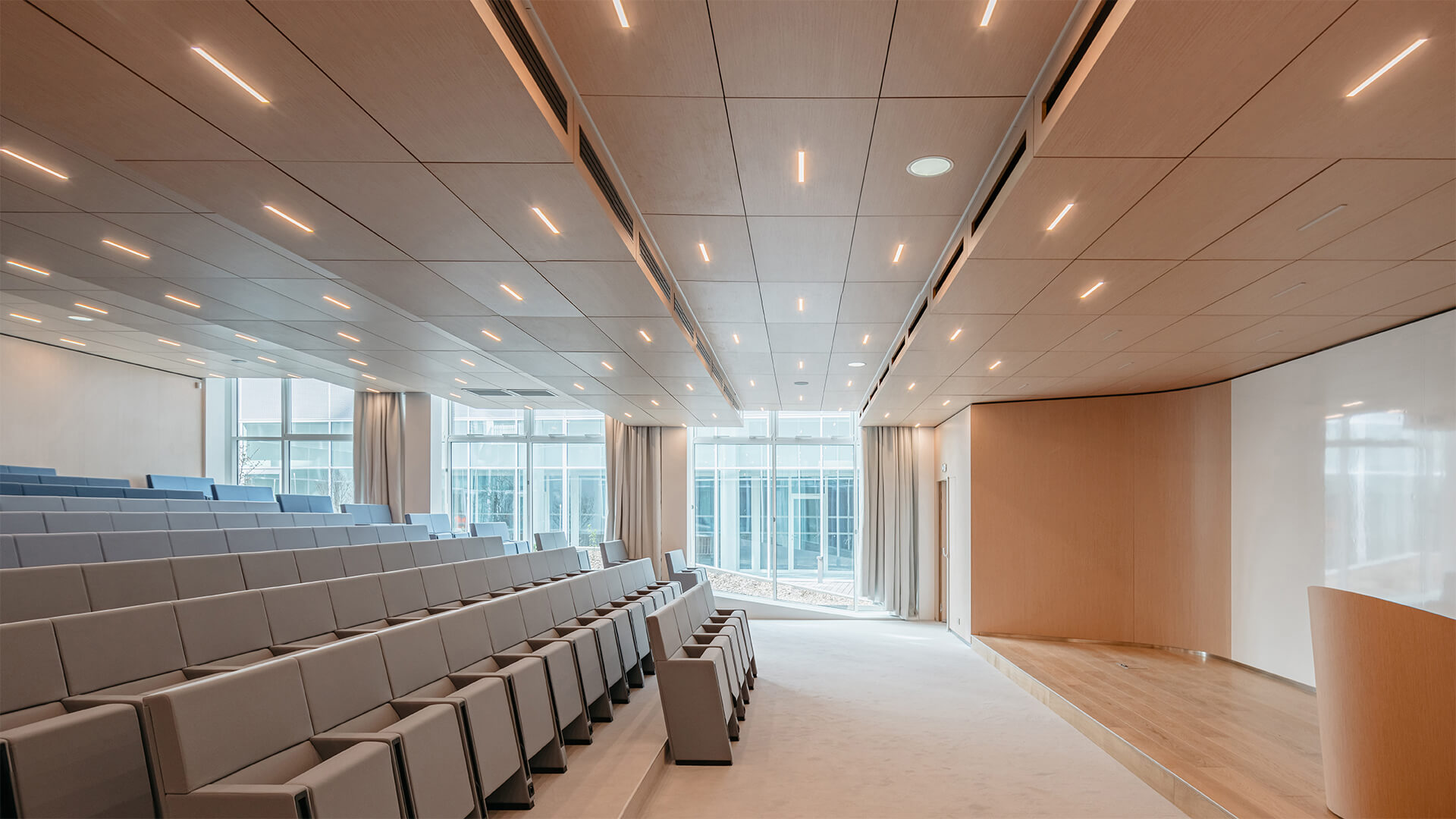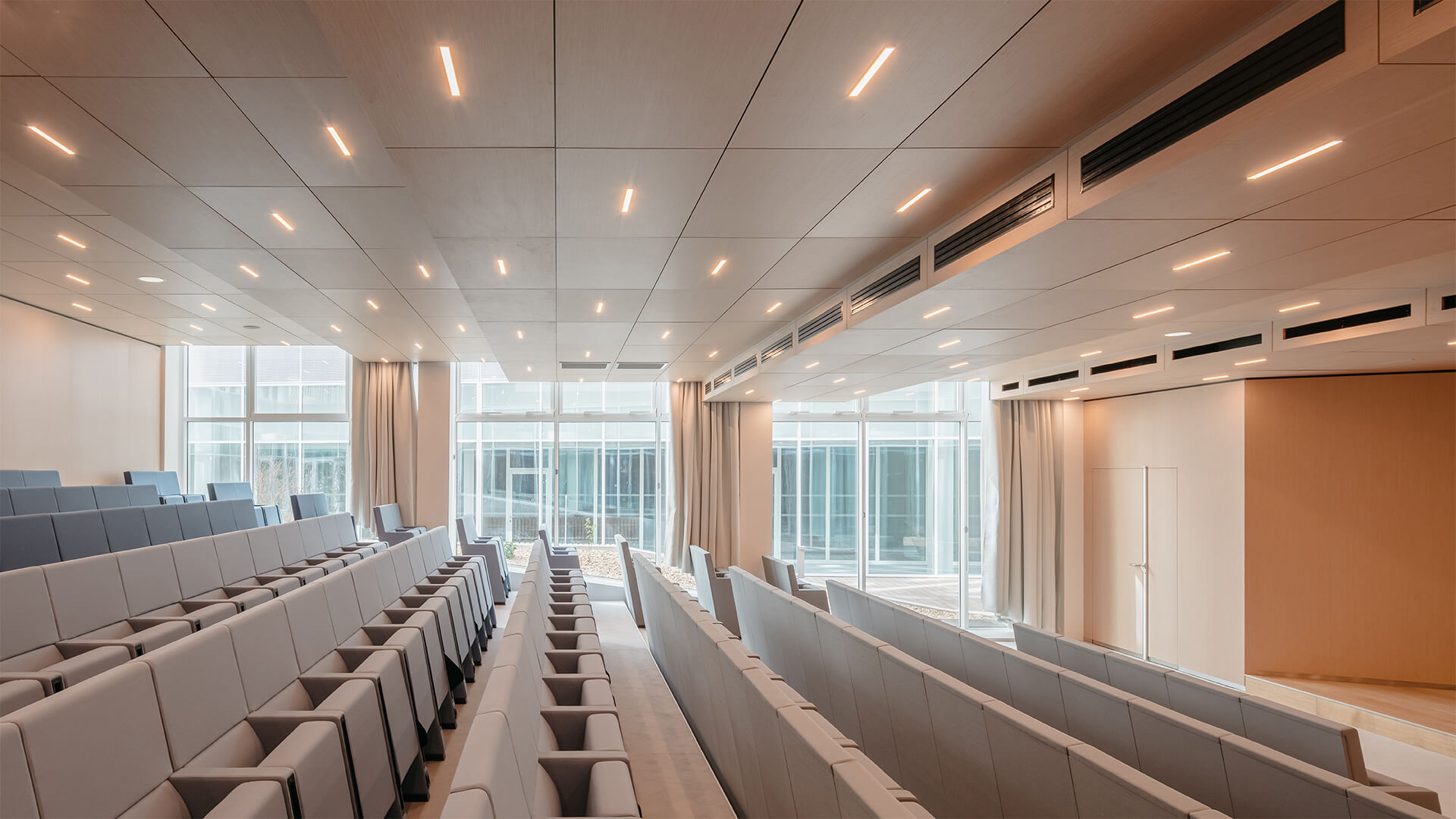 As well as a handy foldaway system (not used in this particular case), which allows you to fold the chair away horizontally underneath the floor like all the armchairs in the "Conference" line, the L213 can be equipped with a wide range of accessories. For the Parisian project, the side parts have been fitted with electrical sockets and a tip-up foldaway writing tablet. Fixing the chairs to the floor is made very easy by the anchoring foot encased in a coated metal casing. The dynamic shape of the sides and backrest emphasises the elegant style of these armchairs, whichever way you look at them. An aspect that, together with their versatility, makes them perfectly suited to any setting.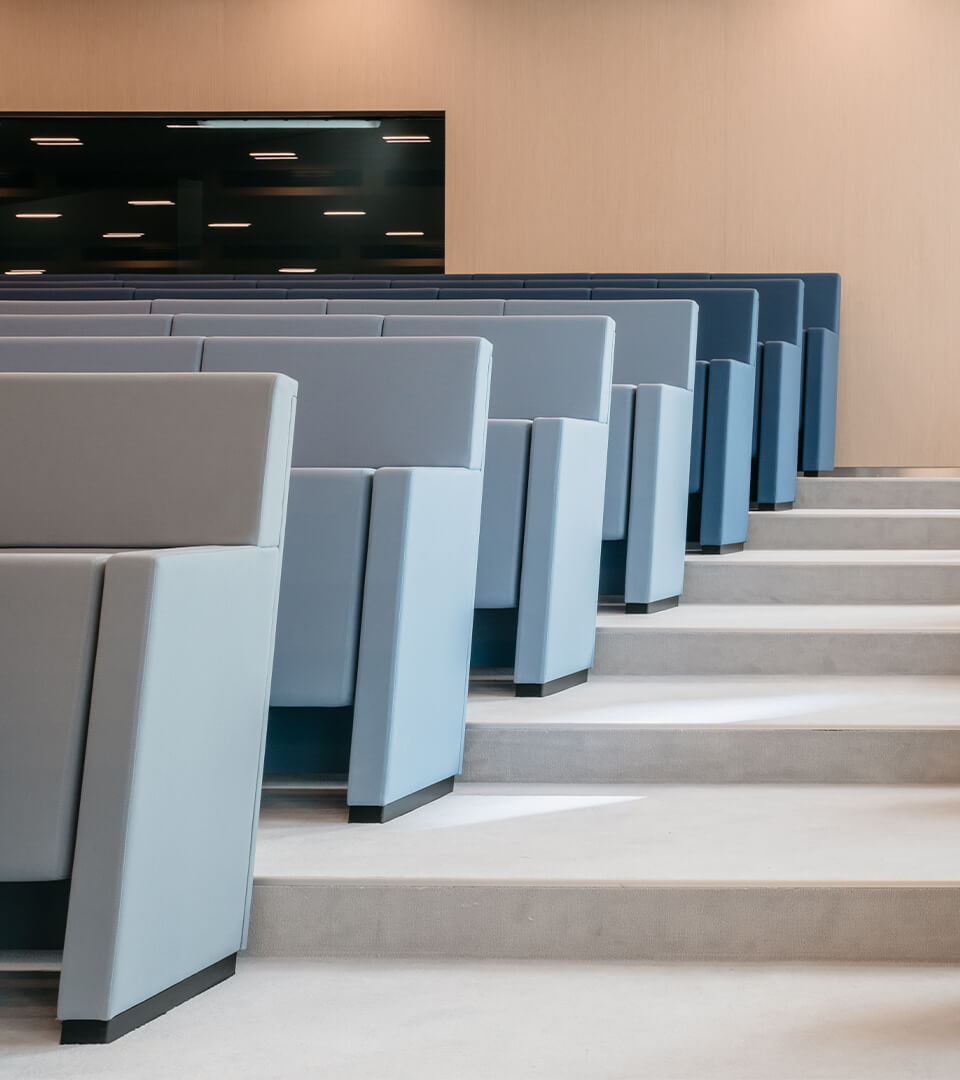 Project: Origine Office Building
Client: Icade
Contractor: Bateg (Vinci Construction)
Location: Nanterre, France
Architects: Maud Caubet Architects, Quadri Fiore Architecture
Year: 2021
Dealer: BM BUREAU
LAMM Supply: 158 L213 armchairs
Photography: Nicolas Trouillard