29.11.2022
LAMM for advanced training at ALMA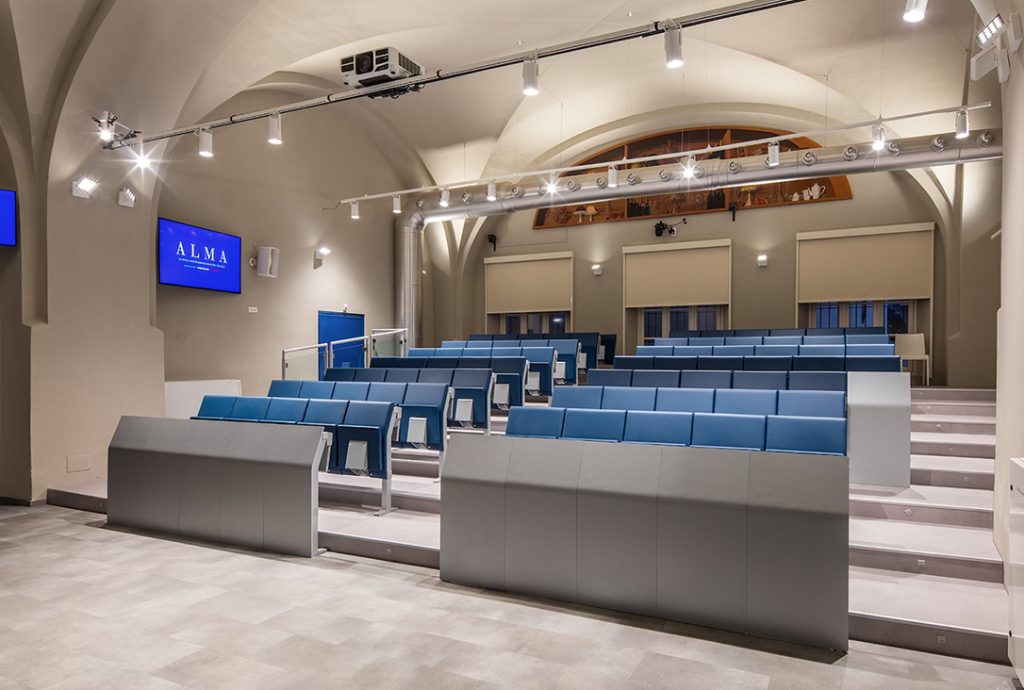 Study benches and a tiered structure provided by LAMM adorn the main hall in this international centre situated in the splendid Ducal Palace, Italy's 'little Versailles' of the Duchy of Parma.
The elegant style and contemporary lines of the E5000 study benches in the Orlandini design provided for ALMA, the international school training the next generation of haute cuisine professionals. This centre of excellence is situated in the Ducal Palace of Colorno, Italy's 'little Versailles' of the Duchy of Parma, immersed in stunning gardens dating back to the 18th century, which were first created in French style and then turned into a romantic wood. LAMM provided 85 study desks and approximately 75 sqm of tiered structure for the main hall in the centre, which has been approved by the Ministry for Education, Universities & Research as an advanced training establishment.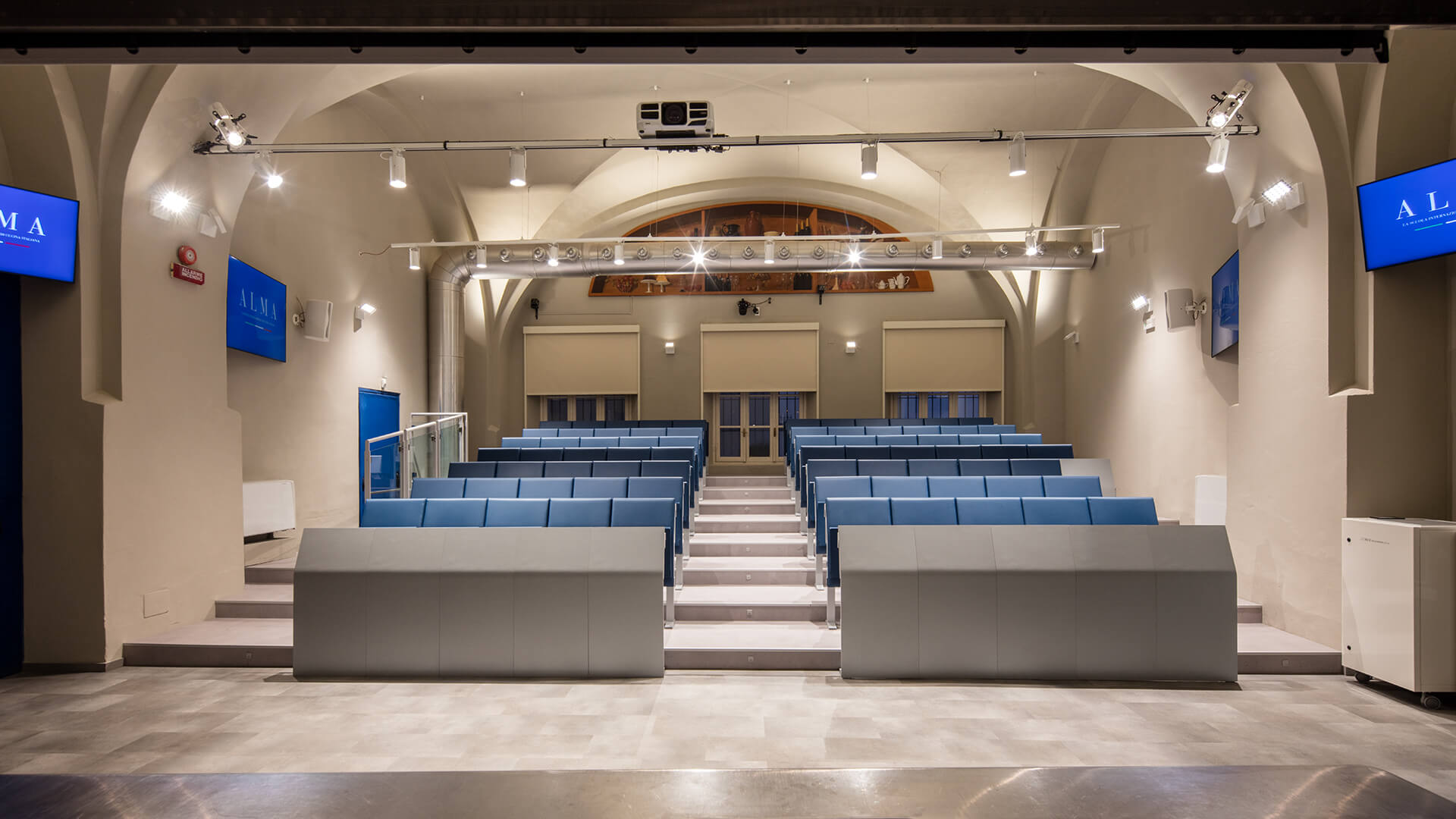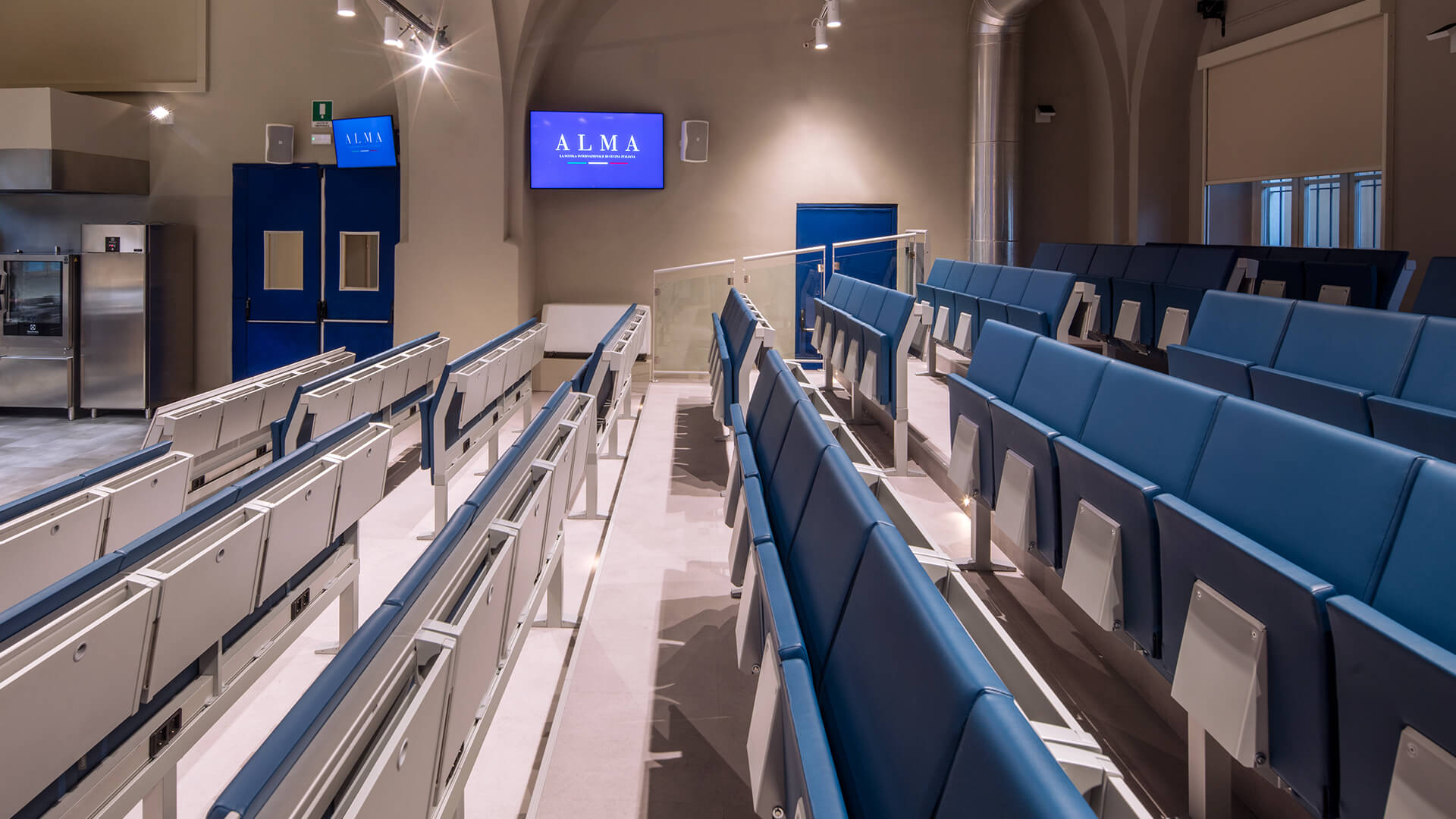 The school is inspired by the principles of the Father of modern Italian cuisine, Gualtiero Marchesi, who was the dean until his death in 2017. In addition to providing advanced training for chefs, it is also an international reference for pastry makers, head waiting staff, sommeliers, catering managers and bakers. This centre of excellence sits in the heart of the Italian Food Valley, and one of its aims is to promote the characteristics of Italian agrifood, and spread the history and culture of cuisine in the Bel Paese.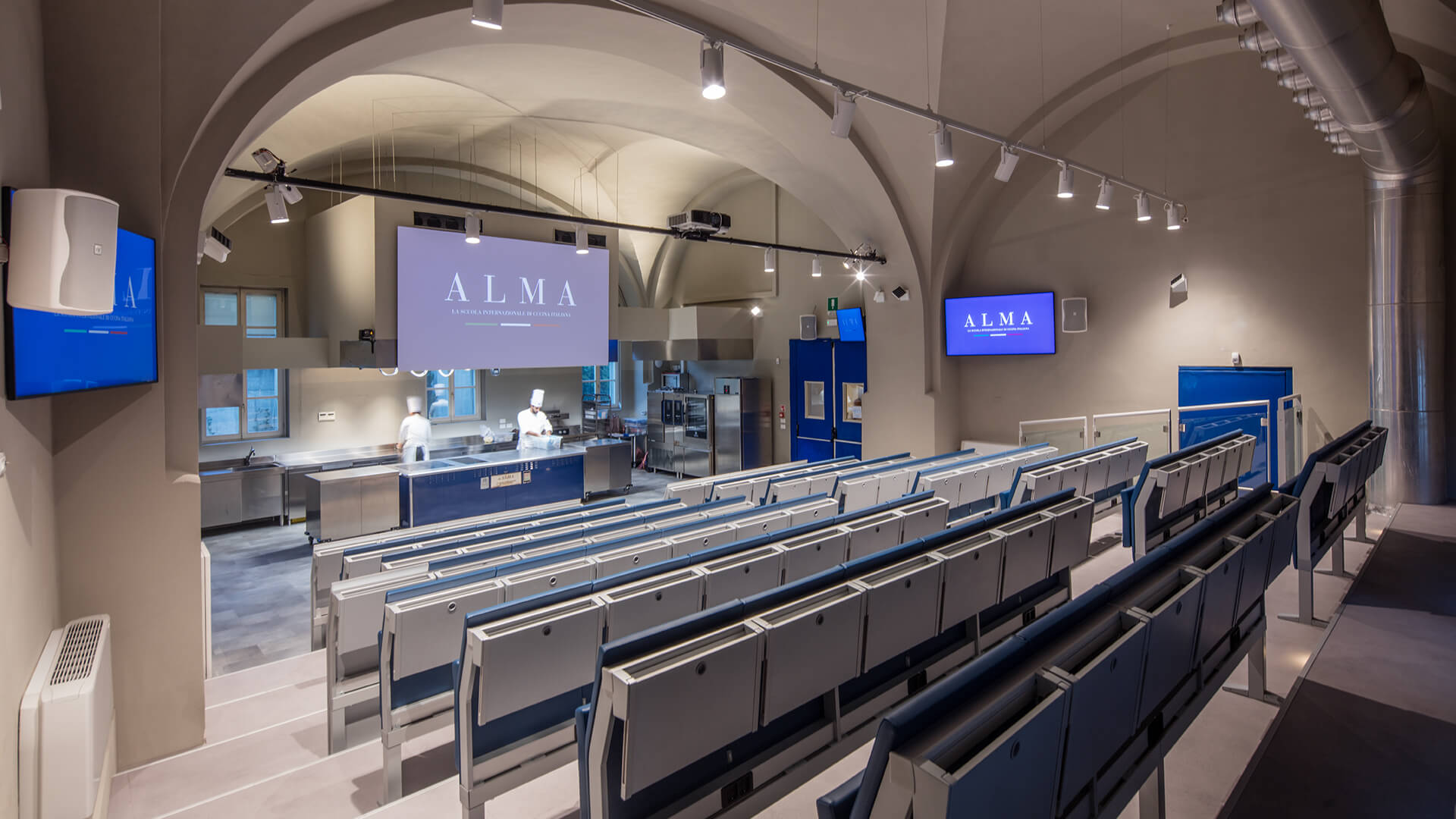 The study desks for the main hall – designed by the architect Giovanni Signani – have a tip-up writing table in silver-coloured laminated plywood, and seats and backrests generously upholstered and covered in bright blue faux leather. The seats, with a silver-painted metal framework, have a silent, controlled closing mechanism, which slows during operation by means of a damping mechanism.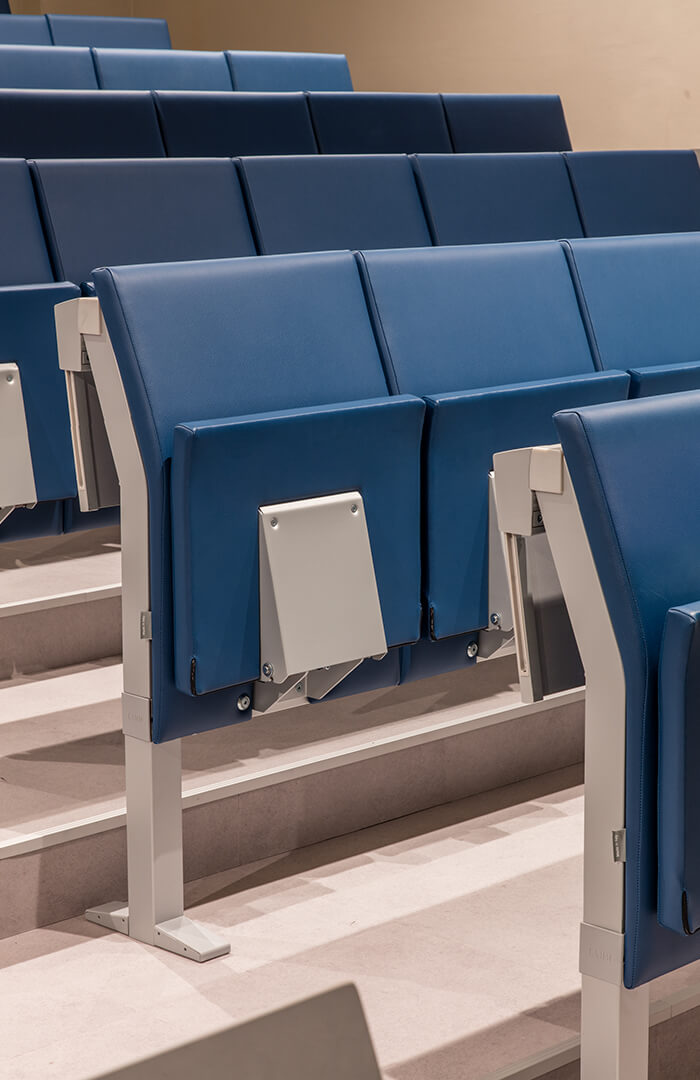 Every writing table has an electrical raceway and electric sockets. The writing tables have been arranged in straight rows on a foxed tribune provided and installed by LAMM, which is made of metal and comes with step lighting and a balustrade made of layered, hardened glass with ground edges.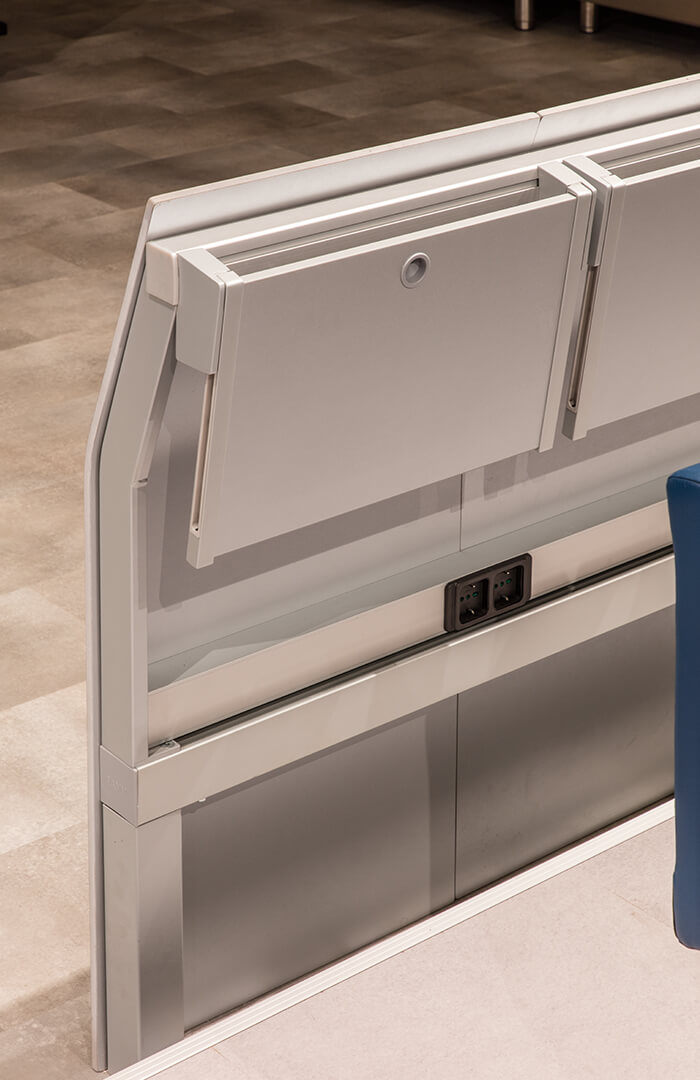 Project: ALMA International School of Italian Cuisine
Location: Colorno (PR), Italy
Client: ALMA S.r.l. International School of Italian Cuisine
Architect: Giovanni Signani
Year: 2022
LAMM supply: 85 E5000 study benches – Orlandini design
Fixed seating