28.02.2023
Exquisitely hand-crafted custom armchairs for jewel-box theatre in spa town Bad Oeynhausen (Germany)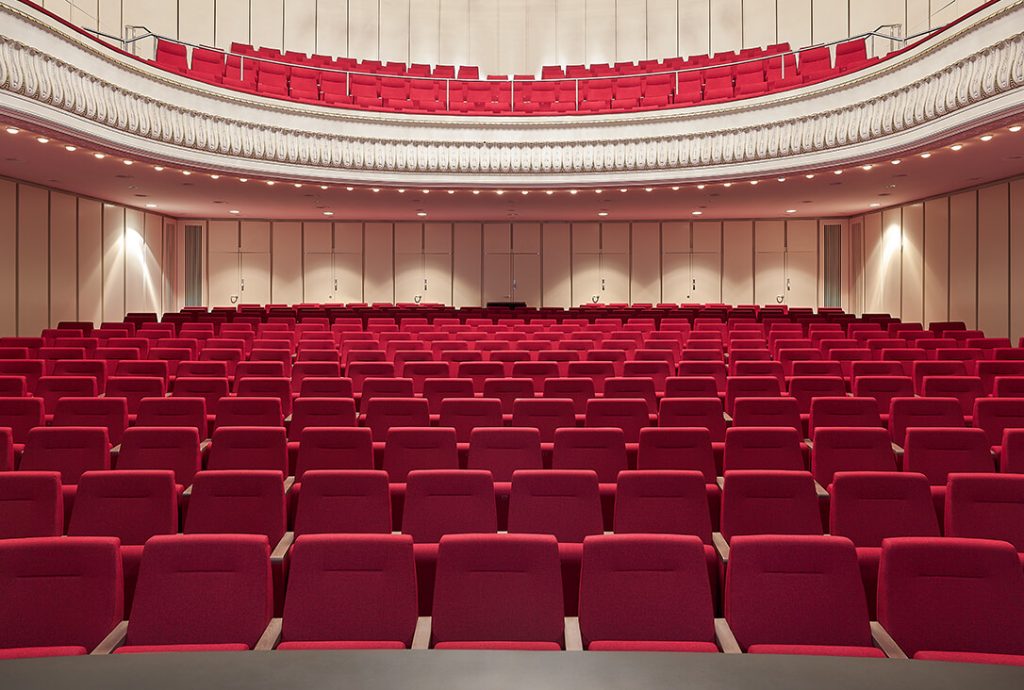 Tailor-made solutions designed to meet the particular needs of a historic building and ensure a flawless installation for its geometrically complex stalls
For an all-new product designed to meet the special requirements of the small Theater Im Park theatre, a precious little building that has shaped the cultural scene in the spa town of Bad Oeynhausen in North Rhine-Westphalia for over a century, painstaking work, fine craftsmanship, and the development of fine details and subtle technical solutions were required. A small jewel-box theatre that, like a pavilion, is immersed in the luscious greenery of a splendid urban park and whose setting is enhanced by striking water features.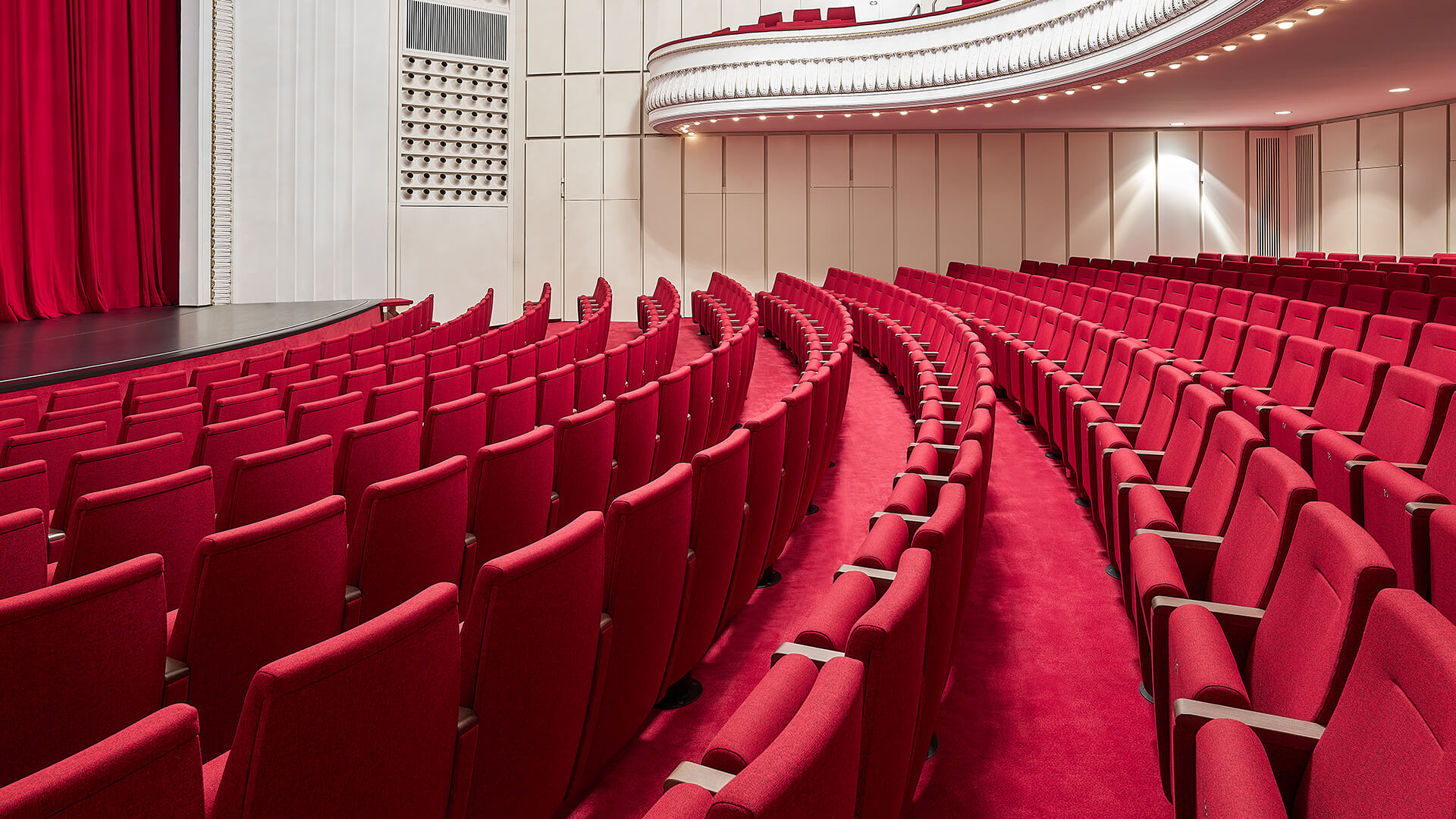 For this project, the product had a number of factors to satisfy: ensuring maximum comfort for viewers while seated, improving the theatre's overall acoustic performance, respecting the historical architecture that the new armchairs need to fit in seamlessly with, and maintaining the same number of seats occupied by the old, worn chairs. Last but by no means least, the armchairs—installed in curved rows—had to accommodate the unique layout of the stalls, whose irregular curvature forms a spoon-like surface. LAMM developed a tailor-made product to cater to the particular aspects of the architecture and fulfil the needs and specific requests of the client. The bespoke solution was completed with precision by experienced craftsmen sent to Germany, who installed the seats in curved rows on the "spoon-like" floor, ensuring that every measurement came together perfectly, as if it were a three-dimensional puzzle with no room for imperfections.
499 custom armchairs were supplied and installed in the theatre: 351 with a low backrest in the stalls and 148 with a high backrest in the gallery, all of which are fully upholstered, equipped with short sides with solid wood armrests and have damper-cushioned closure. The seat and row numbers embroidered directly onto the Step Melange upholstery by Gabriel is a significant feature that enhances them even more. The painted black frame is designed to solve the issue caused by the "spoon-like" slope of the parterre, with special feet—i.e. cylinders for fixing the armchairs to the ground—that are height-adjustable, enabling the chairs to be adapted to the unique curvature of the stalls. The beam-mounted armchairs are anchored to the cylinders, with spacing of 53-55 cm. The curved-row installation was made possible by the unique calendaring of each beam.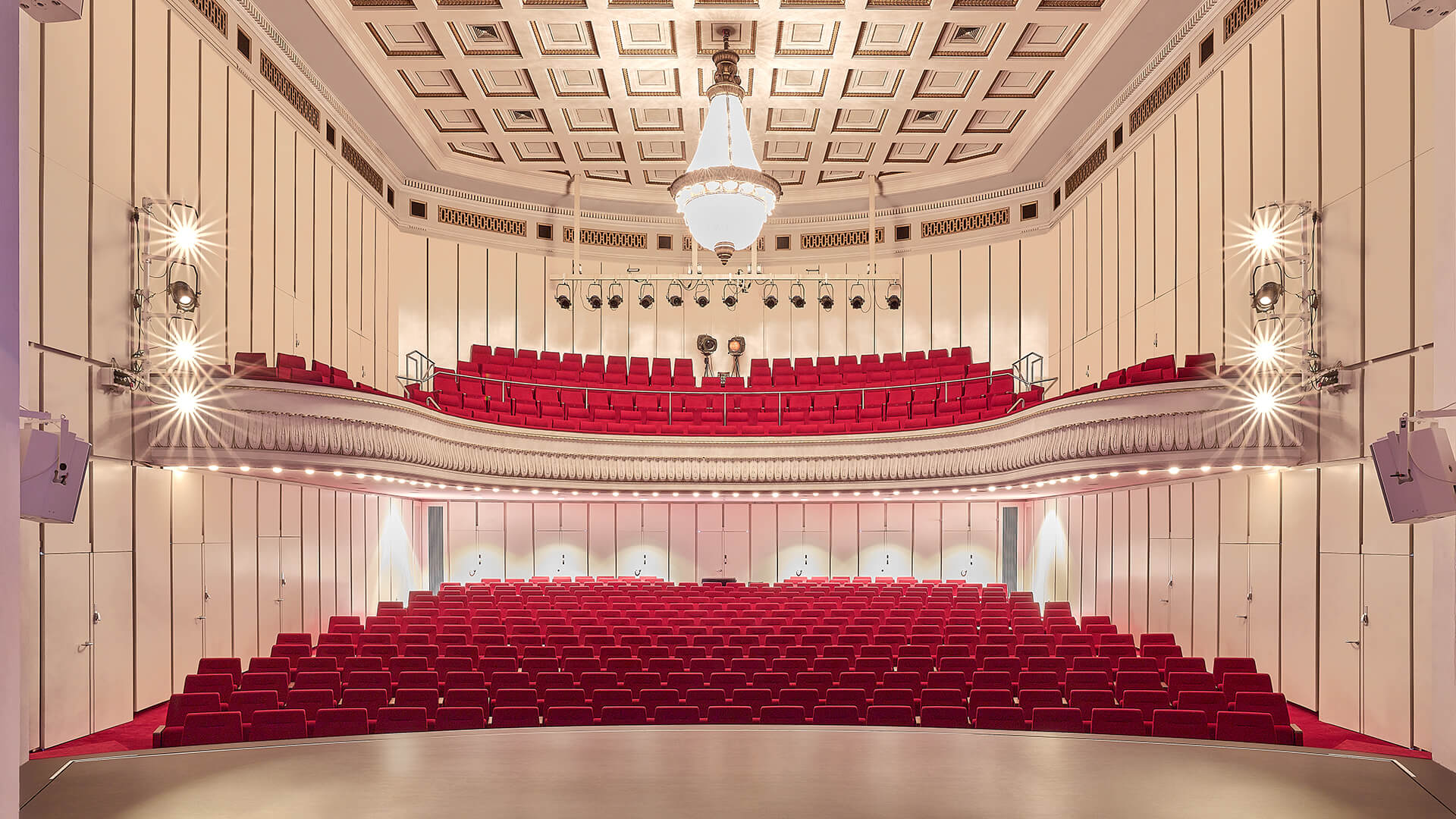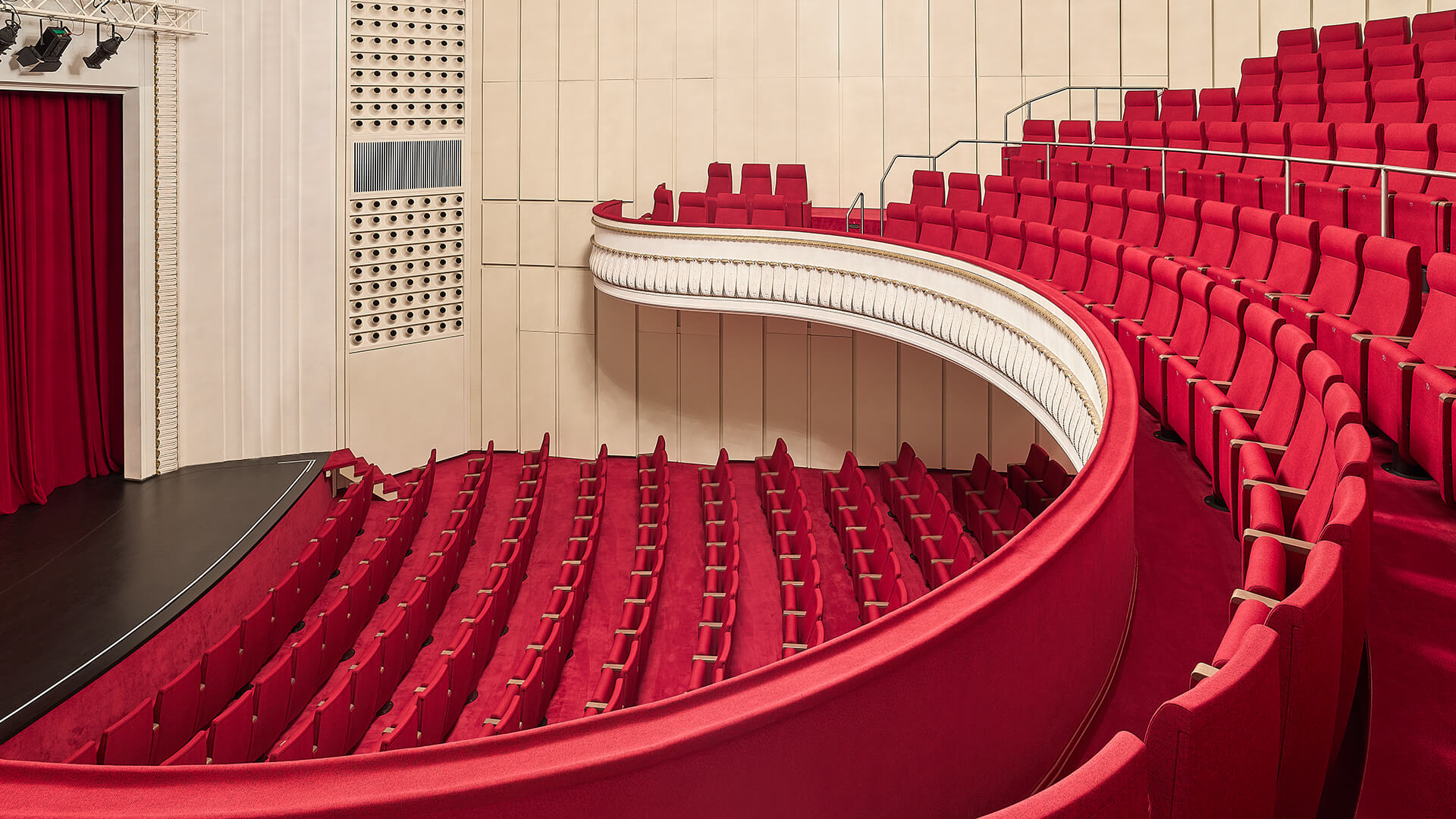 The armchairs were also designed to save space without compromising on the upholstery used to ensure maximum comfort. Said comfort is further enhanced by the special ad hoc shape of the product. The flame-retardant upholstery fabric is very strong and durable, and thick enough to ensure optimum soundproofing. The wooden armrests (which are durable and interchangeable) offer exceptional comfort thanks to their increased depth and large support surface.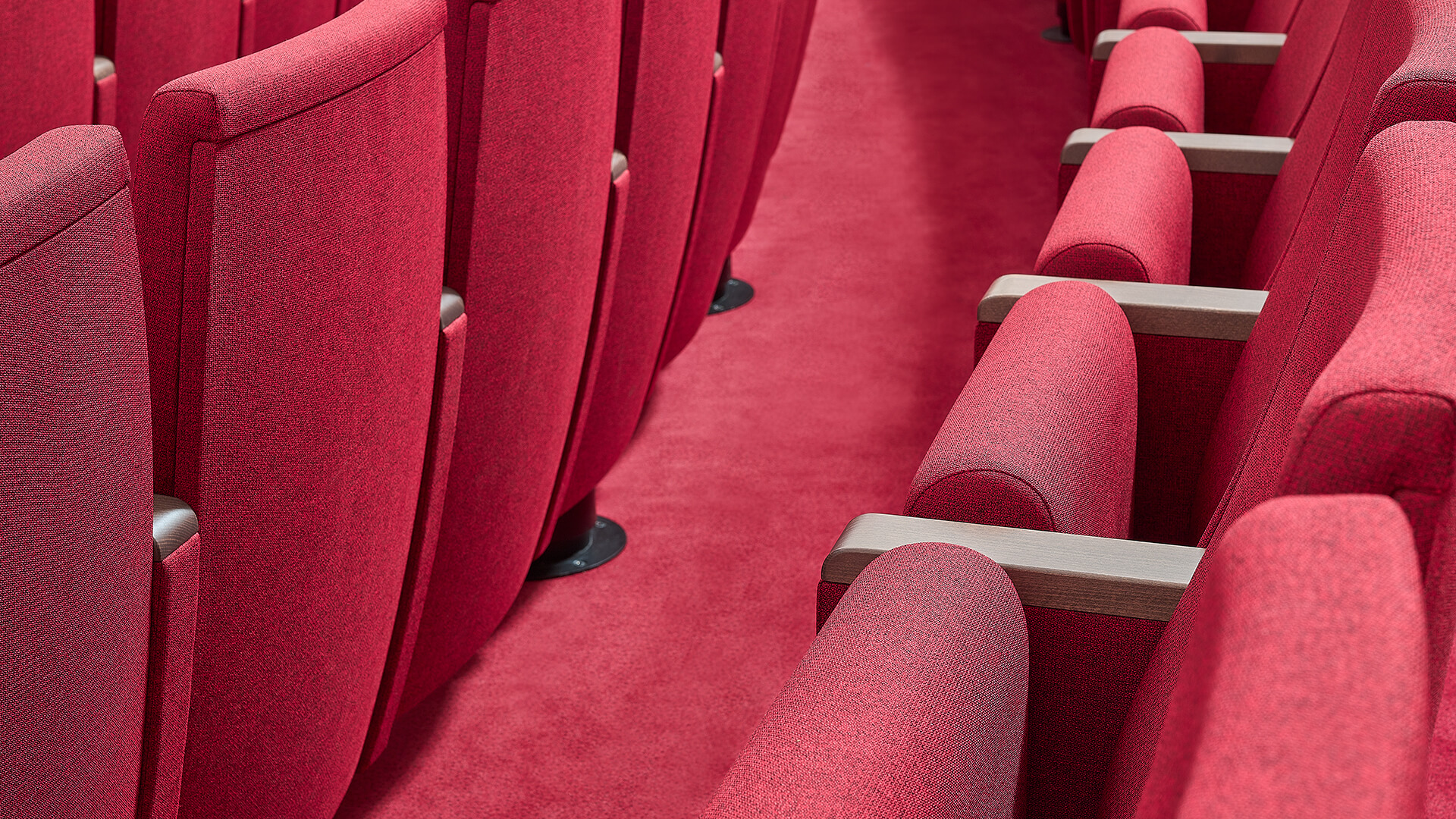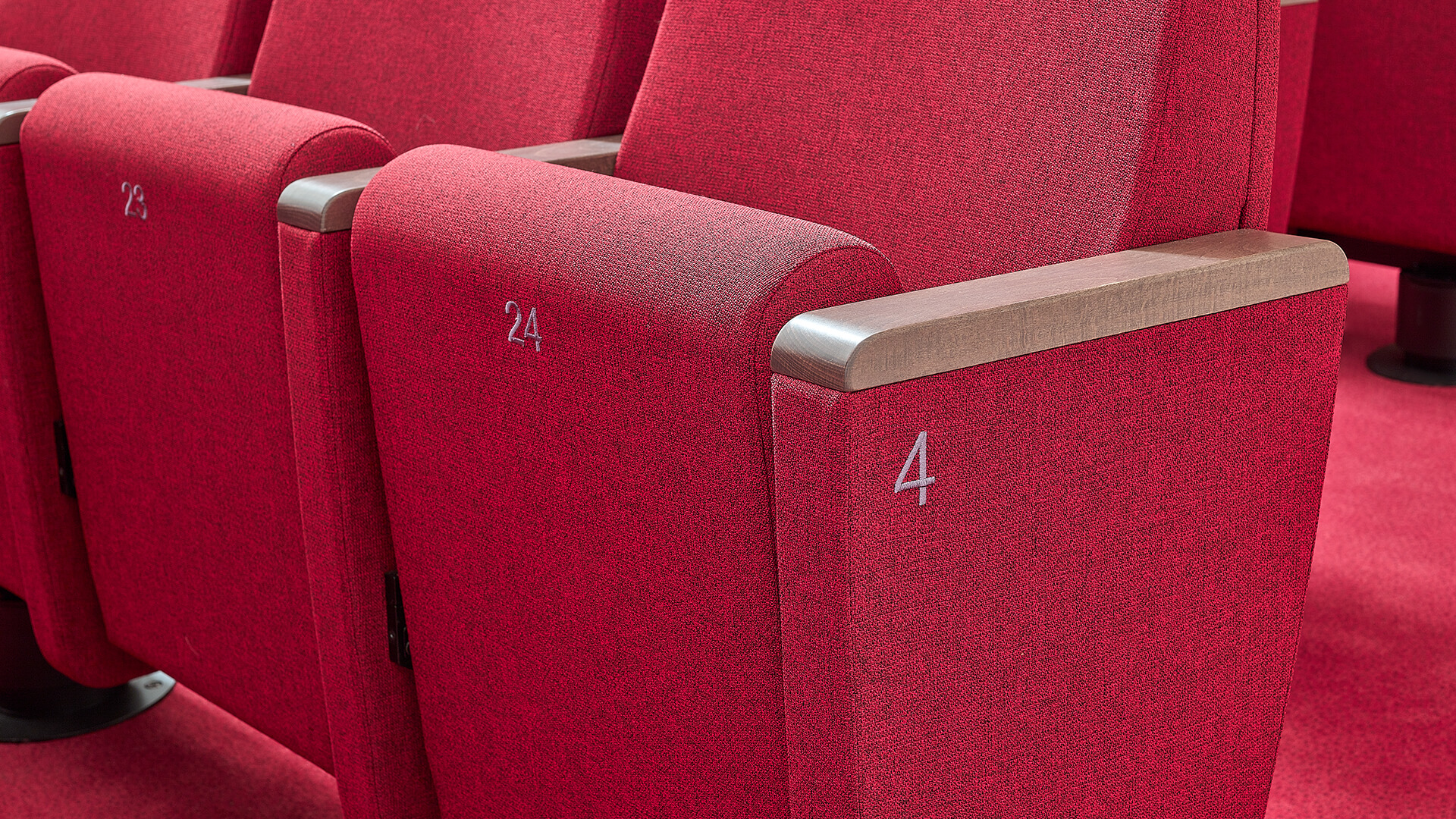 Project: Theater Im Park
Location: Bad Oeynhausen, Germany
Client: Stadt Bad Oeynhausen
Theatre consultant: Bernhard Grüsser
Year: 2022
LAMM supply: 499 custom armchairs
Photographs: Wilfried Bordasch Photography