15.12.2020
LAMM M100 armchairs in the new premises of Deloitte Luxembourg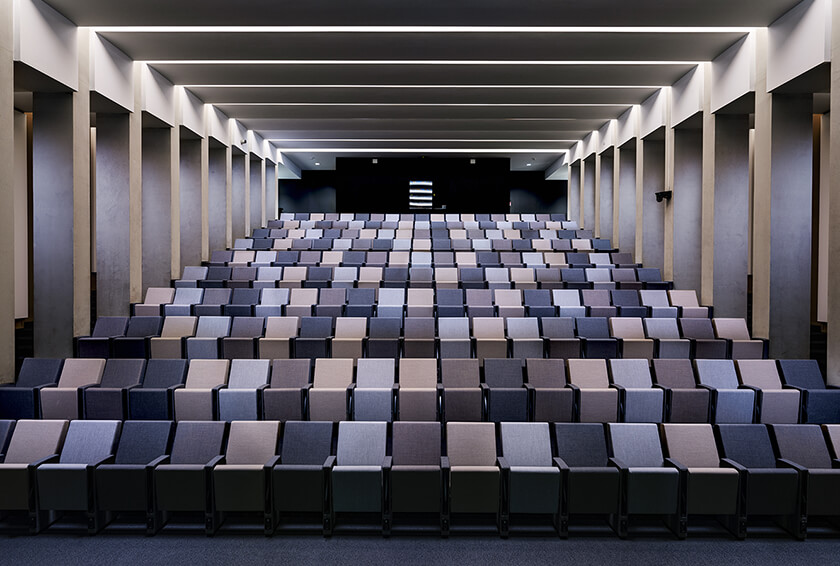 Designed by Paul Bretz Architects in collaboration with Moreno Architecture, the iconic new D.Square building was inaugurated about a year ago in the presence of Luxembourg Prime Minister Xavier Bettel: the new HQ of Deloitte Luxembourg.
2020 is a special year for Deloitte, which celebrates its 175th birthday. When William Welch Deloitte opened his office in London's Basinghall Street in 1845, he started a success story, blending tradition and innovation and believing in the power of collaboration and connection, always aiming at excellence.
Deloitte is a global provider of Audit & Assurance, Consulting, Financial Advisory, Risk Advisory, Tax and Legal services to public and private clients in a variety of sectors.
The company, along with PricewaterhouseCoopers, EY and KPMG, is one of the so-called "Big Four" – the four largest audit firms – and with around 312.000 employees in 150 countries and territories it is the world leading firm in terms of revenues and number of professionals.
In the heart of the Cloche d'Or, a modern urban district at the southern end of the city of Luxembourg and the result of a broad extension strategy of the capital, the new headquarters of Deloitte Luxembourg, this division of the group that currently employs over 2.300 people, was established.
Almost 2.100 of these have found a new place in the imposing modern 30.000 m2 building which is also known as D.Square, designed by Paul Bretz Architects in collaboration with Moreno Architecture.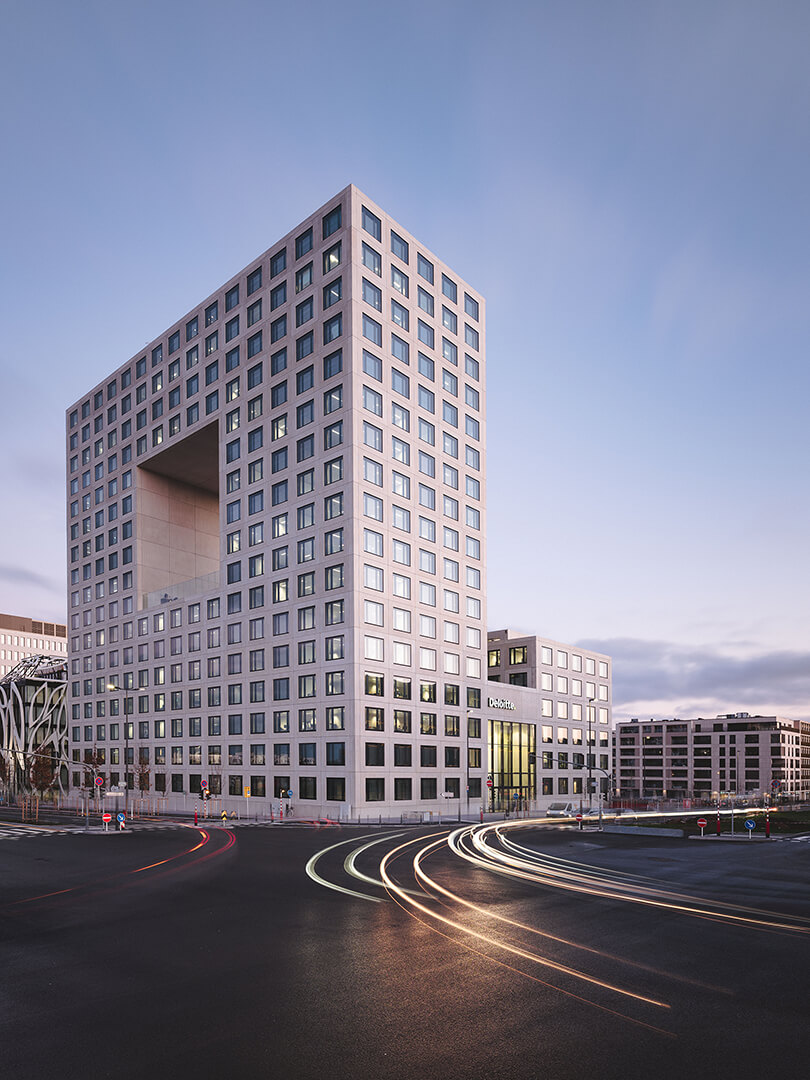 The building, located at the corner of 2 avenues, consists of several environments organized in the form of two parallel towers, one of 17 floors and the other of 6, connected by a large 4-storey entrance hall that serves as a link. The 3 environments rest on shared foundations that compensate a total elevation gain of 3 mt.
The top floor of the main tower, called "The Gallery", is reserved for Deloitte customers and there are a large waiting room, meeting rooms and a dining area.
Level -1 houses an auditorium, used for both indoor and outdoor events, as well as the "Greenhouse" space designed to work with and not only for clients.
A characterising element of the entire building is its large urban window located between the seventh and thirteenth floors, with a patio that can also be used for convivial occasions.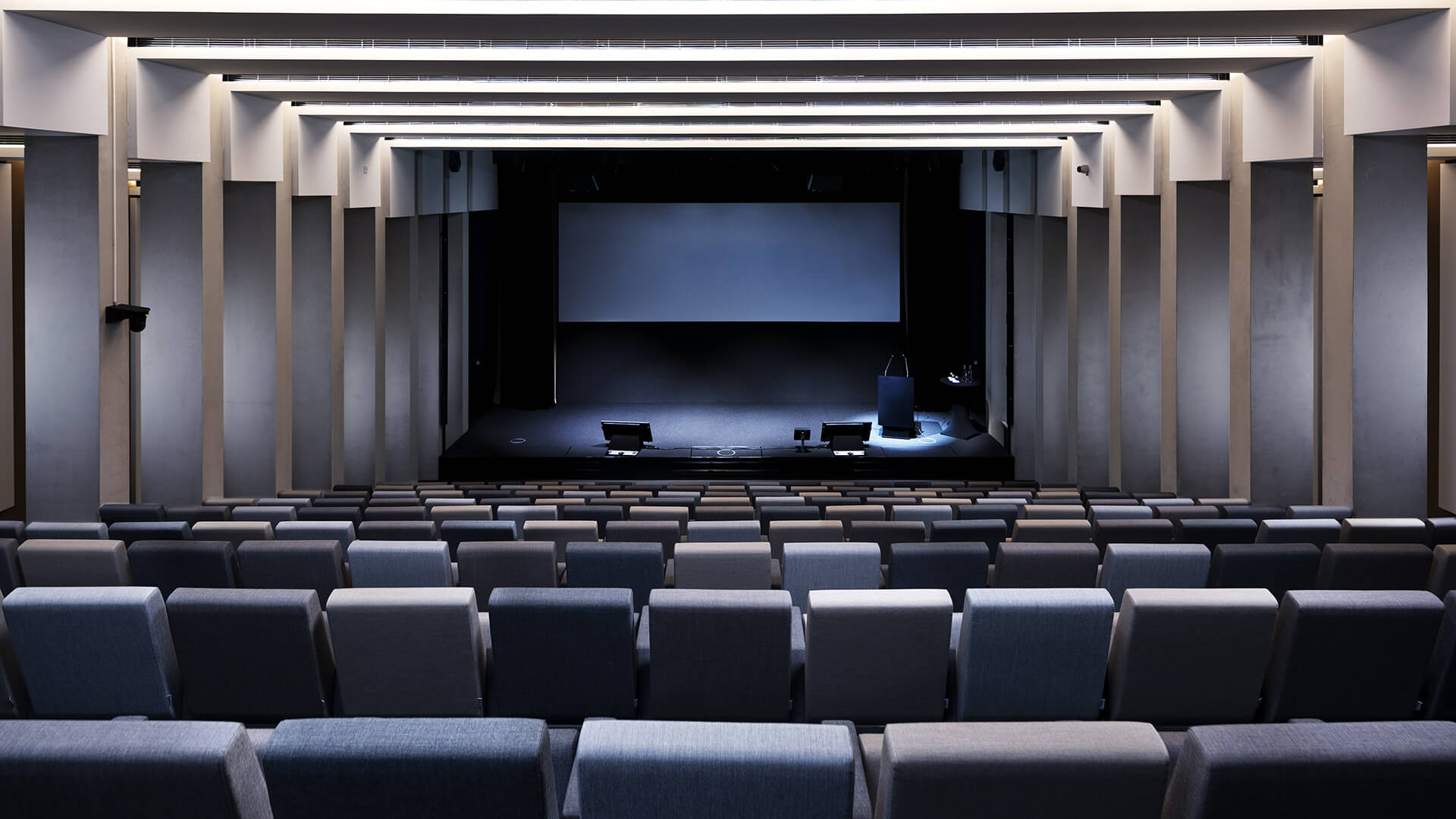 In this outstanding framework, LAMM was called upon to supply its seating systems for the exclusive 200-seat auditorium which is now furnished with armchairs from the M100 collection. In this case the model is equipped with floor-standing sides fully upholstered.
The armchairs have been installed in the version with foldable writing tablet with anti-panic movement and electrical sockets are placed in the lower part of the side panel. The elegant Remix 2 fabric by Kvadrat in different colours was chosen for the upholstery. The layout of the armchairs is in straight tiered rows.
Project name: Deloitte Headquarters Auditorium – Luxembourg
Location: Luxembourg
Year: 2019
Architectural project: Paul Bretz Architects in collaboration with Moreno Architecture
Interior design project: Moreno Architecture
LAMM systems: M100 – R&D Lamm
Photographs: © Deloitte – Ph. Nader Ghavami