23.03.2021
LAMM retractable armchairs for the "Carlo De Carli" great hall at the Politecnico di Milano
Recently, around 500 Futura armchairs were successfully supplied and installed. Two versions of seating mounted on track and on a telescopic tribune were fitted to innovative, dynamic "Floor Technology" systems.
The Bovisa campus at PoliMi—the largest science and technology university in Italy, founded in 1863—has seen a complete overhaul of its great hall dedicated to Carlo De Carli, the head of the Faculty of Architecture from 1965-68.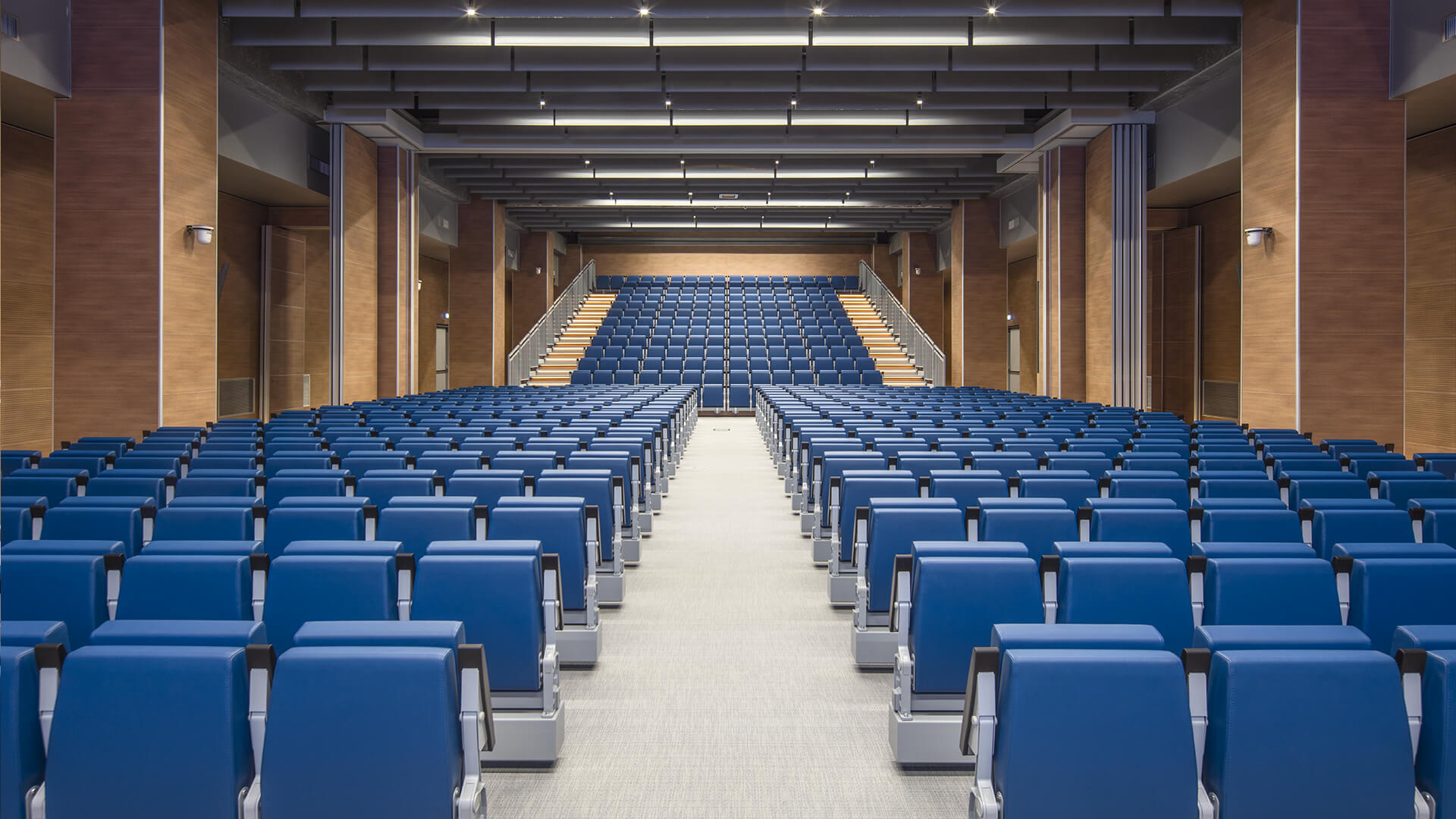 As part of this radical restyling, LAMM played a vital role in its success by supplying complex and articulate solutions, with innovative Floor Technology foldaway systems—dynamic systems that aid space management and seat movement—serving as the main feature. The new layout includes 492 Futura armchairs, of which 306 were mounted on a sliding system on the ground and the other 186 were installed on a telescopic tribune.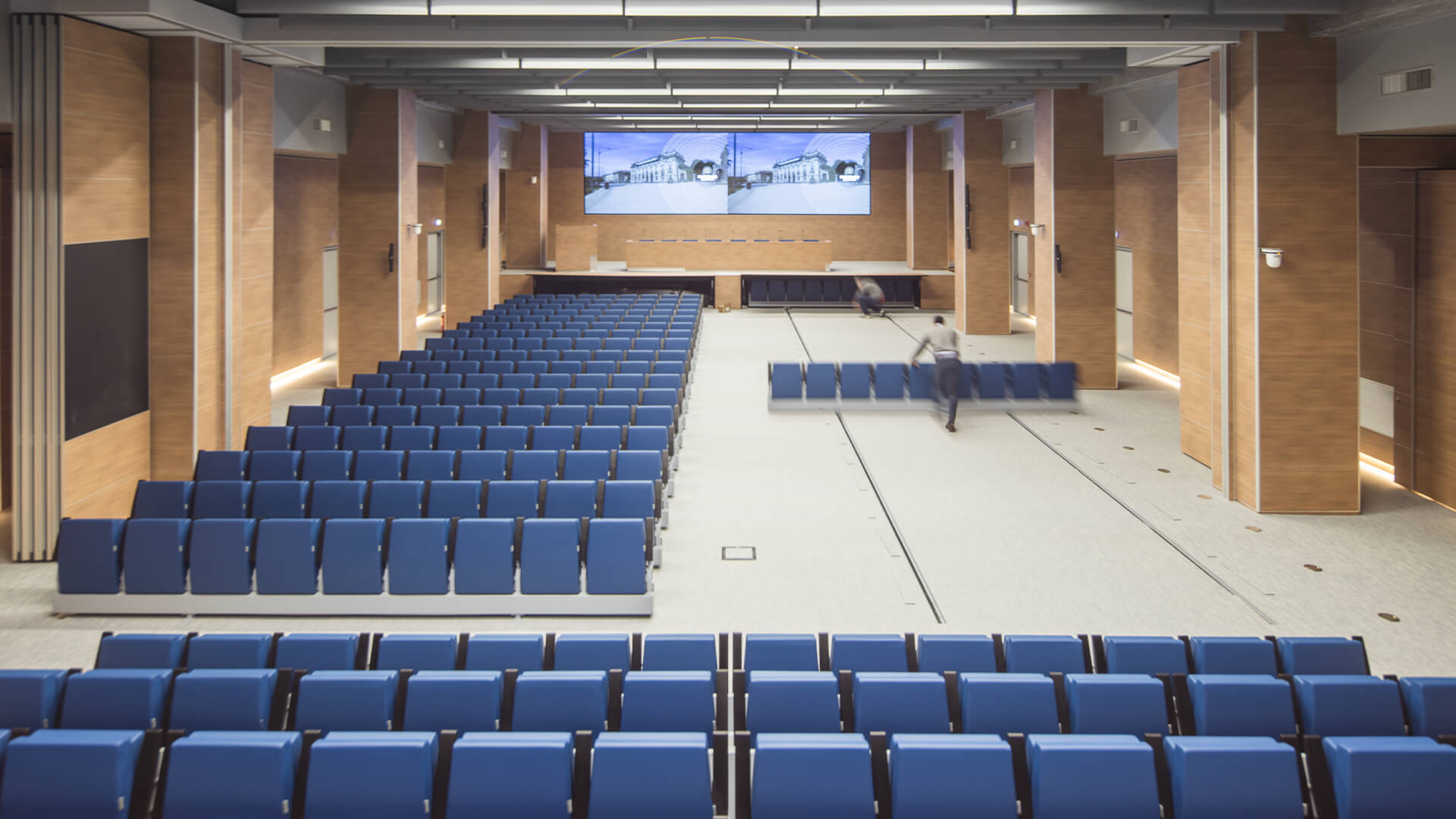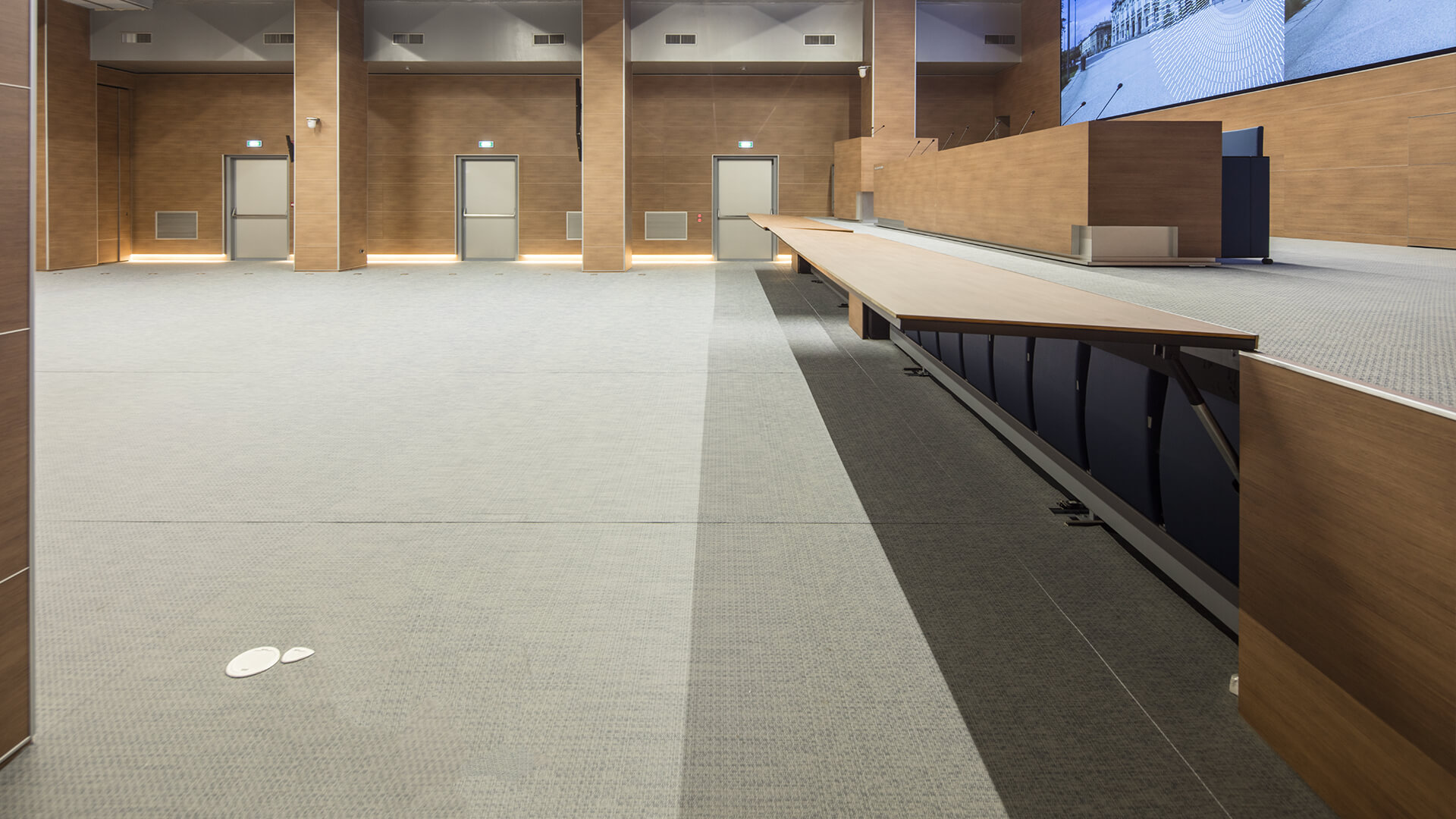 Thanks to the track system embedded in the floor, the rows of seats slide along and can be folded down horizontally and stored in a special compartment under the floor, enabling the floor to be cleared entirely in just a few minutes to make it available for other functions. The manual handling of the system is straightforward and can be done by a single operator who can manage one or more rows at the same time, while the self-cleaning and self-lubricating sliding mechanism—a one-of-a-kind component—reduces the need for maintenance work over time.
Complete with a special cable-channelling system (inside the horizontal beam supporting the seats) and designated hatches in the floor, users can access the electric supply thanks to the easily accessible sockets under the seat.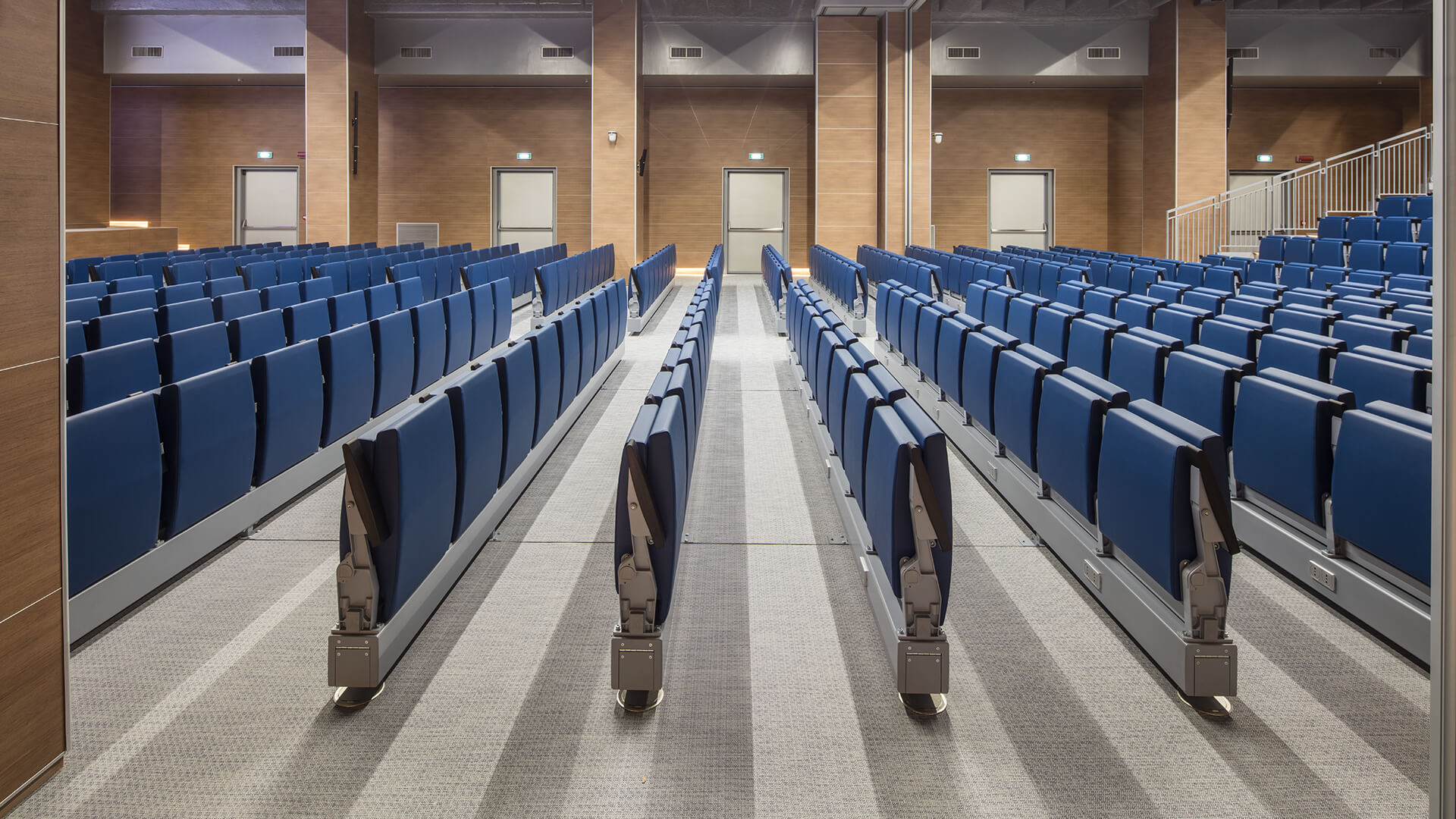 At the back of the hall, there is a telescopic tribune: an automatic machine that allows seating to be moved out of sight into the wall, thus reducing the total space taken up by approximately 200 seats, distributed into 12 rows of 16 and 1 row of 20, to just over 170 cm.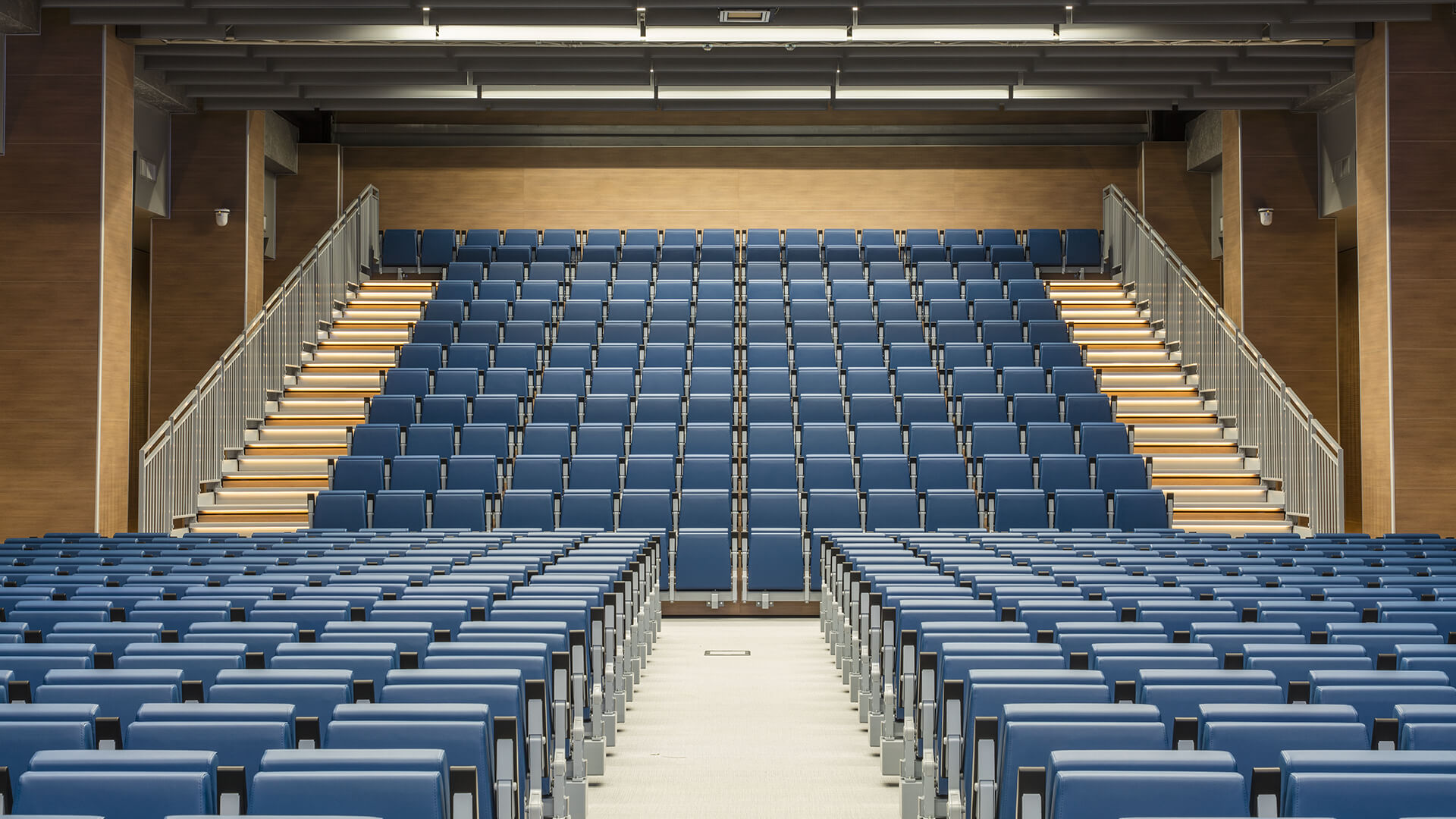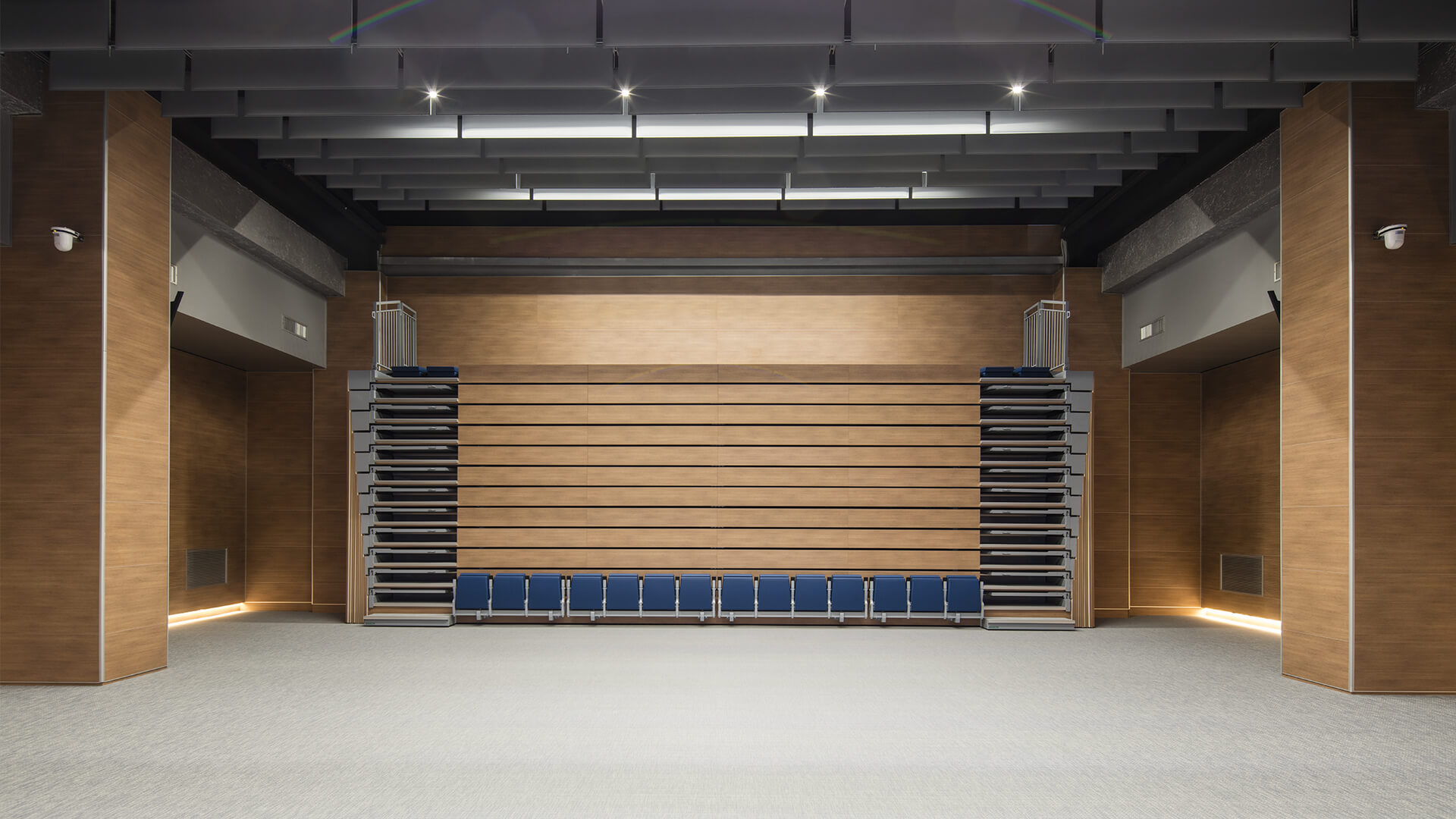 All the Futura-line armchairs supplied, complete with die-cast aluminium sides and seat and backrest with cold-moulded, expanded polyurethane foam padding, are equipped with a special gravity system that releases and tips up the seat with a cushioned movement, while the backrest lowers and moves into a vertical position in sync with the armrests, reducing the space taken up to just 19 cm.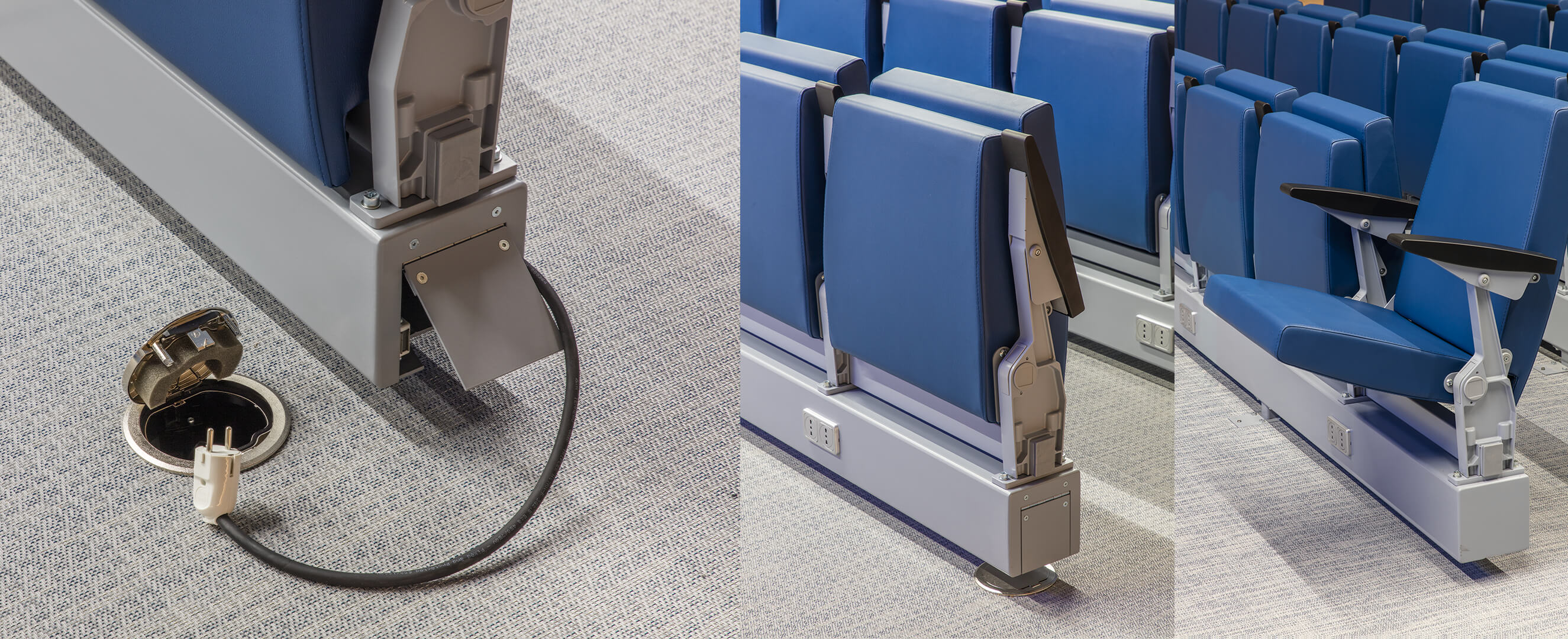 To round things off, 8 foldable 'On Time' armchairs, designed by Baldanzi & Novelli, were supplied. These have wheels, are easy to fold and stack, and can be used by speakers and lecturers.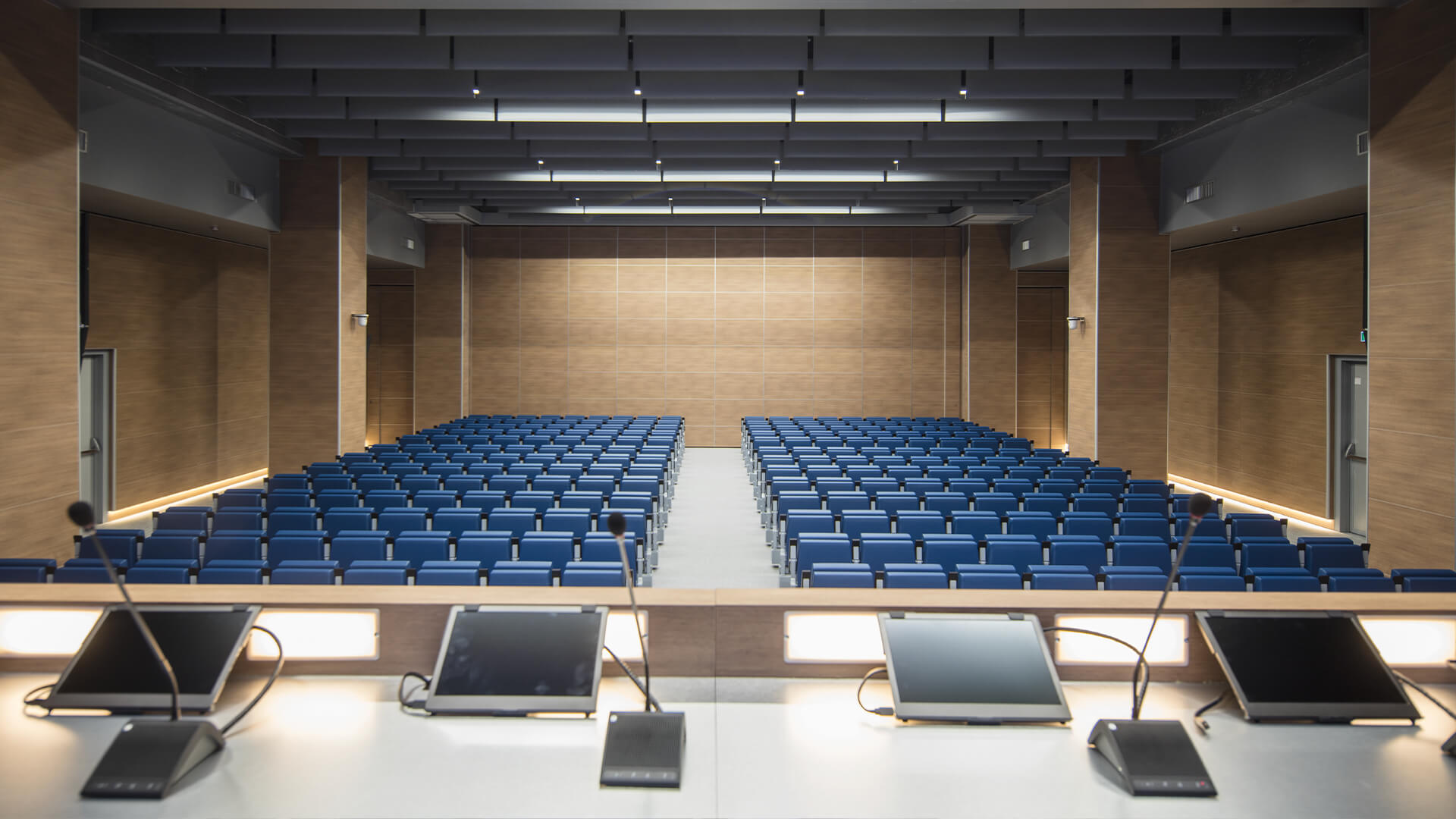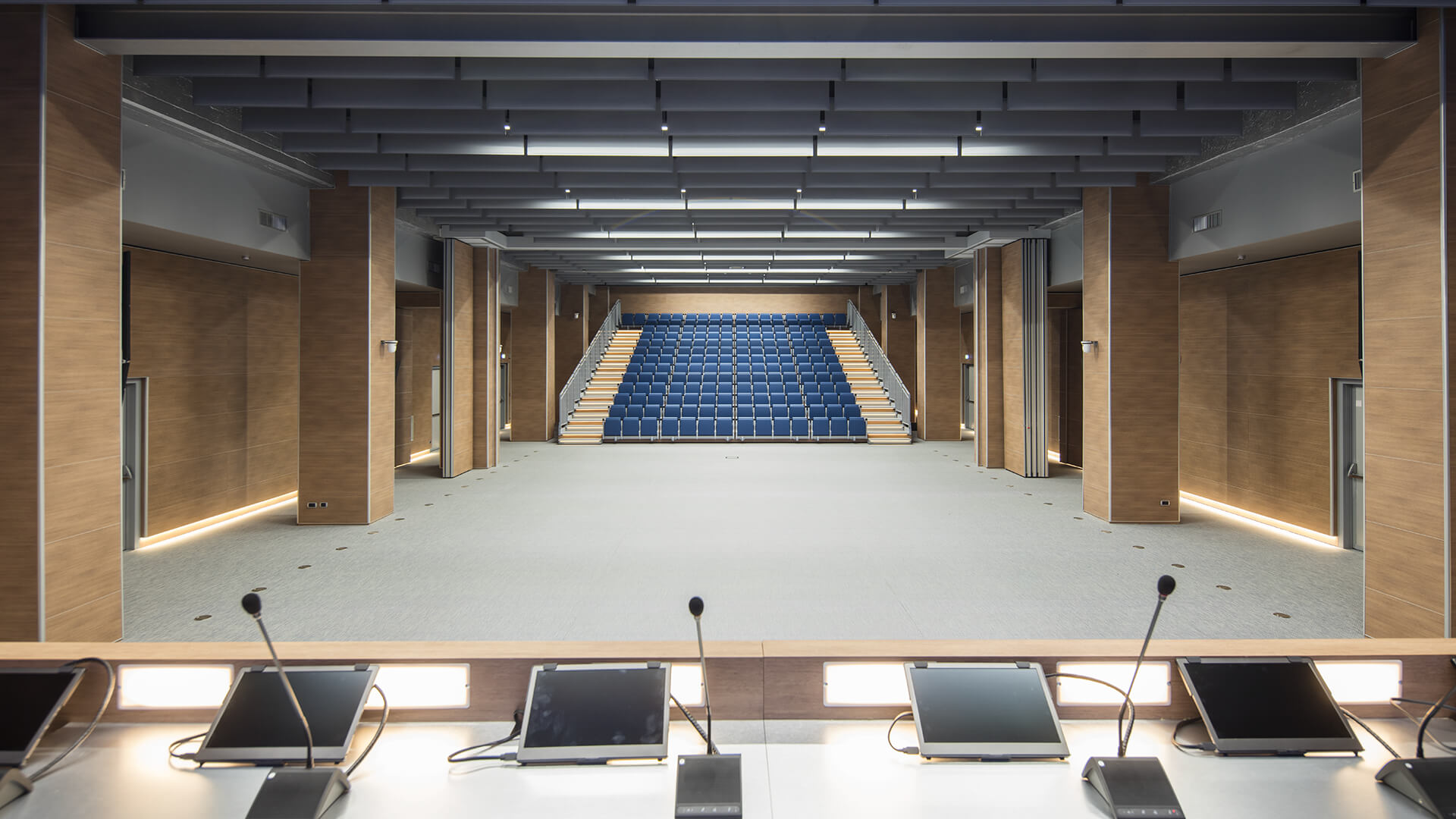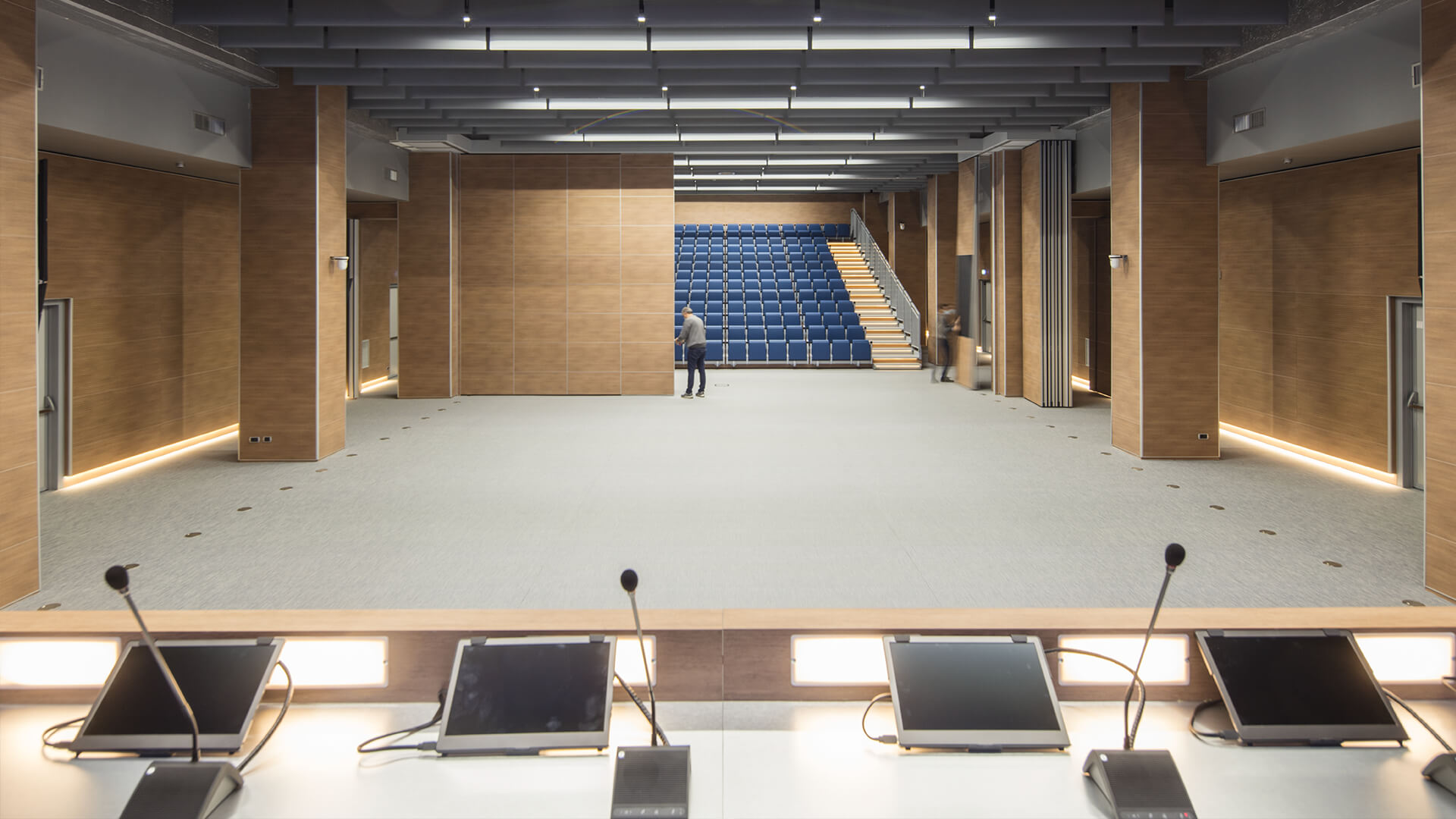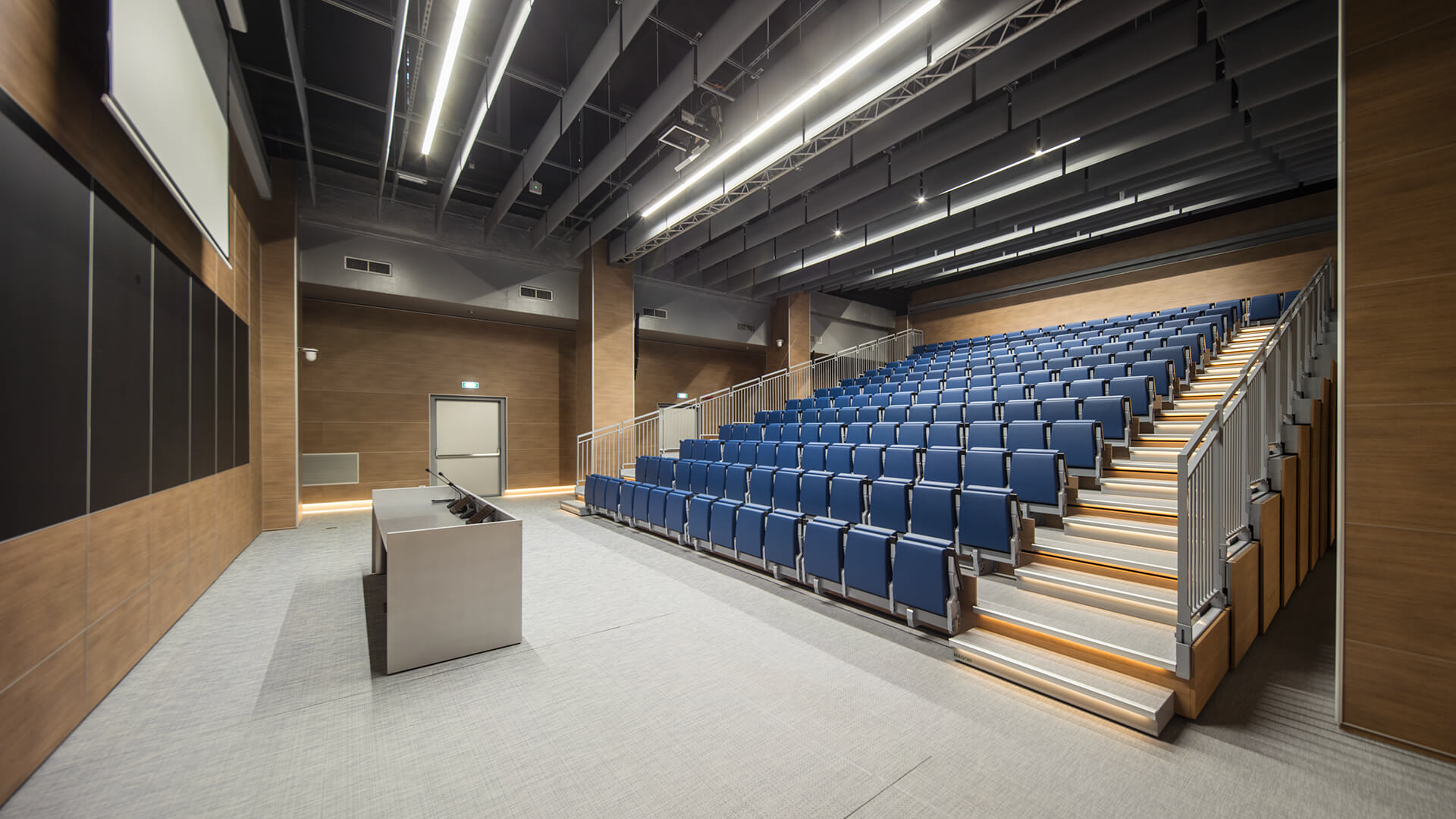 Clearly, flexibility is a legitimate interior-design strategy that is becoming increasingly widespread and popular, even for universities: by installing retractable systems, in this case combined with a movable wall system in the middle of the room (or thereabouts), the "Carlo de Carli" Great Hall has been transformed into a multifunctional space that is easy to adapt (completely open and clear hall, or mixed use) for different uses.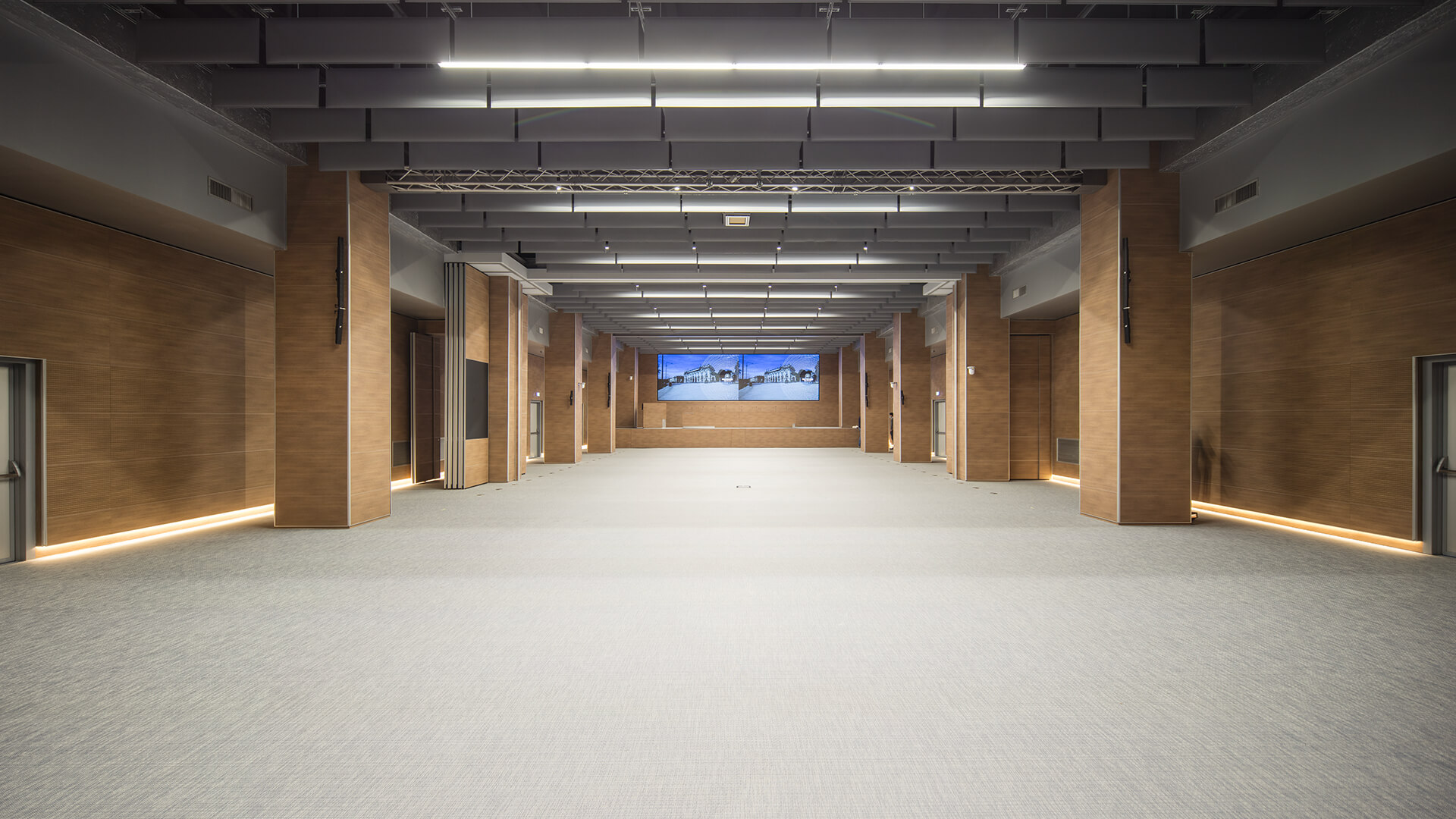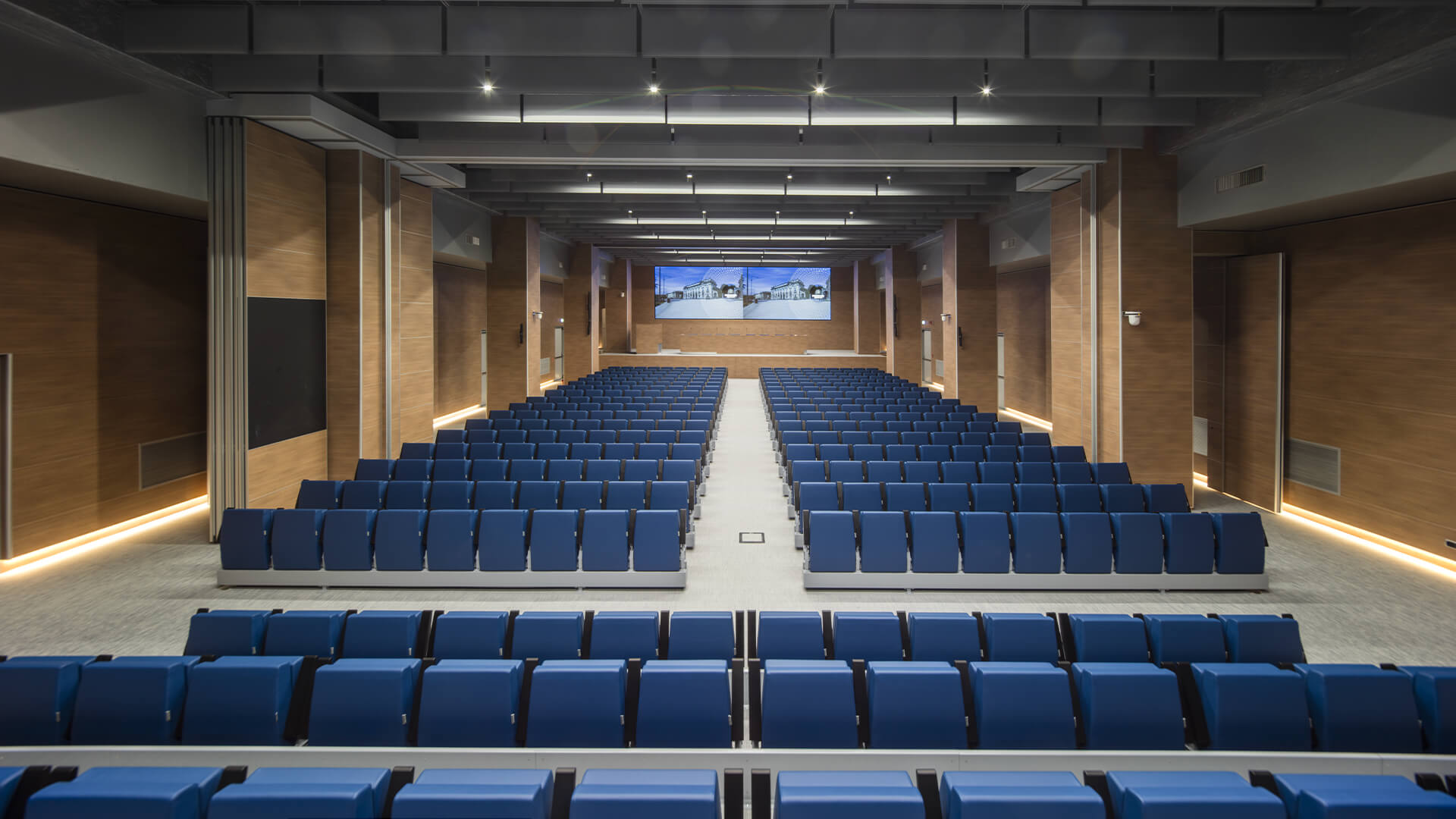 Recently completed, this major installation joins the long list of projects carried out by LAMM for some of the most prestigious Italian universities and shows the company's strong relationship with a strategically important market.
Project Politecnico di Milano – "Carlo De Carli" Great Hall
Location Milan, Italy
Client Politecnico di Milano
Year of completion 2020
LAMM supply 306 Futura armchairs on sliding system
186 Futura armchairs on telescopic tribune
8 'On Time' armchairs – Baldanzi & Novelli