22.03.2022
Chécy (France): LAMM armchairs perfect for the rapid reconfiguration of the auditorium on the Thélem assurance group's renovated 'campus'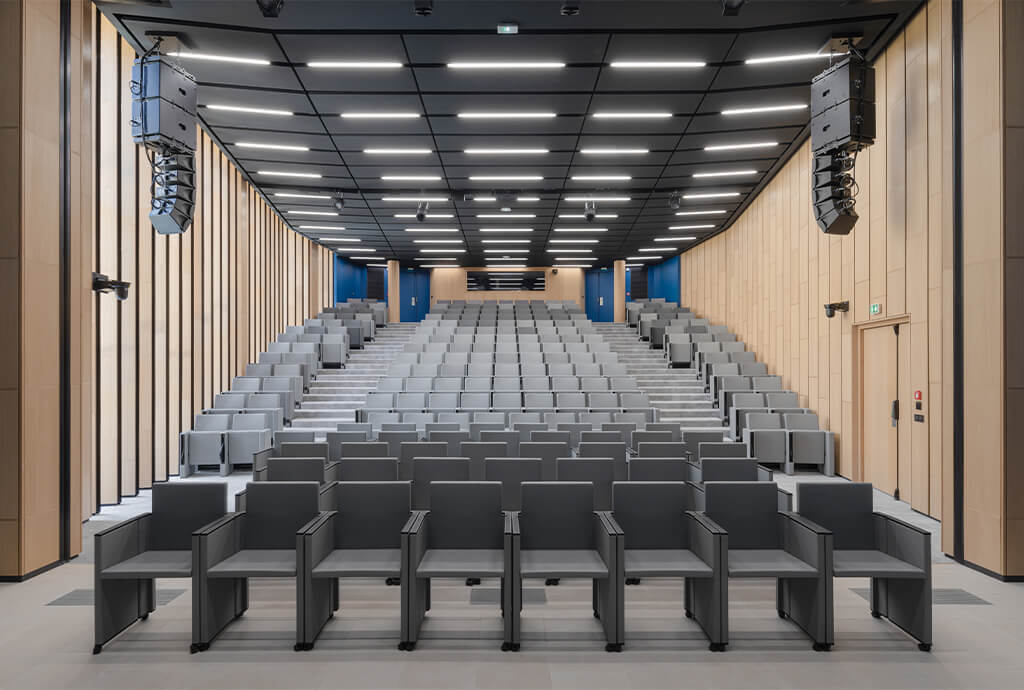 The various customisation possibilities, abundance of F50 armchair accessories and fast set-up speed guaranteed by the On Time chairs proved essential for the configuration and adaptability of the space inside the large hall that, in just a few steps, went from a capacity of 192 to 232 seats
Like office, like campus. Encouraging interaction and creativity and ensuring the well-being of employees are the key principles that guided the expansion and modernisation of the main site of the historic French insurance company, Thélem assurances. The site is located near the town of Chécy, not far from the more famous city of Orléans. VHA – Vincent Hérault Architectes, based in Paris, designed it.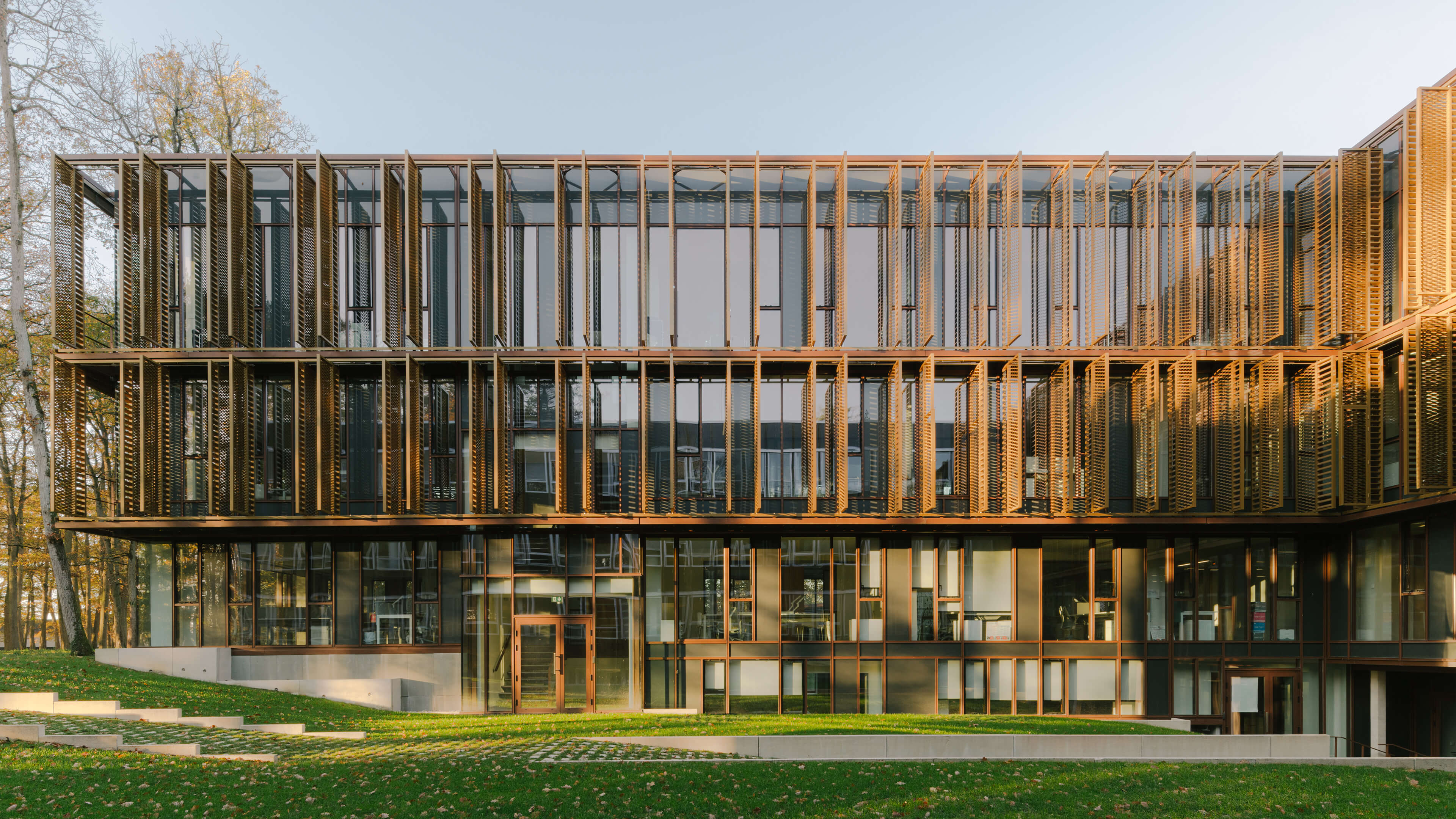 There's more to it than a row of desks here: the work settings—scaled for different levels of privacy—vary in order to effectively meet the various needs of employees. Classic work stations combine with vibrant surroundings designed to promote teamwork, and there are informal and relaxation areas that shake things up in the connecting spaces. There are seven buildings connected by walkways, a new corporate restaurant and a 232-seat (configurable) auditorium. And then there's the 12-hectare park, a forest in which you can go for a stroll or even play sports. Given the elevation of some of the buildings, the usable area was almost tripled using a rapid drywall construction system. The work never lost sight of the aim of reducing the main site's environmental impact.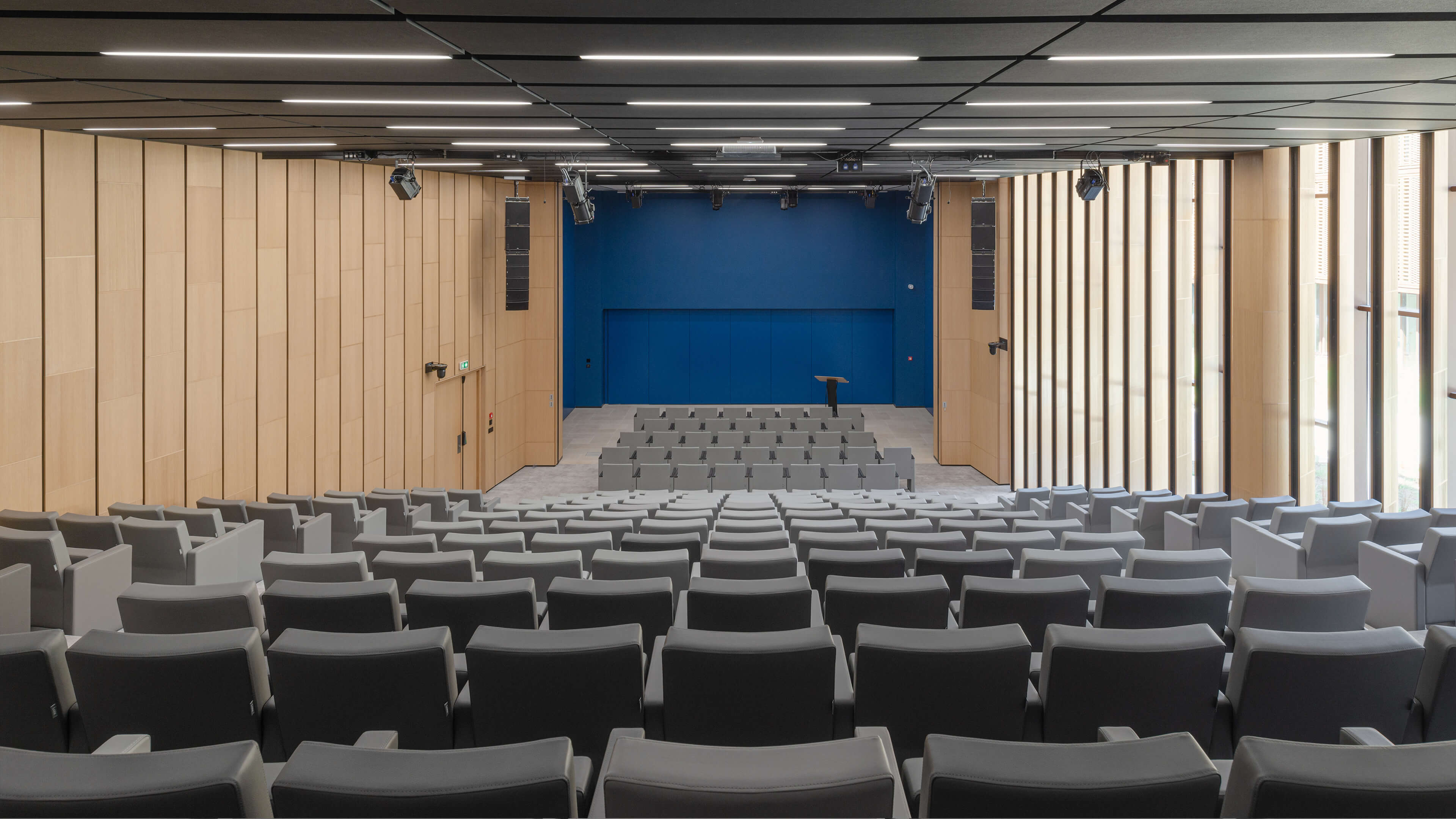 In the new auditorium, the need for functional, flexible, comfortable and elegant solutions was met by LAMM's versatile and customisable armchairs made with environmentally-friendly materials. The capacity of the large 192-seat hall can be increased thanks to a movable wall that, if needed, can be folded down and hidden away inside the wall behind the wooden cladding. When the "curtain" is drawn, 40 faux-leather On Time armchairs designed by Baldanzi & Novelli appear. This is where the auditorium reaches its maximum capacity. Designed to meet the needs of multifunctional settings, the armchair combines comfort, elegant style and attention to detail with an exclusive system—without visible hinges—that allows the seat and sides to be folded up onto the backrest. When folded, the compact armchair is reduced to 20 centimetres in thickness and is easy to move, stack and store away after use thanks, in part, to the wheels and special trolleys that make moving them quicker and easier.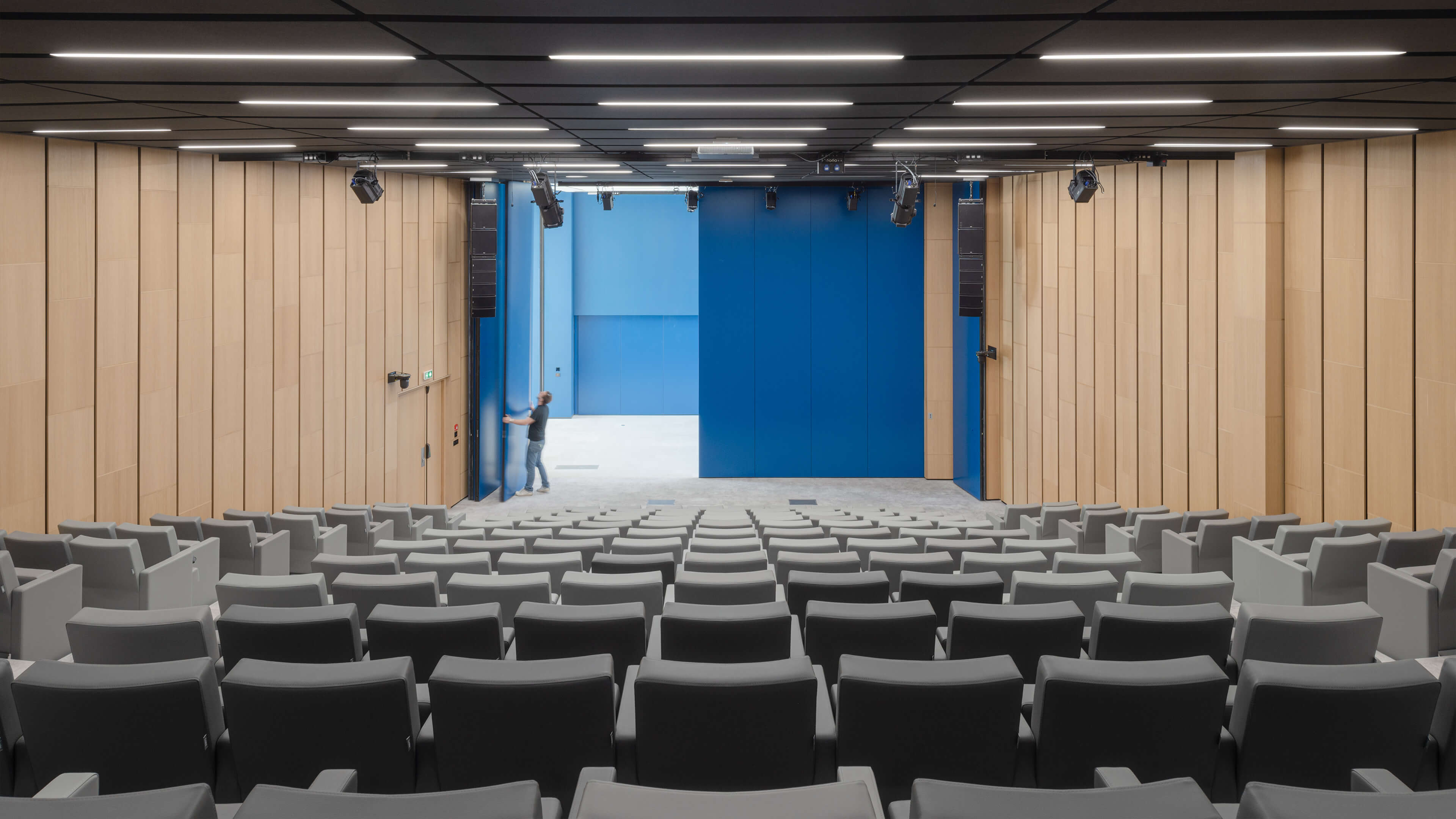 For the tiered rows in the hall, the minimalist and elegantly designed F50 armchair was chosen which, with its abundance of accessories, enables solutions to be customised and adapted to various specific design requirements. Fully padded and upholstered in faux leather in three different shades of grey, the armchairs come with a black HPL laminate writing tablet that, when stored away into the side, is totally concealed from view. The F50 armchairs by the aisles (56 in total) are equipped with electrical sockets. Some of them also have an integrated external step light created by IGuzzini.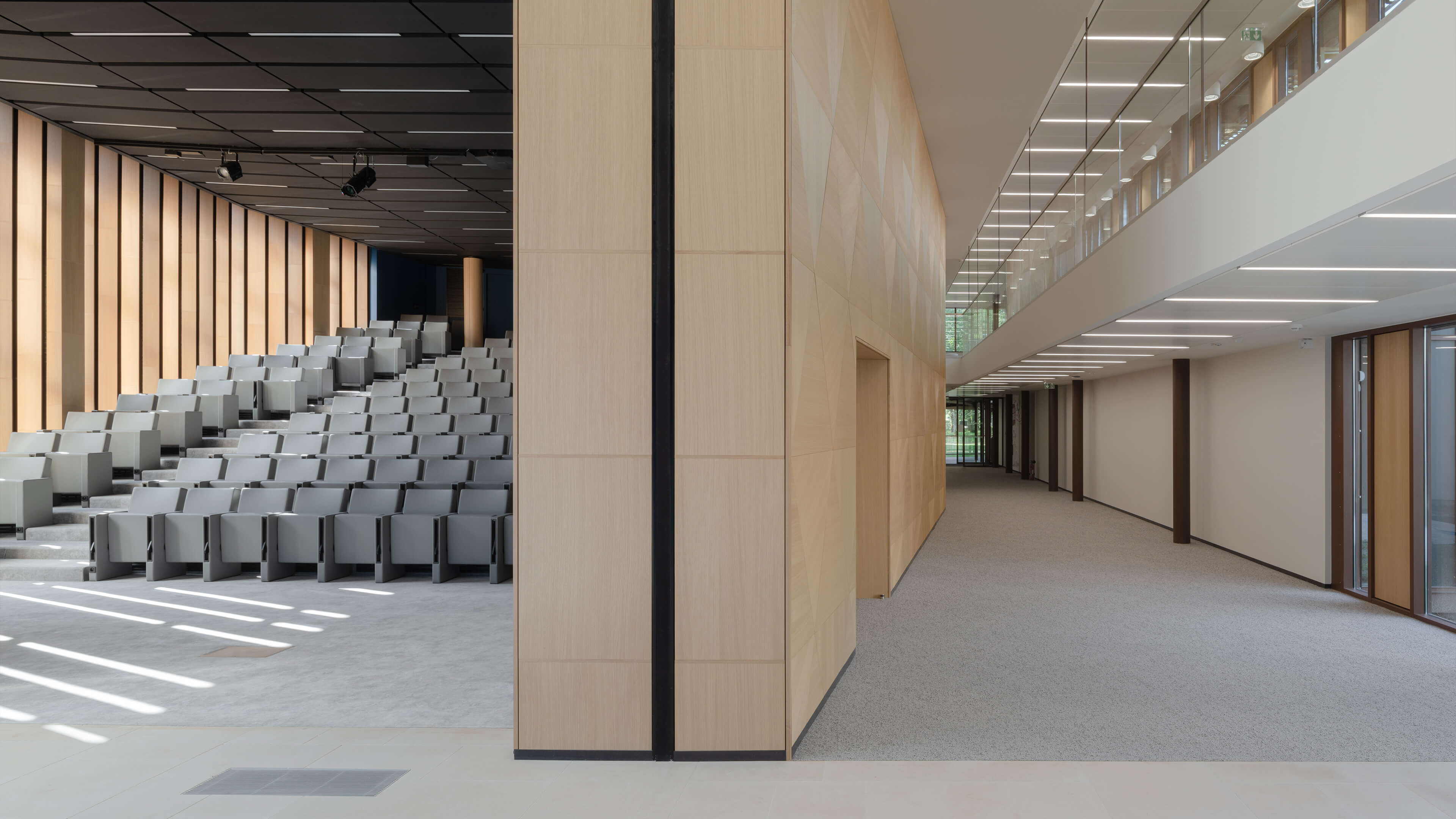 Project: Thélem assurances auditorium
Location: Chécy, France
Architecture firm: VHA – Vincent Hérault Architectes
LAMM dealer: Silvera
Year: 2021
Supply: 192 F50 armchairs, 40 On Time armchairs, 3 On Time trolleys
Photos: © Luc Borho | © Maxime Verret