19.10.2021
LAMM E4000 desk and table units for the Schlumberger Auditorium of the École Supérieure des Mines in Paris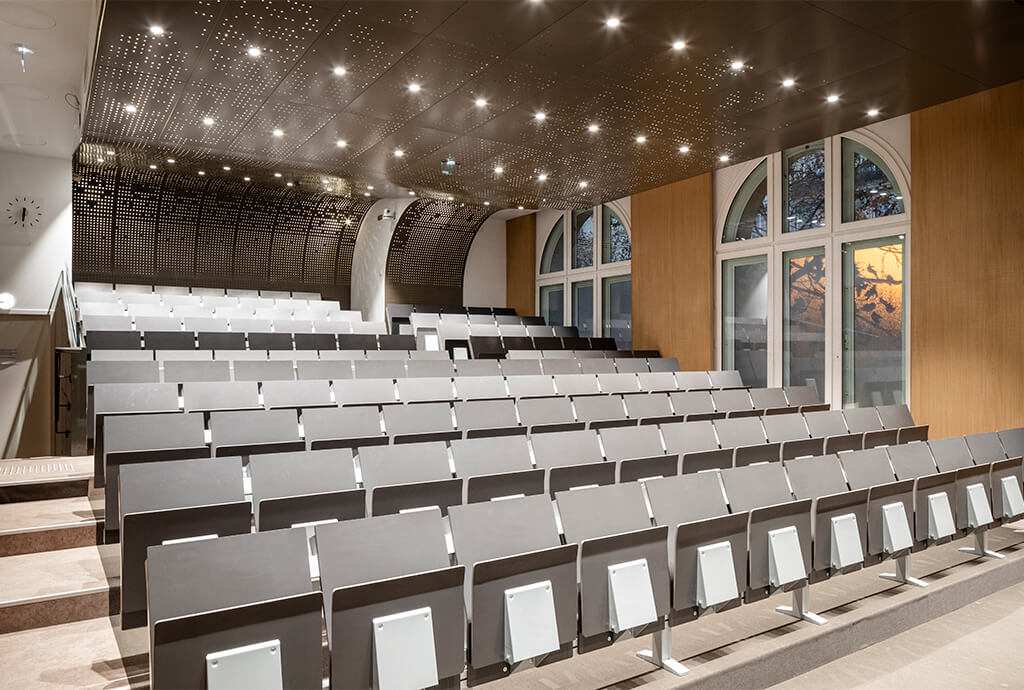 The Schlumberger Auditorium – the heart of the campus of the famous mining engineering university – designed by Atelier Aconcept and fitted out with LAMM seating systems, has recently reopened its doors, at full capacity.
Founded in 1783, the École Nationale Supérieure des Mines de Paris, popularly known as Mines Paris Tech, is the oldest mining engineering university in France, originally destined to educate an "intelligent management" class called upon to guide the fortunes of the kingdom's mines, considered a sector of major strategic importance at the time. Closed down and later reopened in the Savoy region during the French Revolution, it was definitively reopened in Paris after the fall of Napoleon. Since then, it has been housed in the same prestigious building at no. 60 Boulevard Saint-Michel, on the same side as the Luxembourg Gardens. Its current mission, as a state university, directly dependent on the Ministry of the Economy and Finance, is to train engineers for the energy and raw materials sector. Teachers and students continually to be called Mineurs, to maintain the tradition.
The Schlumberger Auditorium, created in 1975 and thus named as a tribute to Conrad Schlumberger, an outstanding geophysicist who taught at the university at the beginning of the last century, was subjected to a rethink during the last decade, giving rise, in 2013, to a feasibility study, followed by an international competition and a funding campaign by the Mines Paris Tech Foundation, called "Adopt a place". The positive response from the former Mineurs raised € 1.4 million for the renovation of the Auditorium. The work, which began in 2018 and was slowed down by the pandemic, was completed in 2019, but it was only recently, with the gradual return to normality, that it began to be used to the full again by the university community.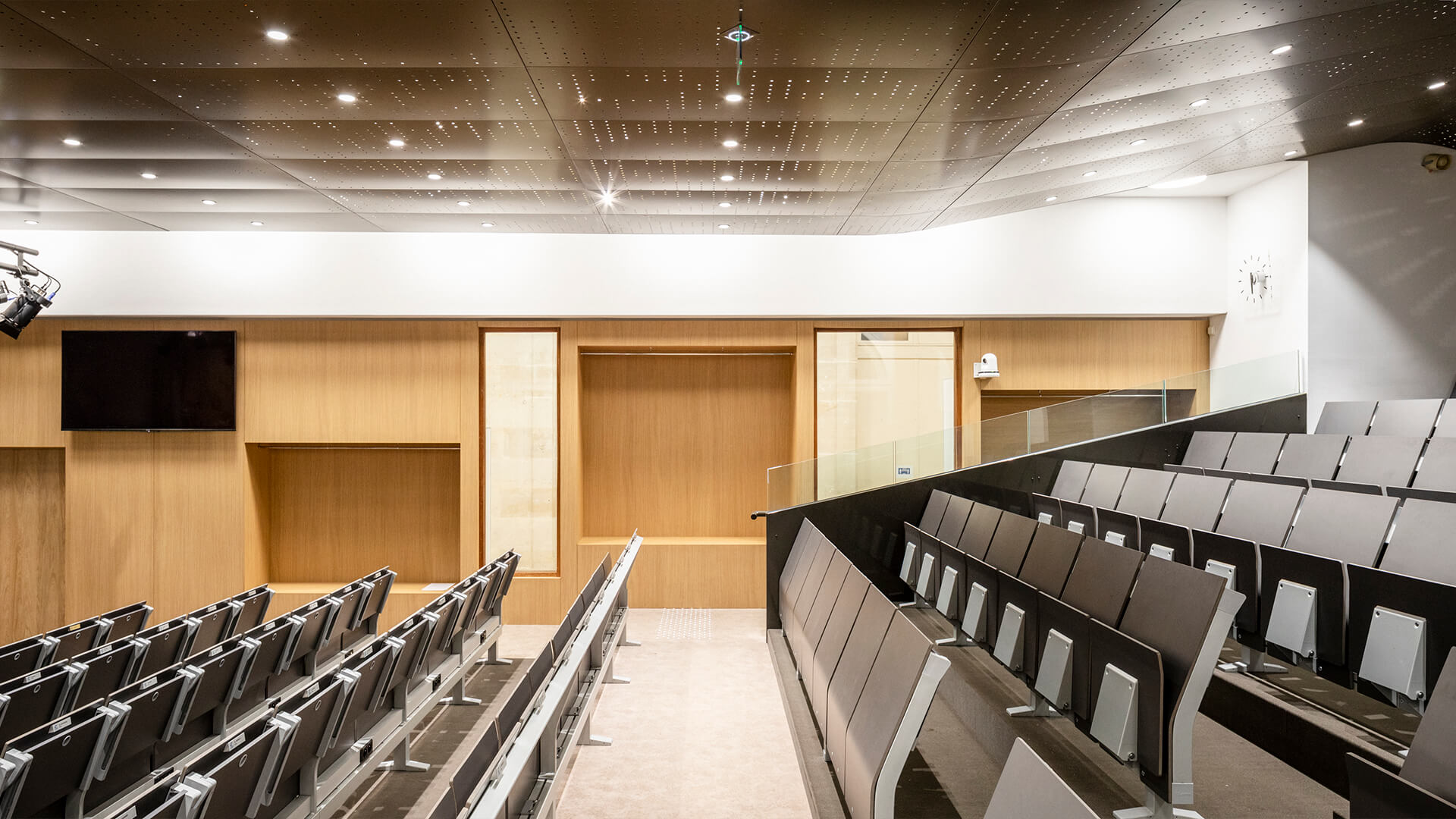 Considered a showcase for the international influence of the university, the 400-metre hall has been fitted out – on a project by the Toulouse architecture firm Atelier Aconcept – with 139 E4000 seating units, 6 of them fixed and with 2 groups of 2 seats for students with disabilities. E4000 – Lucci and Orlandini design is an integrated, continuous system of seats and desks, the fruit of a generalised simplification and rationalisation study, and for the occasion was supplied in a version with seats, backrests and tip-up surfaces in ABET graphite laminate. All the desks have been fitted with electrification channels, and have been installed in straight lines on the rows of the auditorium.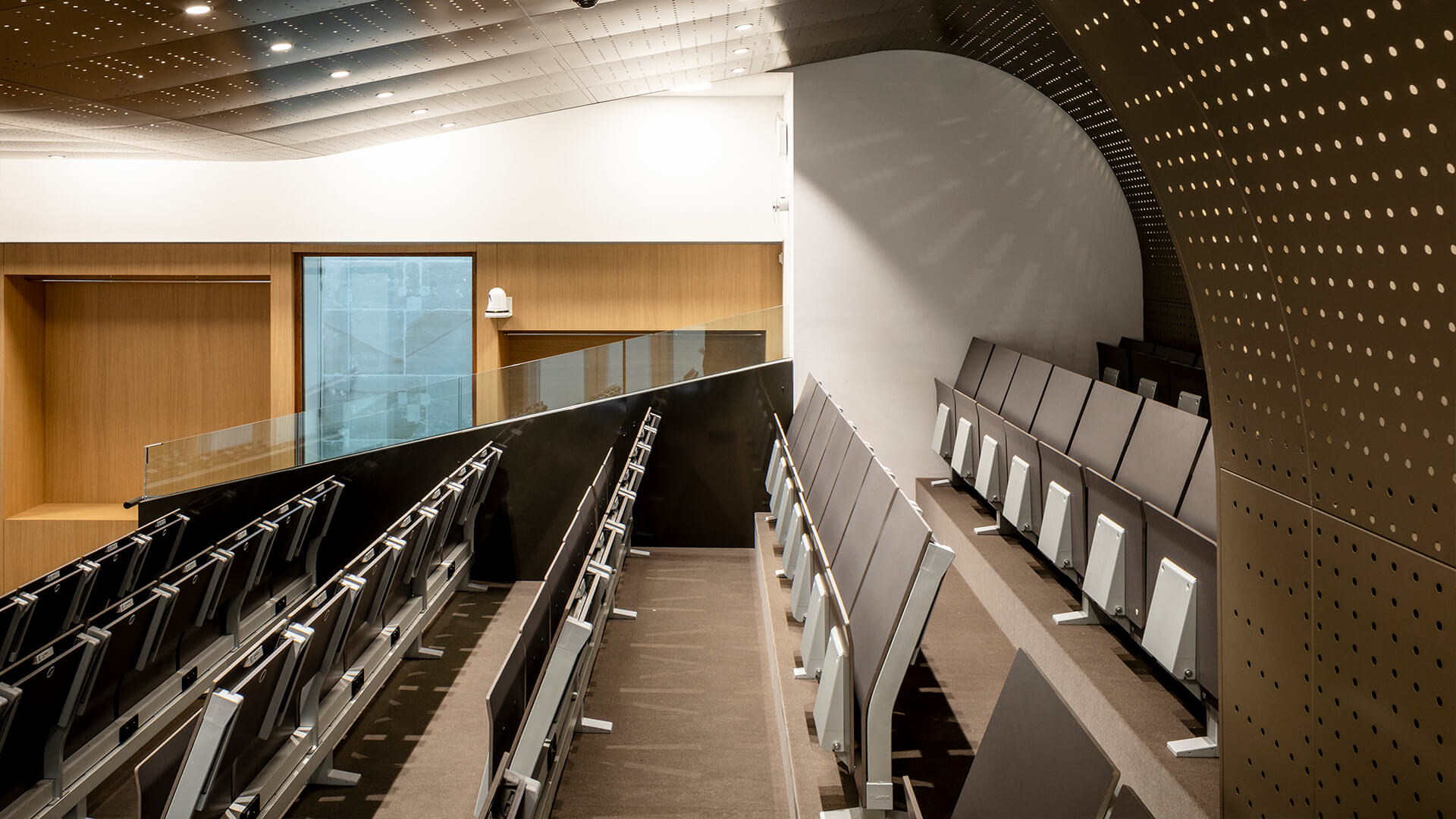 Thanks to its high standards of quality and comfort, the Schlumberger Auditorium has been chosen to host, on 23 October, the TEDx PSL talk: a self-organised encounter that offers an experience similar to the Sapling Foundation's prestigious series of TED conferences, devised to promote technological and scientific knowledge, and more generally the culture of our age, throughout the world.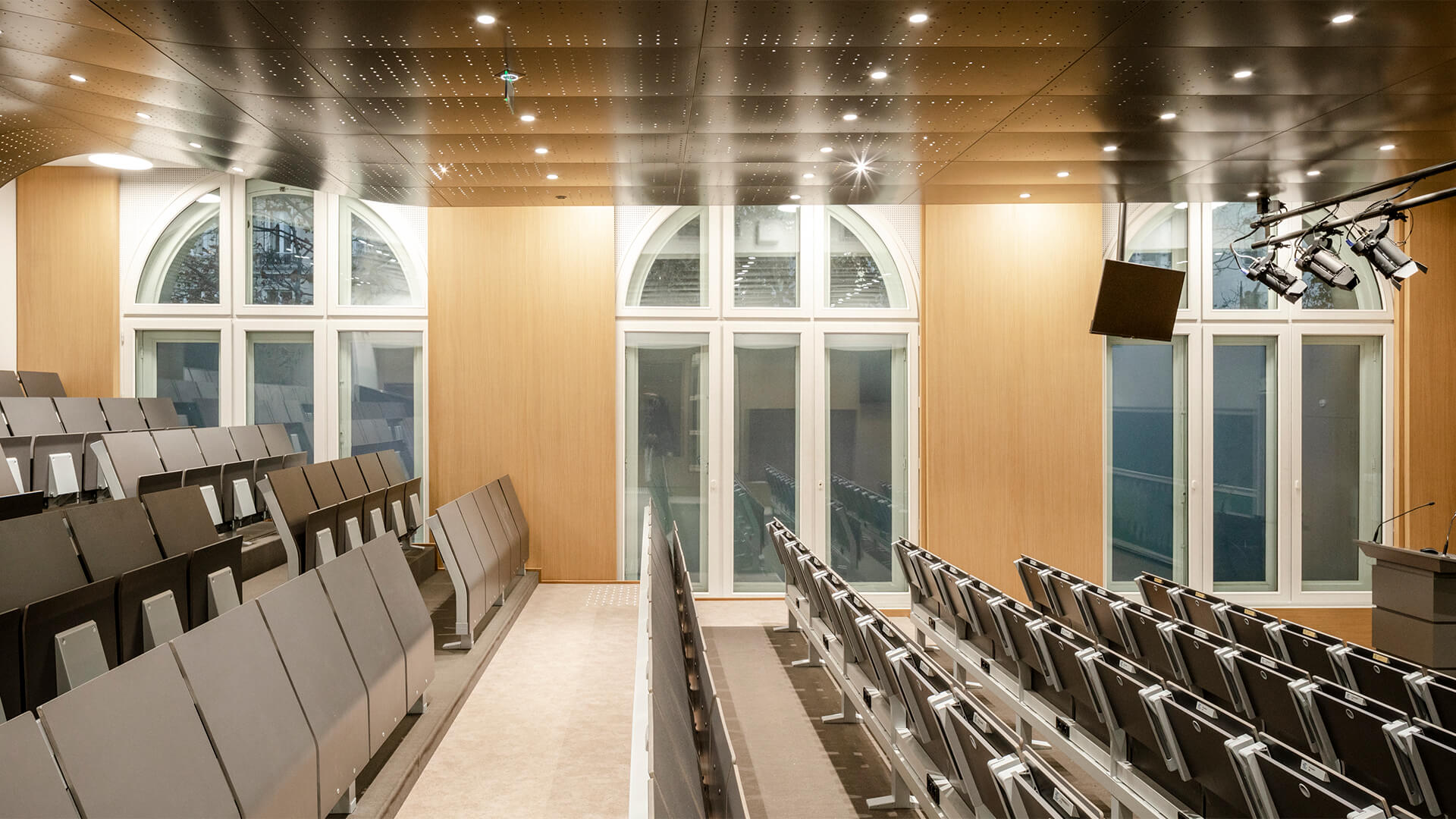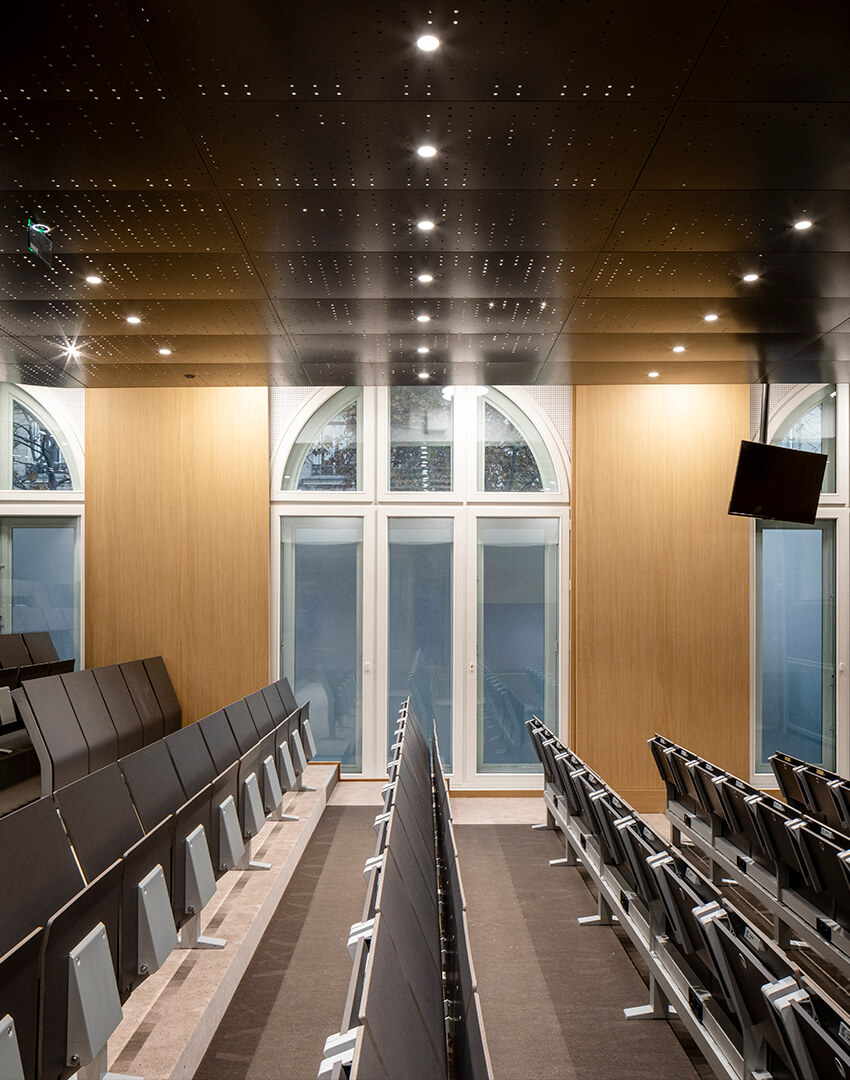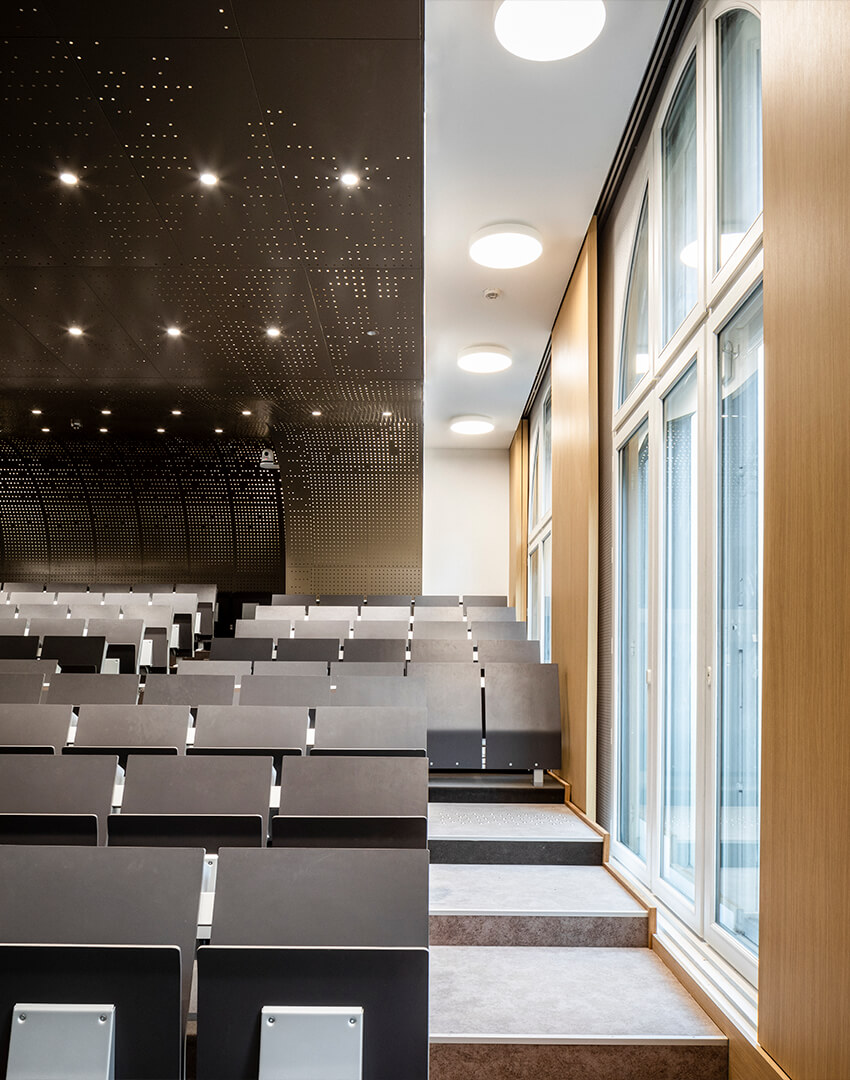 Project École Supérieure Des Mines De Paris – Schlumberger Auditorium
Location Paris
Client École Supérieure Des Mines De Paris
Year of completion 2020
Architectural project Atelier Aconcept
Local retailer: BM Bureau
LAMM supply 139 E4000 study benches – Lucci e Orlandini
Photo: ©Florent Michel / 11h45