03.08.2021
LAMM F50 armchairs for the Auditorium of the Research Technology and Innovation Park at the American University of Sharjah in the Emirates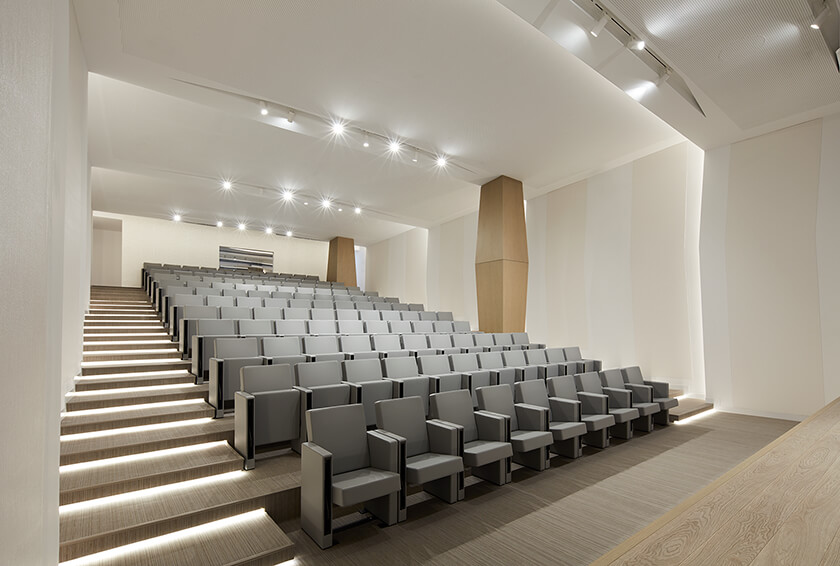 The new conference room at the Sharjah (AE) university campus has been successfully fitted with 130 fully upholstered F50 armchairs divided into 12 straight, tiered rows.
Commissioned by AUS Enterprise, an organisation that connects the production industry with academic research departments at the American University of Sharjah in the United Arab Emirates, the Auditorium project was assigned to the Dubai-based architecture and interior design firm Roar as part of the overall design of the "Research Technology and Innovation Park". Over an area of 25,000 square metres, this large, articulated complex—built by Design Infinity—is designed to house start-ups and incubators in the technology sector. Inspired by the ancient Aflaj field-irrigation system, which enabled communities on the edge of the desert to survive and expand, the building is home to large co-working spaces, exhibition areas and an auditorium.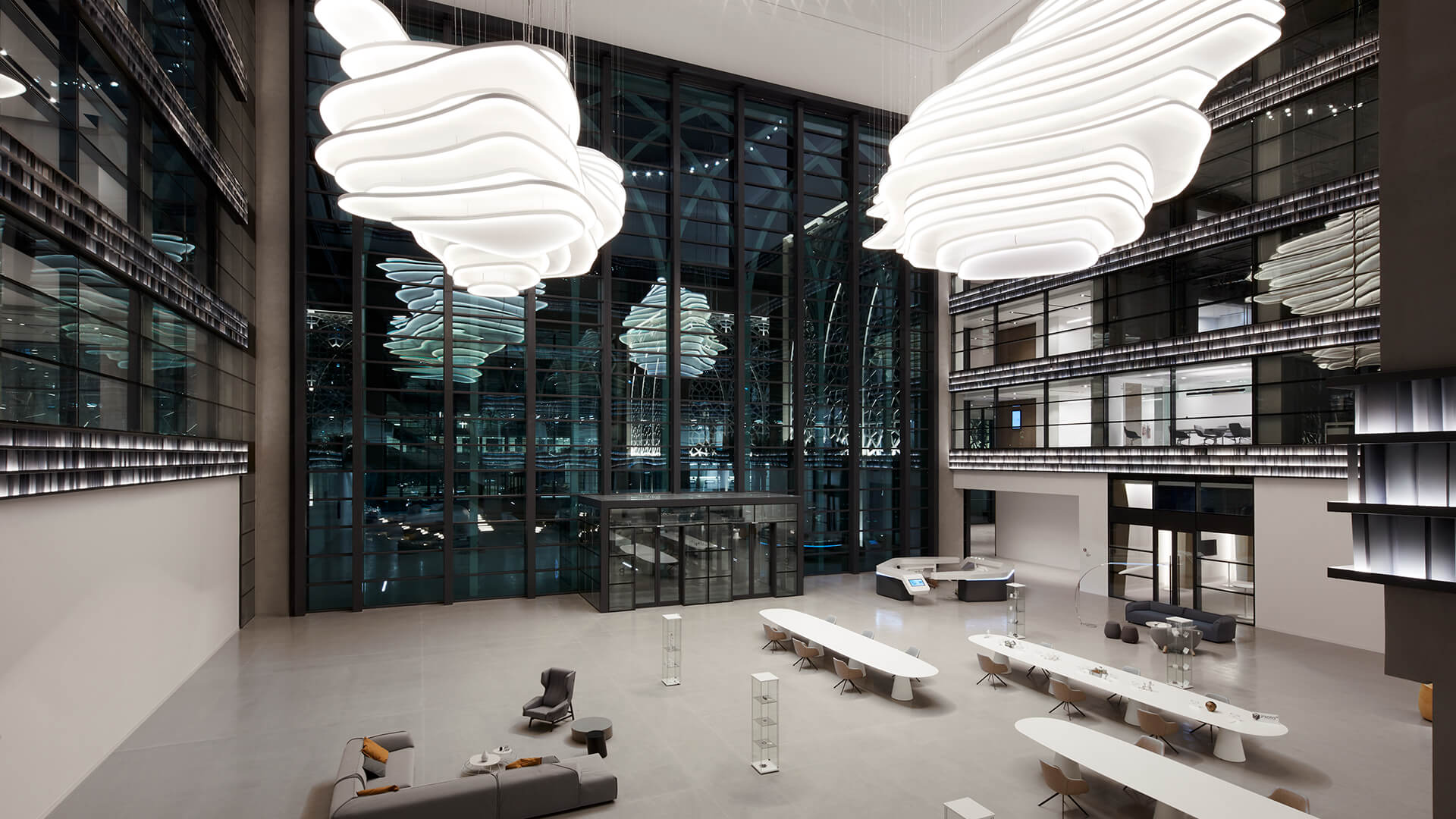 In the new multi-purpose hall, 130 fully upholstered F50 armchairs, covered with beige faux leather and complete with tip-up seat, provide comfort for the audience. Designed in-house, manufactured and installed by LAMM, these are arranged into 12 straight, tiered rows 56 cm apart.
The 119 chairs from the second row onwards have shared armrests, while the front row is fitted with nine special chairs that are spaced out, double-sided and complete with fixed seat to emphasise the sense of comfort and individual well-being. The row's two outermost chairs are designed to be removed with ease, facilitating access and aiding people with disabilities or reduced mobility. All the armchairs are fitted with a tip-up foldaway writing tablet with anti-panic system, a stratified HPL worktop and a die-cast aluminium joint.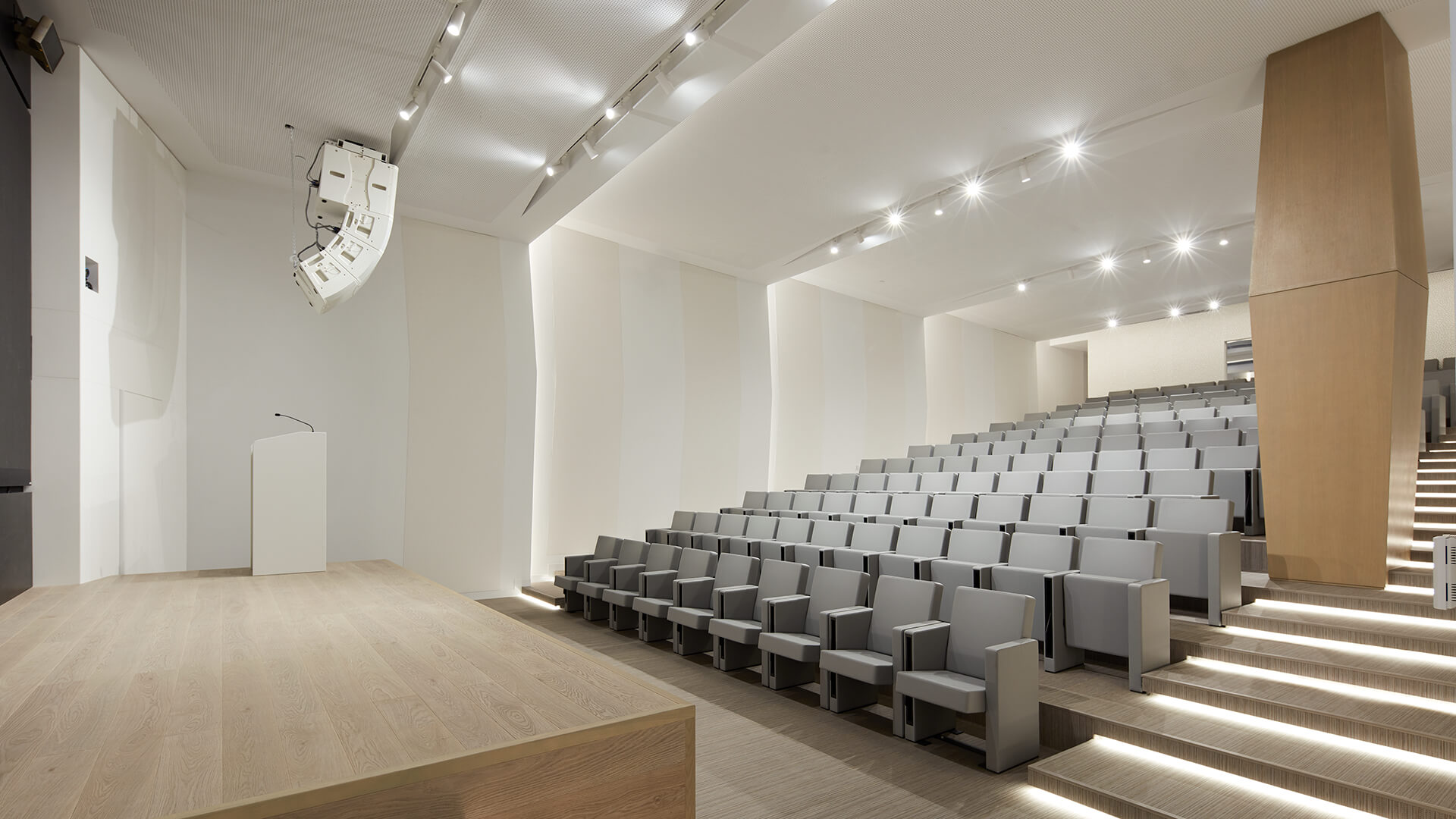 This prestigious undertaking is just one of a series of projects in the conference-seating sector—where the Italian company boasts specialist expertise and dozens of products and ad-hoc solutions—commissioned to LAMM.
Project: AUS – Research, Technology & Innovation – Auditorium
Location: Sharjah, United Arab Emirates
Client: American University of Sharjah Enterprises CO. LLC.
Year of completion: 2020
Architect: Roar Design
LAMM Supply: F50 armchairs
Photos: Roar Design | © The Oculis Project