27.01.2023
Highly-flexible tailor-made armchairs for teaching facilities at the new campus of the SDA Bocconi School of Management in Rome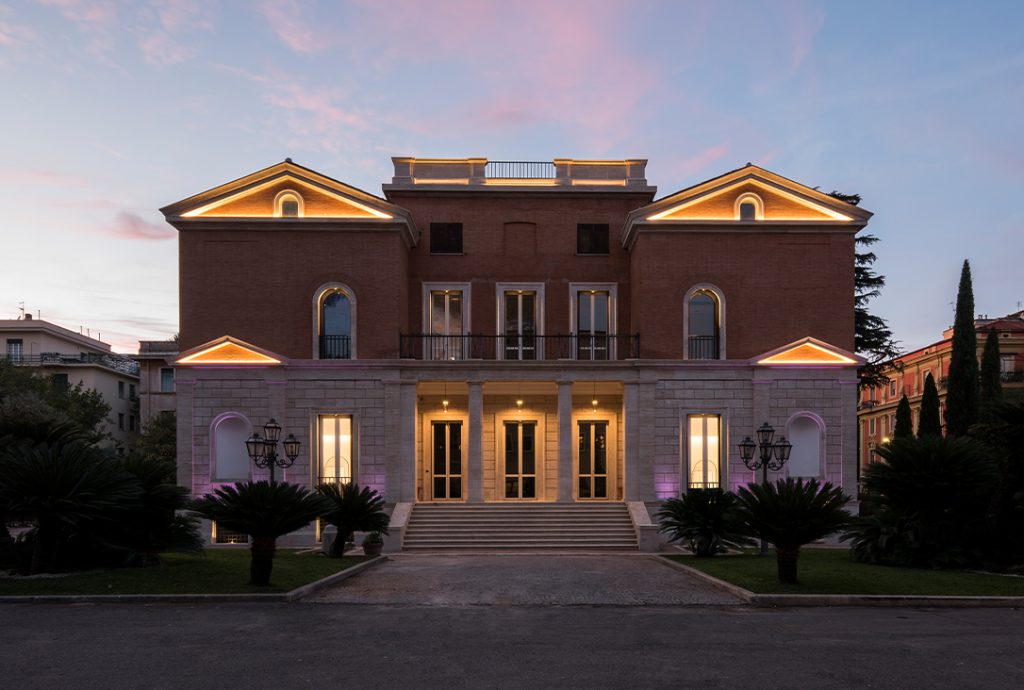 LAMM demonstrates its expertise in meeting the most ambitious requirements of higher education with teaching facilities of the future that encapsulate the latest technologies, adapt to any teaching methods, and are designed to stimulate a spirit of collaboration
First the austere building in Via Röntgen in Milan – designed by the Irish studio Grafton Architects – and the new Urban Campus – by the Tokio-based studio SANAA – and finally, the campus of the SDA Bocconi School of Management which has just been inaugurated in Villa Morgagni in Rome (designed and completely refurbished by the international architecture and planning firm Il Prisma). After being involved in fitting out two campuses in Milan for this prestigious university, LAMM's products reached Rome to be part of setting up the teaching facilities at Bocconi University's business school (SDA).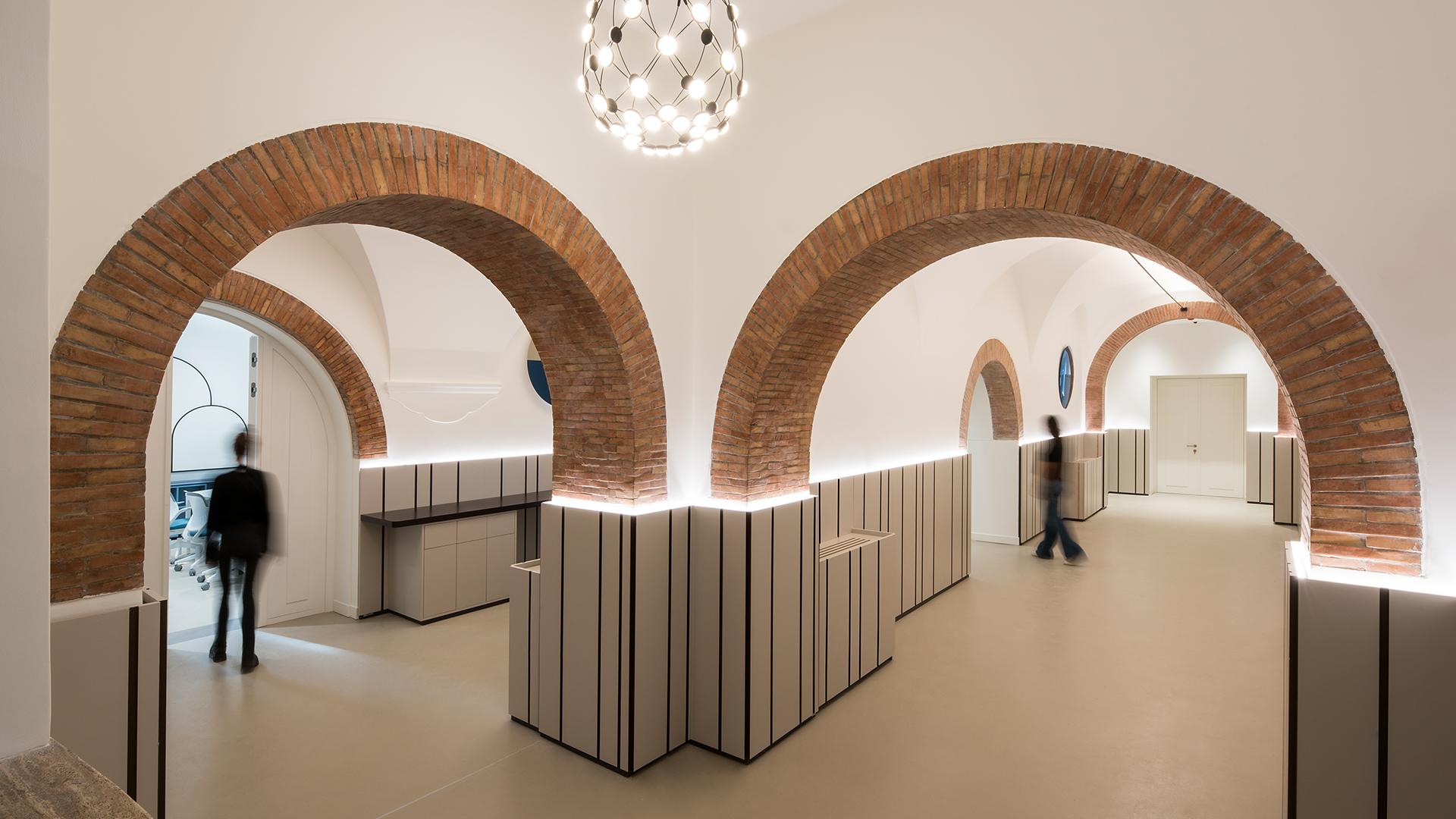 The newly-inaugurated premises in the Nomentano district are home to the Roman edition of the Executive MBA, various executive courses and the business school for Italy. The keywords in the design are life, learning and beauty, focusing on social interaction between people. The result is teaching facilities that are highly flexible, designed to encourage the spirit of collaboration, and to enable various learning methods, from classroom-based or remote lessons through to brainstorming sessions.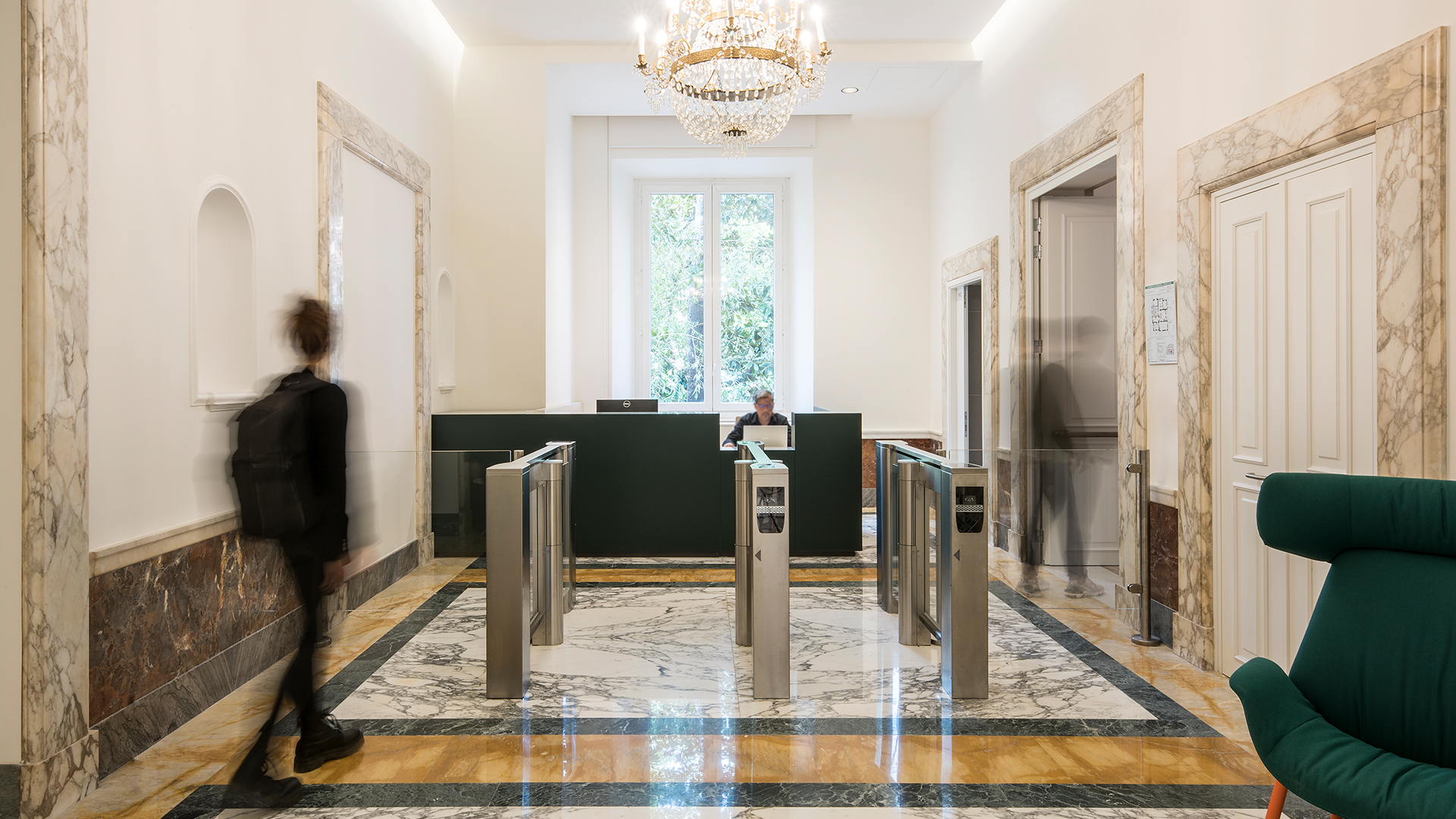 LAMM has provided and installed 300 customised armchairs for this chic campus in the capital (2450 m2 and over 1000 m2 of gardens) in close collaboration with the architecture firm Il Prisma, which has proven to be an expert interpreter of the client's vision and requirements. The starting point for the project was the review of the On Time armchair. Evolving from this range, the tailor-made armchair has kept its renowned comfort, the movement mechanism that enables the seat and sides to fold and overlap on the backrest, and the attention to detail (concealed hinges). When folded up, the size of this customised chair reduces to just 25 cm, making it extremely convenient for handling, transporting and storing after use. This iconic chair has benefitted from functionality added to its existing characteristics, in the form of specific ad hoc accessories.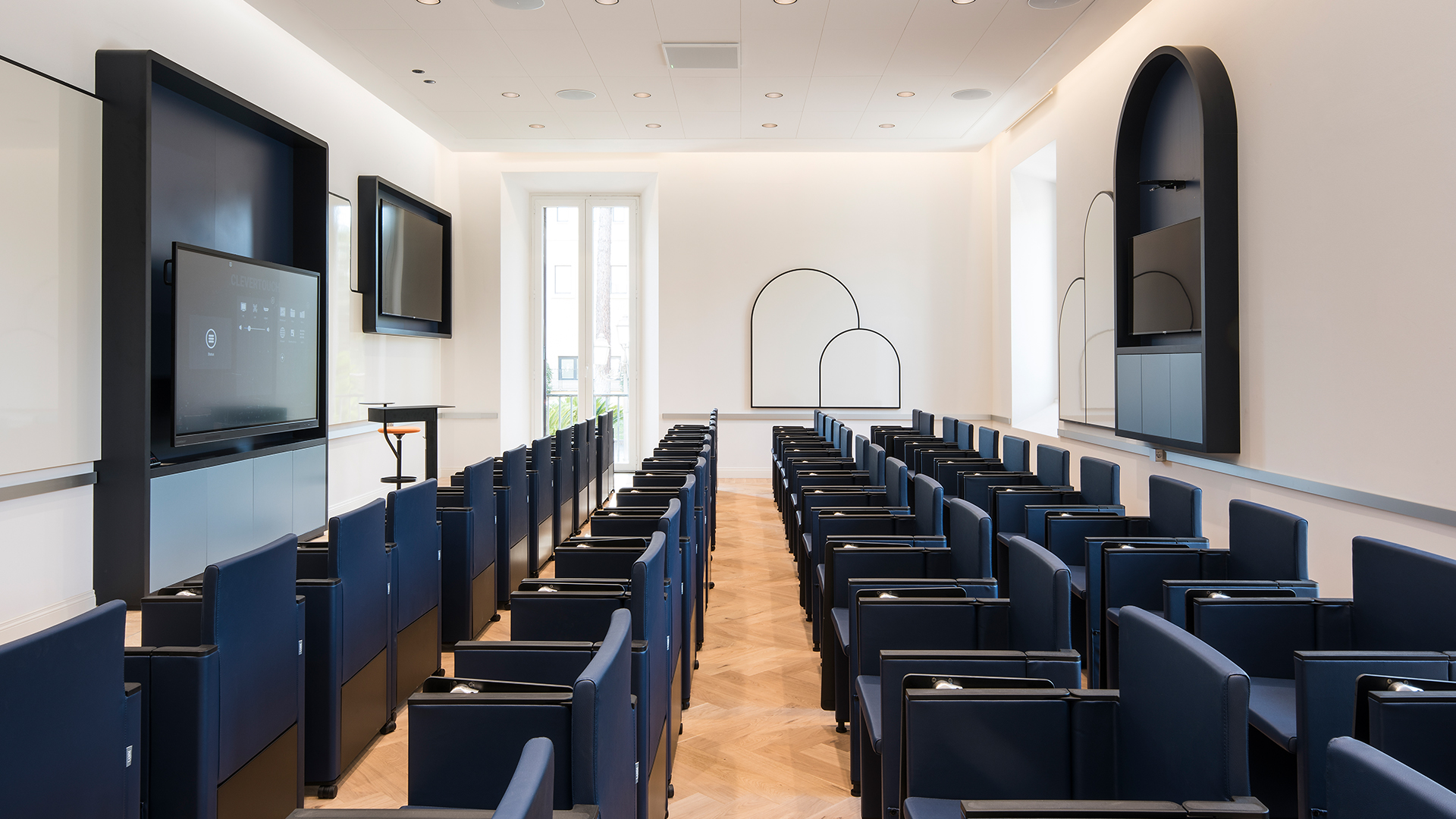 The customised armchairs come with an extra large writing table with anti-panic mechanism (32 x 64 cm), a foldable bag holder under the seat, a fabric storage pocket on the left side, front feet and double rear swivel wheels. The closure mechanism has also been upgraded with a magnetic locking system on the sides, making it easy to carry. High-quality, fireproof, faux leather upholstery in blue was selected to cover the chairs.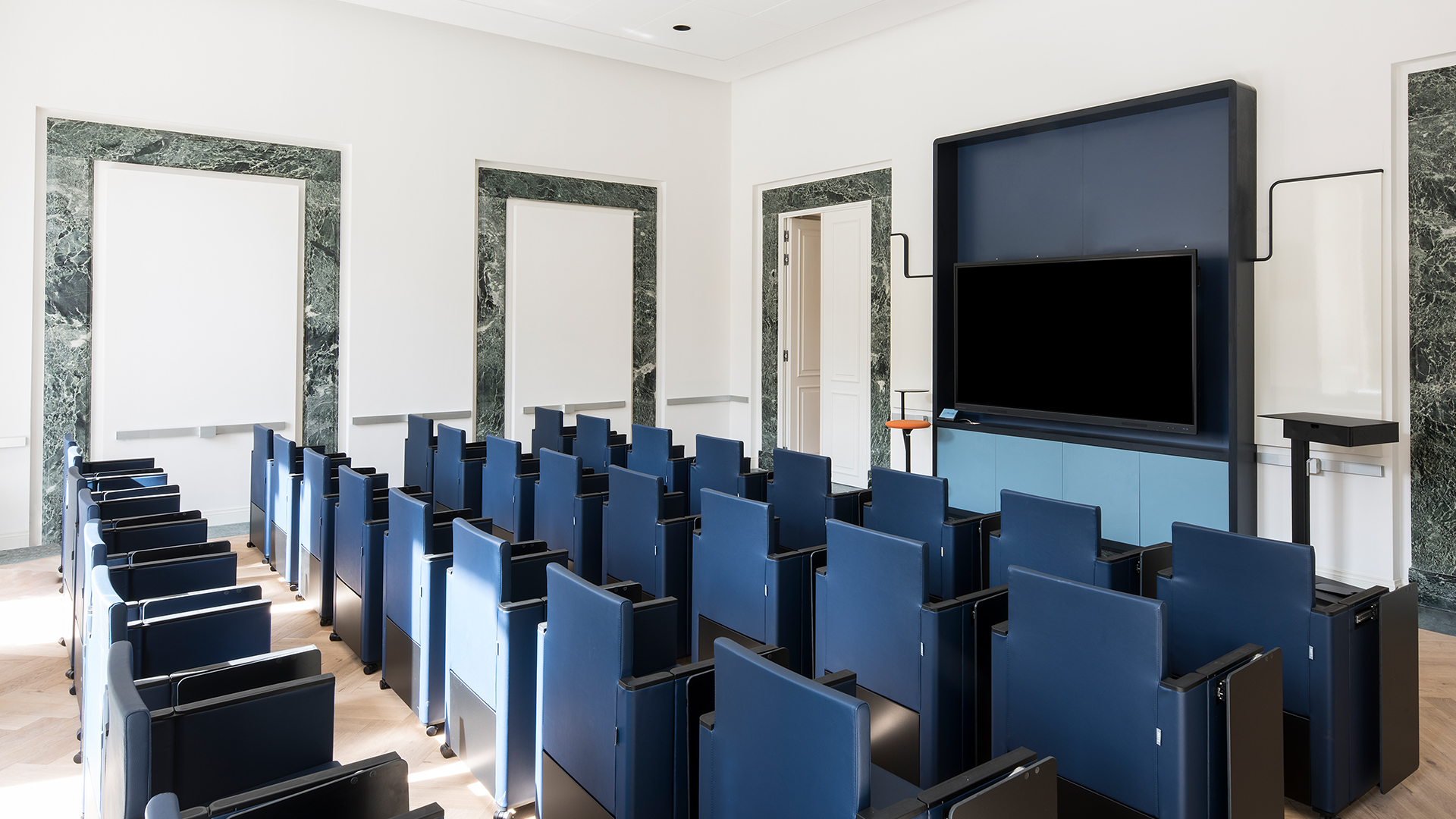 Specific tests carried out on the writing table confirmed its functionality and strength. The load capacity is guaranteed (even when the opposite armrest is not required for support), as is the correct operation of the anti-panic mechanism, which does not interfere with PCs, tablets or any other material on the table. The new customised armchair can also be classed as a design for all in terms of measurement, with a seat that is comfortable and ergonomically suitable for men and women of all weights and sizes.
Project: New SDA Bocconi campus
Location: Rome, Italy
Client: SDA Bocconi
Architect: Il Prisma
Year: 2022
LAMM supply: Customised On Time Armchairs